The Next Wave of Wellness
A new membership-based solution aims to make wellness
work for small organizations
Photo: Garth and Meaghan Jansen
THE CONCEPT FOR Employee Wellness Solutions Network (EWS) was sparked when Meaghan Jansen was looking at doing a PhD in health promotion. "For my grad thesis, I wanted to study the impact of health promotion in the workplace," she recalls. "What started as a research question very quickly turned into a business."
Fifteen years later, Meaghan and husband, Garth Jansen, remain just as passionate about "getting people to make healthier decisions and have those decisions create a healthier bottom line."
EWS works with organizations, mainly in Ontario, that are committed to comprehensive wellness strategies for their workforces. A couple of years ago, while presenting at a conference, Meaghan was asked what their business could do for small organizations—businesses and associations with less than 20 employees.
"We realized that there was a hole that needed to be filled," she says.
"We are rolling out this new membership program so that basic workplace wellness solutions are accessible to everyone" —Meaghan Jansen
Recognizing that some smaller companies and non-profits might not have the financial ability to offer the comprehensive wellness strategies that EWS specializes in, the Jansens decided to develop a more accessible product offering. In September, they launched Corporate Wellness Membership (CWM), a flexible solution that offers organizations a menu of options based on a monthly membership fee. CWM, the Jansens believe, is the first wellness solutions program in Canada to offer a membership-based approach.
At one end of the scale are companies that simply want to dip their toes in the water. They can sign up for a free program and receive resources like monthly newsletters and seasonal e-campaigns. At the other end are those organizations wanting to take the plunge into an elite program at $345 a month. All of the paid programs include CWM credits that can be used to purchase additional components, such as group exercise classes, lunch-and-learns or one-on-one coaching, to create tailor-made strategies that suit a company's particular needs.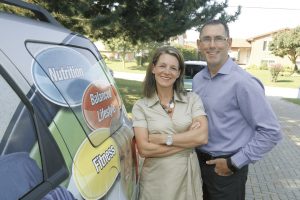 Most companies are aware of the benefits of workplace wellness, and some have established wellness committees or have tasked an HR or other employee to develop a program or plan. Those are the kinds of situations, explains Garth, where the company may want to tap into the resources that CWM provides.
"We have also introduced a health risk assessment," he notes. "It will give companies a good baseline measure of where their employees' health risks are and can be used to show trends over time. The corporate trend reports will indicate where to focus wellness training."
"Mental health is such an issue in the workplace, and most employers have a [employee and family assistance] program," adds Meaghan. "Our program integrates ­beautifully with those reactive approaches by providing proactive, preventative tools. We are rolling out this new membership program so that basic workplace wellness solutions are accessible to everyone." 

 Kym Wolfe