Fully leased and home to a variety of vendors, B13 steps up to help artisans and entrepreneurs get their businesses off the ground
Photo, from left: B13's Kellen Cuz, Rob Older, Angie Guenther, Emilia Wilson, Justin Chasty, Hannan Fayad, James Cadotte, William Older and Robin Henry
WHEN WILLIAM OLDER bought Lilley's Corner in June, 2017, he had a vision to transform the block of largely vacant properties into a destination for independent retail, arts and culture.
Almost 18 months later, the owner of PWR Older Developments has successfully filled the commercial spaces at 609-629 with tenants, and created a new buzz at the corner of Dundas and Adelaide streets. (The Root Cellar Organic Café owns its location at 623 Dundas Street.)
"I was very lucky with timing for the purchase of these buildings. I got in just as there was an upsurge in interest along this business corridor," Older says. Dundas & Sons Brewery, Taxsmart, glass artist Jordan Rising and the tactile arts organization Vibrafusion Lab are all newcomers to the block.
That's in addition to B13 The Baker's Dozen, the arts and business incubator Older runs at the former Chapman's Bakery at 613 Dundas.
The block at Lilley's Corner also included London's oldest remaining carriage house. Located behind the St. Regis Hotel and steps away from B13, the large yellow-brick building will soon house Older's latest entrepreneurial venture—an urban agriculture business to be launched in early 2019.
The shift in direction prompted Older to list his holdings at 609-619 Dundas Street for sale earlier this fall. 629 Dundas was sold separately, he explains. The new owners plan to open an art gallery and recording studio.
"My new project at the Carriage House is going to make a really positive impact on this area. I think it's a better place to put my energies than managing properties," says Older, explaining his decision to reduce his holdings in Old East Village.
While Older declines to reveal more about his urban agriculture business, he's happy to talk about the success of B13. "B13 is my baby and I'm going to keep it going," he says. As the incubator's owner and manager, he'll simply become a tenant once the building is sold.
B13 has been a hive of activity since mid-summer and is celebrating its official grand opening November 17.
The long-vacant property is now bright and welcoming thanks to plenty of paint, new lighting and a funky decoupage floor created from old Hudson's Department Store accounting records Older found upstairs.
The 5,500-square-foot venue features 22 small creative pods and a large event space that has hosted everything from hip-hop dance parties and movie nights to yoga classes and a seminar series put on by the London Music Office.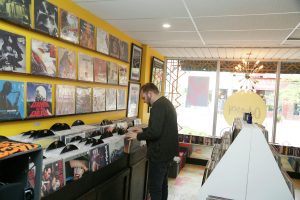 Securing the right vendors to attract a loyal customer base has been key to a successful first year at B13. Older began by hosting Saturday pop-up markets to generate interest from potential tenants. "Going from a pop-up shop to a small bricks-and-mortar location is a great step for people," he notes.
Today, B13 is fully-leased.
Justin Chasty of Odyssey Records was one of the first to move in. "The spaces were very affordable and I just loved the whole idea of what Will was doing for this neighbourhood," Chasty says.
After working in record shops around the province for more than two decades, B13 provided an opportunity for Chasty to go into business for himself. "I bring in a mix of everything. Classic rock, jazz, blues, punk, metal," says Chasty. "Certain records are almost impossible to find used, so I've started to carry reissues too, specializing in Ethiopian soul, jazz and hip hop."
This September, Odyssey Records doubled in size—taking over a storefront space at B13.
Robin Henry is another B13 success story. Having a storefront and studio space has allowed his custom silk screen print business, Antler River Press, to attain a new level of professionalism.
"I was working out of my house," Henry explains. "It's nice to be able to invite a client to meet me at my shop, or do an in-store consultation."
Henry and Chasty both enjoy the opportunity to meet and collaborate with other like-minded entrepreneurs. "There's a big sense of community here," Henry says. "We all support each other as small business owners. Everyone brings something to the table."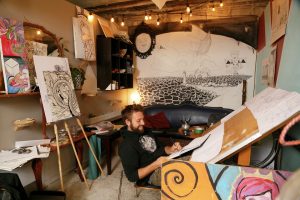 The final piece of Older's vision for B13 falls into place this month with the opening of Juicy Tings Juice & Espresso Bar. The 144-square-foot storefront space marks Jzmine Morningstar's first step as a business owner and a return to London after a decade living and working in Toronto.
"This is brand new for me, but something I've been trying to open for a few years now," Morningstar says. "Will was looking for a small food-and-drink vendor and I was looking for a small space. He worked with me to give me this opportunity."
Older is looking forward to the continued evolution of B13 and hopes a new landlord will keep his vision for Lilley's Corner alive.
"The next owner is going to be able to add value to what William has already done," notes listing agent, Les Coulter. "He's brought in great commercial storefronts and there's an opportunity to renovate and lease the residential units upstairs. It will be a big addition to the neighbourhood." 

 Nicole Laidler