London Inc. Weekly 02 • 02 • 2018
Four London dealerships receive national accolades for customer service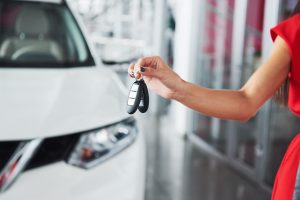 DEALERRATER, THE WORLD'S leading car dealer review website, has announced the winners of its annual Dealer of the Year Award program, a list that includes four London dealerships. Award recipients (one per automotive brand across Canada and the U.S.) are recognized for distinction in outstanding customer service based on consumer reviews of dealership experiences shared on DealerRater.com and DealerRater.ca.
The local award recipients are Courtesy Ford Lincoln (for Ford and Lincoln), Lexus of London (for Lexus), Mercedes-Benz London (for Mercedes-Benz) and ToyotaTown (for Toyota). Courtesy Ford Lincoln was also awarded the 2018 Overall Canada Dealer of the Year award.
"This year's Dealer of the Year Award winners stood out because of their dedication to providing superior customer service," says Jamie Oldershaw, general manager of DealerRater. "Today, deals are won and lost on experience, and it's clear from their online reviews that these dealerships understand how to take care of their customers."
To qualify for the DealerRater Dealer of the Year Awards, new- and used-car dealers must have had at least 25 new reviews written on DealerRater.com during 2017 and averaged a minimum of a four out of five-star rating.  

---
Dr. Oetker closes N.B. plant, shifts majority of output to London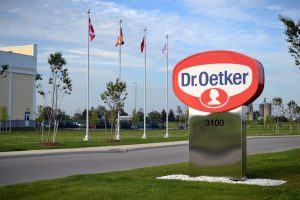 DR. OETKER CANADA Ltd. announced this week that it will close its leased pizza manufacturing plant in Grand Falls., N.B., at the end of May this year and move the bulk of the plant's output—70 per cent—to its hub production facility in London at 3100 Nova Court, near Veterans Memorial Parkway and Highway 401.
According to Dr. Oetker's executive vice president, Cécile Van Zandijcke, the move to consolidate operations is the result of a retail food climate that has become increasingly challenging in recent years both in terms of price and cost, adding significant additional pressures in the manufacturing environment.
"Food manufacturers have been facing severe economic pressures over the last few years and today's market has become ultra-competitive," says Van Zandijcke. "In order for Dr. Oetker to continue operating efficiently within this challenging environment, we needed to restructure our Canadian manufacturing operation."
Plans call for the London facility to add approximately 100 new workers and boost production by about 40 per cent. The 160,000-square-foot plant, opened in 2014, manufactures frozen pizzas under the Casa di Mama, Ristorante and Panebello labels, and had previously reported it had plans to double its production to 50 million units annually by 2018.
The company will move the remaining 30 per cent of the Grand Falls output to its plant in Lodi, New Jersey.  

---
Proposed hotel tax gets city nod; spending under review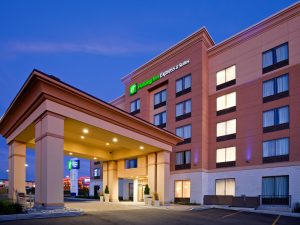 A PROPOSED FOUR per cent hotel tax got the backing of city councillors this week and could be implemented as early as June of this year.
The tax, labelled a transient accommodation tax, would add an extra four per cent to all hotel bills, and is expected to generate between $2 million and $4 million a year, based on the 2.1 million visitors to London who stayed overnight in 2016.
A city committee backed the plan in an 11-3 vote on Monday, with a referral to send the proposal back to examine options for spending the revenue, either in the entertainment industry or on infrastructure projects.
John Winston, general manager of Tourism London, told the committee the funds could help improve existing entertainment facilities, as well as help develop new ones. The tax would also give the city the needed cash to attract large events, such as the World Junior Hockey Championships or the Juno Awards London will host next year, he added.
Similar taxes have long been in place in cities such as Toronto, Ottawa and Niagara Falls. The tax would apply to hotels, motels and additional hospitality operations, and if formally approved by city council, could also be imposed on Airbnb rentals.  

---
London construction activity tops $1 billion for the second year running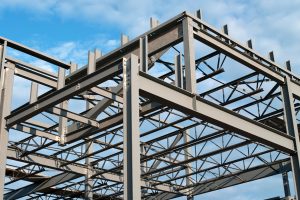 FOR THE SECOND consecutive year, construction in London topped the $1-billion mark.
The value of building permits issued by the city in 2017 was $1.1 billion, down from a record $1.4 billion in 2016, but only the second time London has eclipsed the billion-dollar value.
The city issued 5,014 building permits in 2017, up from 4,712 in 2016 and eclipsing the 5,000 mark for the first time since 2008. While there was more building in 2017, there were fewer large, big-ticket construction developments, such as institutional facilities and apartment buildings.
The total value of residential construction in 2017 was $822.3 million, down from $872.3 million in 2016. Results for 2017 included 3,292 permits for single detached homes and 665 permits for apartment building units, fewer than half the apartment permits from the previous year.
On the ICI front, 435 permits were issued last year for commercial construction, with a total value of $154 million, compared to 533 permits in 2016 valued at $186 million. Permits issued for institutional buildings in 2017 totalled 173 with a value of $108.4 million, compared to 203 permits in 2016 with a total value of $289.8 million. Industrial construction was valued at $33.2 million in 2017, down from a total value of $53.7 million in 2016.
Peter Kokkoros, chief building official with the City of London, expects 2018 to be another notable year, with several high-profile apartment construction projects leading the way.  

---
Juno Awards estimated to bring city $10 million in economic activity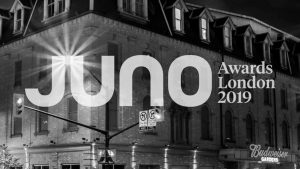 LONDON WAS ANNOUNCED as the host city for the 2019 Juno Awards and Juno Week festivities on Monday, capping off a successful bid that cost $1.7 million. The Juno program will take place from March 11 to March 17, 2019, culminating with the televised awards show from Budweiser Gardens.
This marks the first time the awards—which debuted in Toronto in 1970—will be held in London since the Junos started moving to a different host cities each year, starting in 2002. It has been staged in small cities before, such as St. John's, Halifax, Saskatoon and Hamilton. This year, it will be held for the third time in Vancouver, March 25. 
According to John Winston, Tourism London general manager, the Juno Awards and accompanying festivities have the potential to bring $10 million in economic activity to the London—and showcase the city to the rest of the country.
"The relationship-building and the contacts that we'll create in this sector will just be incalculable," he says. "The people who will come to the city, who have never been here before, who have never heard of it before, when they get here they'll never forget."
"When you think about the impact, it means digital companies may see us as more attractive, the younger creative class may be retained," adds Chris Campbell, Tourism London's director of culture and entertainment tourism. "This is the largest cultural event in Canada and stamps us with a brand you do not see in secondary markets. We are punching above our weight."
Allan Reid, president and CEO, CARAS/The Juno Awards and MusiCounts, adds: "We're excited to be bringing the 2019 Junos to London. This city has seen incredible growth with its music scene and, as such, is the perfect platform to celebrate Canadian talent. We look forward to supporting and showcasing the city's diverse music scene."  

---
Business Events Calendar
Featured Event: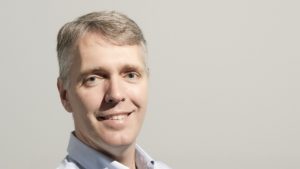 The Internet of Things: February 6, 2018
Presented by the London Bridge Network, Mike Tidy, director of consulting services at Toronto-based Hitachi Consulting, will explore the scope of what IoT promises, from consumer and customer benefits to data strategies and business outcomes. 
Upcoming Events:
SchMusic London: Febraruy 5, 2018
Designers + Drinks + Discussions London: February 6, 2018
Fundraising Fundamentals 2018: February 6, 2018
The Internet of Things: February 6, 2018
12th Annual Breakfast for YOU: February 8, 2018
Casual Cocktails & Networking with WCT London: February 8, 2016
U.S. Tax Reforms and its Impact on Your Business: February 8, 2018
2018 Start.ca London Sports Celebrity Dinner & Auction: February 12, 2018
Income Tax for Small Business Owners: February 14, 2018
London Chamber Business After Five: February 15, 2018
Systems Thinking Exchange: February 15, 2018
Exporting to the EU Workshop: February 21, 2018
Leadership Beyond the Box Program 2018: February 21, 2018
FEX Family Business Celebration: February 27, 2018
Networking 2.0 Next Level Marketing: February 28, 2018
Active Risk Management—The Board & Executive Director's Role 2018: March 6,
E.P.I.C. Networking Events: March 6, 2018