A young concrete and masonry firm looks to balance growing
demand with controlled expansion
Photo: Vanessa and Chris Warren
CHRIS AND VANESSA Warren are riding the wave of London's construction boom and building their business, one brick at a time.
The Windsor natives founded Render Construction in 2014 by winning a masonry tender for Old Oak Properties' Pomeroy Place at Southdale and Colonel Talbot roads. Chris made the daily commute for eight months before moving his young family to London.
"Vanessa and I both went to school in London and we fell in love with the city," says Chris.
Fast forward to January 2018, and Render Construction has grown its construction crew from 10 to 65, and has more than a dozen projects on the go across Southwestern Ontario.
Last November, Render Construction bought Woodstock's Riverstone Masonry, taking on 24 new employees, including an in-house estimator and professional quantity surveyor.
Not bad for a company run by a couple who have yet to celebrate their 30th birthdays.
"Right now, we're still a young company and we want to
make sure we have everything under control before we expand.
We keep thinking we will slow down, but the phones ring
every day" —Chris Warren
Vanessa grew up in the road construction industry, ­holding the sign, running the roller and working in the office for her parents' Windsor-based company. "I'm used to working with my hands and working with the guys," she says.
Chris came into the field almost by accident. Studying at St. Clair College to become a paramedic, he saw a sign promoting the school's brick and stone mason apprenticeship program. "I signed up and was selected," he says.
Always someone who enjoyed working with his hands, Chris began working as a brick layer for a Windsor masonry firm. During the slow winter months, he volunteered in the office as a way to grow his skills.
He made the decision to further his education by ­returning to the classroom, graduating from Fanshawe College's construction engineering technology management program in 2012. "I went back to work as a bricklayer and in the office for a few years, and then I decided to go out on my own," he says.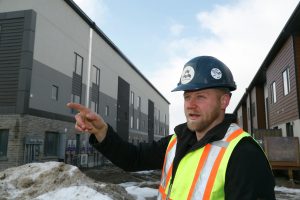 Today, Render Construction provides masonry and restoration services for residential, institutional, commercial and industrial projects, including Old Oak's Hyde Park Place apartment buildings, the Student Wellness Centre at Fanshawe College and a 175,000-square-foot addition at Starlim North America.
"It's been a journey," says Vanessa, commenting on Render's whirlwind growth. "Fortunately for us there are not a lot of masonry companies in London. People like that we are local, that we have a large crew and that we can be on site when they need us."
Long-term plans include expanding Render Construction's reach beyond the Windsor to Toronto corridor. "Right now, we're still a young company and we want to make sure we have everything under ­control before we expand," says Chris. "We keep ­thinking we will slow down, but the phones ring every day." 

 Nicole Laidler