With growing regional demand for warehousing and materials handling,
a forklift business expands to a larger headquarters
Photo: Lift Depot's operations manager, Mike Richardson, and sales and marketing manager, Mike Cunningham 
WHEN ROB DANIEL opened Lift Depot Ltd. in 1998, he wasn't expecting to get into the ­servicing side of the business. He simply wanted to run a niche business that rented lift equipment to companies in the automotive, warehousing and manufacturing sectors. Then again, by choosing to open on April Fools' Day, perhaps he was setting himself up to have things unfold in an unexpected way.
Today, the business that Daniel started as a one-man operation has grown to 62 employees working across Southwestern Ontario, with corporate headquarters remaining in London. There are brick-and-mortar locations in London, Stratford, Cambridge and Windsor. Other areas are covered by sales staff and technicians who work remotely and report to one of the ­physical locations.
"London is centrally located in the heart of Southern Ontario. Our operation here does more business than our other locations, and we have been looking to expand the headquarters here for several years," says Daniel, explaining why the privately owned company recently invested $2.4 million to move its head office and London operations to a 21,000-square-foot facility on Scanlon Street.
Some of that growth can be traced to 2011, when Daniel secured the first Hyundai forklift dealership in Southwestern Ontario. Then, in 2015, Lift Depot became the Ontario dealer for Clark equipment.
"Clark is one of the oldest material handling equipment companies in the world—they invented the forklift," says Daniel.
Landing the two dealerships had a big impact on Lift Depot, with the ­company recording 46 per cent growth over the past five years. "All of our branches are bursting at the seams. We need substantial inventory in all locations at all times to ensure local availability for immediate delivery."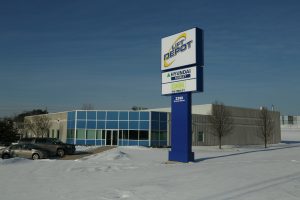 It's not exactly what Daniel envisioned when he hung out his shingle almost 20 years ago. "When I started, I wanted to focus on equipment rentals and job out what I needed in service. But companies want to concentrate on what they do, getting product in and out of the door, so having good service for their equipment is important," he says.
Almost immediately, the automotive plants Daniel was dealing with asked him to bid on service contracts. Landing those contracts led him to ­hiring technicians, and today 45 per cent of revenue is derived from the ­service side of the business.
"We are always looking for more help," he says. "Finding technicians in today's world is tough. Finding good ones is even worse."
To retain employees with the right skillsets, Daniel says the company invests heavily in training and pays its technicians higher than average wages.
Daniel says automotive assembly plants and related tier companies remain an important client sector for Lift Depot, but the business has also diversified its customer base to include a range of manufacturers, warehousing and distribution facilities and third-party logistics providers. "If the ­automotive disappeared, we'd still have enough diversity to fall back on," he says. 

 Kym Wolfe