Stepping back from daily operations, Jo-Ann Fisher looks back on
more than three decades of fashion retailing
Photo: Jo-Ann Fisher
WHEN LONDON'S WELL-DRESSED women need a suit that means business or just the right outfit for their next special occasion, many turn to Jo-Ann Fisher. As the founder of the ­independent fashion retailer Hangar9, she's been helping women dress for success for more than 30 years.
With three of her four daughters—Denise MacDonald, Lisa Ferguson, and Rachael Doak—now involved in every aspect of the company, Fisher is ready to step back from the helm. And with this month's move to a 7,000-square-foot fashion arcade at 620 Richmond Street, Hangar9 is ready for its next chapter.
"What I want to retire from is the business end of it, so I don't have to worry about paying the bills," says Fisher with a laugh. "I love to dress women. I love clothes. I'll still be part of the buying team. And I'll be working on the floor when I want to. But I have nine grandchildren, so I want to spend time with them."
Although she talks of retirement, Fisher shows no signs of slowing down. She is already planning her next buying trip to New York fashion week with her youngest daughter, Doak. The mother-daughter buying team travelled to Berlin earlier this year and have previously attended the Paris shows.
The world's top fashion houses are a long way from the farm in Elgin County where Fisher and her four siblings helped out with the cows, ­chickens and pigs. "Even though we lived on a farm, my mother and father were very stylish people in every aspect of life. My mother always set the perfect table. My father was very dapper," she recalls.
This inherent sense of style, and her husband's cattle, inadvertently launched Fisher's career in fashion. She was introduced to multi-level ­marketing company Mary Kay Cosmetics at Toronto's Royal Agricultural Winter Fair, becoming an independent consultant alongside her good friend, Pat Cooper.
It was the early 1970s, Fisher explains. Mary Kay was just ­entering the Canadian market and the two women quickly built up a loyal clientele. "Some of our customers would ask me to help dress them," she says. The idea for a ladies' fashion boutique was born.
By 1985, the two friends were ready to open Fisher & Cooper in an old home near St. Joseph's Hospital. There was a hairdressing salon in the back room. "She was just happy to have somebody rent her space up front, and that's how we got into business. It would be unheard of today," says Fisher.
"What I want to retire from is the business end of it, so I don't have to worry about paying the bills. I love to dress women. I love clothes. I'll still be part of the buying team. And I'll be working on the floor when I want to. But I have nine grandchildren, so I want to spend time with them" —Jo-Ann Fisher
Cooper left the partnership for family reasons three years later and Fisher relocated to the ­southwest corner of Richmond and Central as Fisher & Company. The next move took the store to the retail plaza at Richmond and Dufferin, where its ­reputation for offering high-end designer labels and a personalized wardrobing experience made it a ­destination for women from across southwestern Ontario and beyond.
In 2010, Fisher's daughter, Lisa Ferguson, opened an upscale shoe and accessories boutique called Accents Accessories in the space next door. "Lisa is a great accessories buyer," Fisher comments. "The beauty for our customers is that I could never carry the stock that she has."
In 2015, daughters MacDonald and Doak decided Fisher & Company needed a second location in downtown Toronto to serve a loyal clientele of ­former Western University students who no longer had time to make ­regular shopping expeditions to London.
Fisher saw it as the perfect ­opportunity to rebrand both stores as Hangar9. "Fisher & Company sounds like a law firm," she says. "It didn't really say what we do."
The new name was inspired by Fisher's guiding fashion formula, [H9 + 9] = 36.
Any woman can take nine basic pieces and create a versatile ­wardrobe of 36 different looks, she explains. "This is how men have always dressed. They have two suits. I recommend that women have two suits."
It's a strategic approach to fashion that emphasizes quality over quantity, but it takes planning and self-discipline.
"You can't buy one piece here and another piece there," says Fisher, who regularly helps women edit and ­organize closets filled with clothing where the tags are still on and nothing works together.
Fisher's less-is-more philosophy, combined with her gift for getting to know her clients, has kept London entrepreneur, Jill Wright, coming back to Hangar9 for almost 25 years.
"They've been there through job searches, career dressing, business travel, having kids and going back into the workforce seven years later. They've always been able to meet my needs, and they always work with the nine-piece rule." Wright says. "I love that. Once you have those basics you can mix in your trendy clothes or inexpensive t-shirts."
Wright says she's learned a lot about fashion from Fisher and her team over the years. "And they always make the experience fun."
Building relationships of trust is one of the secrets to Fisher's long-term success in the notoriously fickle fashion industry. In 2016, Hangar9 won a Business Integrity Award from the Better Business Bureau, which she calls a career highlight.
Staying ahead of the latest fashion trends and constantly searching for new designers are other keys to survival. "We've carried so many great lines and worked with so many talented designers," she comments.
Today, Hangar9 carries internationally known names like Dorothee Schumacher, Maison Marie Saint Pierre, Missoni and Rag & Bone, among others.
"We have certain lines we buy for our 25- to 35-year-olds, and then our 40- to- 50-year-olds. And now we have a great group of seniors, too. Every age needs a certain look," says Fisher. "When I find a line that crosses the age barrier—like Marie Saint Pierre—I know I've got a winner."
Fisher is confident that her winning formula will continue under the leadership of her three daughters. "I am very fortunate that I have very smart girls who love the business," she says.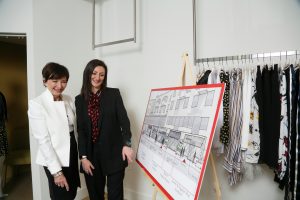 The new location brings multiple storefronts into a shared shopping space near the busy intersection of Richmond and Central.
In addition to Accents Accessories and Hangar9, the store features an upscale lifestyle boutique called Trouvelle. "It could have been called Lisa's picks, because that is what it is," says Ferguson, who recently returned from a buying trip to the New York Now trade show. "Like our clothing, everything will have ­designers behind it and nothing is mass produced."
The vision for the new, expanded location was to create a unique retail destination in the heart of Richmond Row.
"We've gone with a very eclectic look with a bit of an industrial feel," Ferguson says. Designed by Toronto's Citizens & Collaborators, the space features open ceilings, exposed ­pillars and cement floors, softened by a mix of colourful carpets and antiques.
It's a big investment to make in an age where many brick-and-mortar retailers are succumbing to the ­pressures of online shopping. That is a space that Hangar9 has no plans to enter. "We wouldn't want an online store. It's another business really," Fisher notes.
She believes that the future of ­independent retail lies in creating a unique shopping experience with a focus on personalized service. "I think people crave that great quality. There is a niche to be filled."

 Nicole Laidler