One part pluck, one part persistence, a new breed of ­business is
breathing life into the Railway City
Photo: Stephanie Brown and Joe Preston of Living Alive Foods Inc.
IN RECENT YEARS, St. Thomas economic success has relied on smaller manufacturers and service providers relocating, expanding and taking up once-vacant digs. To that end, the city has been gradually changing its economic profile, attracting a wide range of business types and developing a climate of economic diversity.
And, as most Londoners are well aware, the spunky little city down south has also been grabbing headlines for rolling out the welcome mat for London companies. In the past few years, St. Thomas has wooed former London-based firms such as Forest City Castings, Sle-Co Plastics, Mustang Products and Las Chicas Del Café.
But it's a growing mix of unique and innovative homegrown businesses that are perhaps making the biggest difference in St. Thomas. Railway City Brewing Co., for example, is one of the pioneering craft breweries in Southwestern Ontario and helped pave the way for London success stories like Forked River Brewing Company and Anderson Craft Ales. Opened in 2008 in a 2,500-square-foot facility on Curtis Street, Railway City now occupies a 13,000-square-foot building on Edward Street.
Equally unique, Cole-Munro Foods Group Inc., one of Canada's top trout processors, is expanding into a 27,000-square-foot facility that will soon change the landscape of a 10-acre lot near the corner of Edward Street and Gaylord Road. Cole-Munro started off small as a trout processor and distributor in Port Stanley in 1994 and has grown exponentially to where they are today, with owners Geoff and Susan Cole running a processing plant in St. Thomas that employs more than 50 people.
"We rely on the quality of our employees to produce the best product in the marketplace," says Geoff Cole, "and we are pleased to continue to grow with them here in St. Thomas."
Indeed, St. Thomas is home to a number of expanding SMEs that are helping redefine the city's business profile. Prepared with the guidance of the St. Thomas & District Chamber of Commerce, what follows is a look at three vibrant St. Thomas firms that are representative of the changing diversity and complexion of the city's economic landscape.
Living Alive Foods Inc.
When they first met at an event years ago, she was a musician, there to sing the national anthem, and he in attendance as MP for Elgin-Middlesex-London. Now, both Stephanie Brown and Joe Preston have set aside their former occupations and become business partners in Living Alive Foods Inc., as well as life partners.
They first started selling healthy granola snacks, made from Brown's own recipes, at the Horton Farmers' Market in St. Thomas in May 2016. "We started with 80 bags the first day and sold out," Preston recalls. "Very quickly we were approached by retailers who wanted to carry our product."
Within four months, the granola was being sold in more than a dozen stores in the London-St. Thomas region, and today you'll find it on the shelves of 150 area retailers. Additionally, two national distributors in Toronto and Vancouver now move the product to stores across Canada.
"Our production has doubled in the past year," says Preston, "and we expect it to double again in 2018," he says.
Recently, the pair started to experiment with a new healthy snack product made from roasted broad fava beans, produced in a variety of flavours normally associated with potato chips. Test marketing took place in February, starting again at local farmers' markets, and once the R&D is perfected, the partners will look at wider distribution, potentially coast to coast.
While most ingredients for the granola are easily sourced locally, including honey, maple syrup and oats, Living Alive Foods had to look to Quebec to source the larger-than-normal fava beans. However, Preston is optimistic that, in the future, "We think we can have them grown locally."
"Our production has doubled in the past year, and we expect it to double again in 2018" —Joe Preston
Brown, who struggles with bipolar disorder (the business donates 10 cents from every granola bag sold to local mental health programs), says she has always wanted to run her own business, but is quick to add she and Preston just didn't expect it to explode the way it has. They are already thinking of new product lines for future expansion, and wherever that may lead the business, they plan to remain in St. Thomas. And they'll continue to produce granola, too, because as Preston notes, "We will always fondly remember it as the one that got us started."
Dowler-Karn
If you live in a small town or agricultural community in Southwestern Ontario and you think about fuel—for powering vehicles or farm equipment or heating homes—chances are the first name to come to mind will be Dowler-Karn.
The family-owned business has been supplying gasoline, diesel, propane and lubricants to homes, farms and businesses for decades—dating back to 1943, when George Dowler became an Imperial Oil agent for the St. Thomas area. His daughter, Joyce, and her husband, Jack Karn, ran a parallel Imperial Oil business targeted at farm trade, and the two companies amalgamated in 1967 to form Dowler-Karn.
Today, the company is run by Jack and Joyce's three children—John and Dave Karn and Barb Molinaro—and it has more than 10 branches and fuel filling stations across the region, from Windsor to Tillsonburg and north to St. Marys.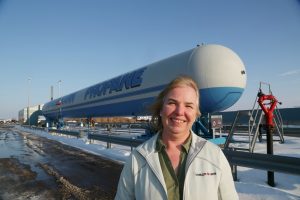 As one of Southwestern Ontario's largest family-owned fuel businesses, Dowler-Karn has over 160 employees and continues to expand. Some of that growth comes from acquiring other family-run enterprises, like J&D Cooper Oil in Chatham and Parker Fuels in Aylmer.
"The Karn family is well respected in the industry, and what we've seen is that when there is no next generation to take over a family business, then they look to this family as a natural progression," says Neil Flegel, Dowler-Karn's general manager. "Family values mean something; there is a sense of pride in the way they treat their customers and their employees."
There is also a sense of pride in giving back to the communities where it operates—last year Dowler-Karn contributed to more than 500 event and charities across the region
There is also a sense of pride in giving back to the communities where it operates—last year Dowler-Karn contributed to more than 500 event and charities across the region. "Our parents were big supporters of hospitals and emergency services, and we have continued that," says Molinaro, noting that the financial support is critical to healthcare in smaller communities like St. Marys and Elgin.
In 2010, the Dowler-Karn property played host to the International Ploughing Match, and that seemed like a perfect time to showcase the Jack & Joyce Karn collection—more than 10,000 pieces of memorabilia accumulated through 60 years, including a number of vintage vehicles, which are often tapped for local historical events. The collection is now established as a permanent museum, which is open to the public every Wednesday.
MMD Data Systems
The roots of MMD Data Systems stretch back to when Daniel Pfingstgraef and Jason Kerkvliet were still in high school. The two were already seasoned programmers when Pfingstgraef's father let him take the reins of data management for his audiology clinic in St. Thomas.
"We were friends, and he kind of roped me in to help," recalls Kerkvliet. "We did a good job, and somehow our names got to a medical centre in Manitoba, and we've been growing through word-of-mouth ever since."
Initially, the pair learned how to develop electronic medical records (EMR) software by tapping into an open source group of doctors and software developers in the U.S. As Canada's first and only OpenEMR software support provider, MMD has worked with over 650 healthcare professionals from across the country.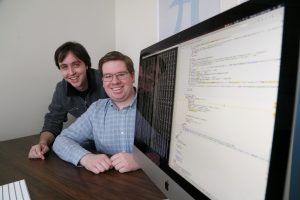 Most recently, the company launched Libre MD, new EMR software that Kerkvliet and Pfingstgraef designed to add specific kinds of functionality. The program can manage everything from client appointments and electronic check-ins to billing and prescriptions, and securely stores medical records.
There are a number of companies offering EMR software, says Kerkvliet, but MMD takes a bit of a unique approach with its product offerings. "We don't have one-size-fits-all solutions," he says. "The field of medicine is vast, and we pride ourselves in listening to the practitioners' input—they are active participants in our software development."
There are customized modules for ophthalmology, obstetrics, paediatrics and other specialty practices. For example, they point out that paediatrics is unique because dosing for prescriptions is based on a child's weight. "Our software does that calculation for the doctor," says Kerkvliet, adding, "The devil is in the details."
"Medicine, although difficult, is very rewarding. By helping medical practitioners, we feel we're having a positive impact"
—Jason Kerkvliet
Now that the business has grown, the pair have hired three more programmers in St. Thomas and also have affiliates in different provinces. They want to expand their client base across Canada and are also setting their sights on the U.S. and eventually global markets. The partners are developing Libre MD to be able to plug into EMR systems anywhere, with an ability to operate seamlessly.
While the pair suspected from a young age that they were destined to work with computers, they're pleased it has led them to something they see as meaningful. "The great thing about computer science and software development is that you can work in a lot of different fields. Medicine, although difficult, is very rewarding," says Kerkvliet. "By helping medical practitioners, we feel we're having a positive impact."

 Kym Wolfe