London Inc. Weekly 03 • 23 • 2018
Nine firms crowned at 2018 London Business Achievement Awards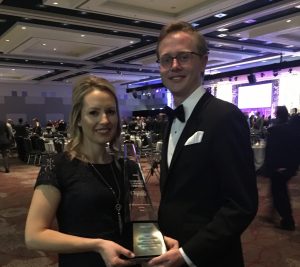 LONDON'S BUSINESS COMMUNITY gathered at the London Convention Centre last night at the annual London Chamber of Commerce Business Achievement Awards gala. With well over 1,000 business and community leaders in attendance, the event has grown to become the largest of its kind in Canada.
Winners were announced in nine categories (the recipient of the 2018 Corporate Icon Award, Jones Packaging, was announced up front of the gala) representing a broad spectrum of economic activity and business sizes in the London community.
The following firms took home hardware:
Small Business of the Year: Bentley Hearing Services
Medium Business of the Year: WinAir (AV BASE Systems)
Large Business of the Year: Northern Commerce
Agribusiness Award: Gray Ridge Egg Farms (L.H. Gray & Son Ltd.)
Beyond Borders Award: Armatec Survivability
Corporate Social Responsibility Award: KPMG LLP
Environmental Leadership Award: 3M Canada
Excellence in Human Resources Award: Diebold Nixdorf
Innovation Award: Canadian Centre for Product Validation

---
VersaBank to introduce blockchain-based digital asset vault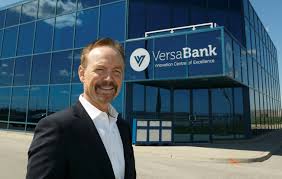 LONDON-BASED VERSABANK Inc. is building a virtual safety deposit box for cryptocurrencies and other digital assets. By doing so, the small digital-only bank becomes an early mover in a global banking industry that's been hesitant to venture into most things crypto.
VersaBank plans to have its digital vault, dubbed VersaVault, ready by June and offer the service to global customers. Earlier this week, the bank announced it had signed two memorandums of understanding with interested users—one with a cryptocurrency exchange and the other with a "cryptocurrency-based fund."
In an interview with Bloomberg, VersaBank CEO David Taylor said, "We're using what banks are all about—safety and security—only what we're doing now is saying that physical box in the basement is getting obsolete. Most people's really valuable assets are contained in some sort of digital format, whether it be a deed or a contract or a cryptocurrency."
VersaBank hired cybersecurity expert Gurpreet Sahota, formerly of BlackBerry Ltd., to lead software engineers in designing its VersaVault. The vault will securely store digital assets on computer servers around the world. Like a safety deposit box, the bank won't know what's inside. But unlike a traditional safety deposit box, VersaBank can't access the contents.
"Our differentiator in this market is to be secure and super private," Taylor told Bloomberg. "The bank wouldn't have any kind of back door to open up the vault, we're just providing the facility that folks could put their digital keys in."
With a market value of about $158 million, 80 employees and $1.73 billion in assets, VersaBank has outperformed Canada's big banks, with shares soaring 24 per cent this year versus the 2.9 per cent decline of the eight-company S&P/TSX Commercial Banks Index. Last year, VersaBank rose 19 per cent compared to the 11 per cent gain of the banks index.

---
City moves a step closer to removing enterprise corridor development cap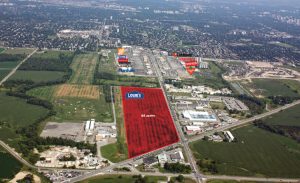 FOLLOWING A HEATED debate surrounding the removal of a development cap in the so-called enterprise corridor along Wonderland Road South, the planning committee voted four-two in favour of lifting the restriction.
The vote echoes the advice of an independent consultant hired by the city planning department to perform a market analysis. The final approval rests with city council next week.
The enterprise corridor was created as part of the 2012 Southwest Area Plan, and included a 100,000-square-metre cap on the amount of commercial development along Wonderland Road between Southdale Road and Hamlin Street. Worries arose when full inventory was snapped up by a few firms: roughly 20 per cent by pre-existing shops; about 60 per cent by York Developments (including land for the new Lowe's outlet at 3375 Wonderland Road South); and the remainder gobbled up by two firms.
Last year, the planning department raised concerns that, with the cap space used up, it left several properties essentially undevelopable, which could lead to what is called 'leapfrog development'. Leapfrogging leads to areas of dense development followed by gaps in the street followed by more areas of dense development. The planning department argued that it is an inefficient use of land that contributes to urban sprawl.
Several councillors, however, have expressed concern that removing the cap could potentially lure existing stores and businesses away from other parts of the city, particularly the core.

---
Fanshawe College to connect more young people to hands-on work experience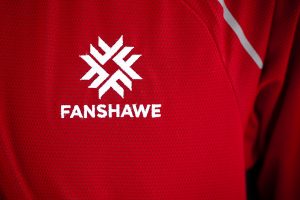 IN A PROJECT led by Fanshawe College, 50 youth from across southwestern Ontario will be connected to paid placements to overcome common barriers to employment. Fanshawe will be facilitating career-related work experience opportunities in the fields of health management, administration and computer systems design.
The Government of Canada is providing approximately $850,000 in funding through the Career Focus program, which supports projects that help youth develop their skills and obtain valuable work experience.
"With this funding, Fanshawe will improve the transition of highly skilled young people from school into a rapidly evolving labour market while providing opportunities for employers to recruit talented youth for their future workforce," says Darlene O'Neill, senior manager, employment and student entrepreneurial services, Fanshawe College. "This is a win-win situation for both employers looking to hire skilled employees and young people looking for a career in their field."
Emily Gaan, human resources and finance coordinator at Digital Echidna, says the program provides an opportunity for young professionals to not only gain hands-on work experience, but also a deeper understanding of the career opportunities that exist in the city.
"Our relationship with Fanshawe continues to grow, and we look forward to working with the college to provide real-world, tangible experience to new graduates through the Career Focus program," says Gaan. "We hope graduates will choose London as a starting point for their career after they see the many great opportunities that exist here." 

---
London Convention Centre generates over $17 million in economic activity in 2017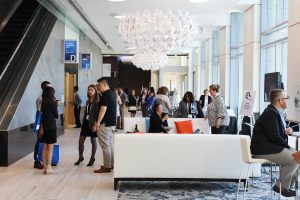 ACCORDING TO CALCULATIONS from the London Convention Centre (LCC), the meeting and conference facility was a direct contributor to $17,808,496 worth of economic impact for London in 2017.
The figure was reached using the Tourism Regional Economic Impact Model, guidelines employed by the Ontario Ministry of Tourism, Sport and Culture to estimate the economic impact of tourism activity in the province.
The model assumes the average convention delegate spends $321 per day on accommodations, transportation, food, beverage and shopping. In 2017, the LCC hosted 306 events in accounting for 112,712 delegate days.
During the 2017 calendar year, the LCC hosted several premier conferences, including the Pedorthic Association of Canada, the Canadian Association of Enterostomal Therapy and the Ontario Pharmacists' Association. "This speaks to London's strong reputation within the medical community," says Darrin Pollard, LCC director of business development.
"Hosting conferences in London is beneficial not only to the LCC and hospitality partners, but also for area restaurants and shops," adds Lori Da Silva, LCC general manager & CEO. "Delegates like to get out and connect with the host community; it's all about finding that unique local experience."
The 2017 building utilization rate was 72 per cent, the best result since the LCC opened its doors in 1993.

---
Business Events Calendar
Featured Event: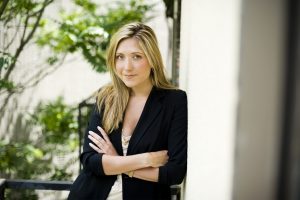 Talkin' Tech with Sarah Prevette
Kick-off London Tech Week 2018 with Sarah Prevette, founder of Sprouter and BetaKit and co-star of Quit Your Day Job. Join Sarah and special guests at Toboggan Brewing Company for an entertaining and frank discussion about all things entrepreneurship.
Upcoming Events:
A Seat at the Table: March 26, 2018
Digital Marketing #2 – Now Let's Get Customers: March 27, 2018
eCommerce 101: Establishing and Building Your Online Presence: March 28, 2018
Manufacturing Economic Outlook & Investment Roadshow: March 29, 2018
2018 March Mega BAF: March 29, 2018
Founders Panel 2018: April 3, 2018
rTraction B Corp Workshop: April 4, 2018
Feast With Friends – Bethany's Hope Foundation: April 5, 2018
Jack Richardson London Music Week: April 5-18, 2018
Global Student Leadership Summit: April 9-11
London & Area Works Job Fair: April 10, 2018
Creating Online Engagement and Results: April 11, 2018
Fanshawe College Career and Job Fair: April 11, 2018
Canadian Medical Hall of Fame 2018 Induction Ceremony: April 12, 2018
Talkin' Tech with Sarah Prevette: April 17, 2018
Munchies with Mentors: April 18, 201
Rocky's Harley-Davidson Ladies Garage Party: April 19, 2018
Techcellence Awards: April 19, 2018
Finance for Non-Finance Professionals: April 20-22
LSTAR ESMART Economic and Smart Technology Summit: April 23, 2018
London Chamber Summit 2018: April 24, 2018