Marking 80 years, Turner Drug Store remains competitive by focusing on community and customer. But for how much longer?
Photo: Turner Drug Store owner, Jeff Robb
JEFF ROBB ISN'T quite sure where the time has gone, but having been behind the counter at Turner Drug Store for more than half of its 80 years in ­business, he's reflecting on all the good he's helped achieve.
"I was thinking recently about how many thousands and thousands of customers and friends and people we've met over the years," Robb says. "Some days can be very taxing. Other days, you look around and think about how we can improve somebody's life today. That's not just with ­medications, but with humanity and humour and a smile."
Robb started working at the store in 1974 after his father, Glenn (the second owner of Turner Drug Store), purchased the business in 1965. The store was originally opened by Stan Turner in 1938, with Robb's father coming on board in 1951.
"I feel like an old man in a young man's game. It's getting to the point where a decision is going to have to be made or put in place" —Jeff Robb
In many ways, the store has established itself as a fixture in London's Old South neighbourhood.
Located at 52 Grand Avenue, Robb says he has intentionally tried to keep the store "last century".
"Time kind of stands still in this place," he says. "People have a lot of choices. They come back to us because of customer service. If you treat people right, that gives them a reason to come back and see you again."
Another reason Robb says people keep coming back is the store's commitment to "being a good neighbour". He has a long history of charitable endeavours, often working behind the scenes to support causes he cares about.
Customer service and community support are essential components in Robb's vision of how to operate a business. Nonetheless, he acknowledges it remains difficult to go up against "the marketing machines" of juggernauts like Shoppers Drug Mart, Rexall and Costco.
To combat his superstore competitors, he relies on a mix of alternative and complementary therapies.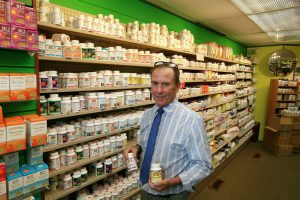 "Really, medicine should be a judicious blend of modern medicine and other alternatives that can enhance it," he says. "We have a lot of products other stores just don't have. That was on purpose. I wanted to create a niche; I wanted to create a destination."
At 58, Robb is now just two years younger than his father was when he died, a reality he admits does weigh on his mind. He even scaled back his hours a couple years ago, but found he really missed the social aspect of his work.
That said—and maybe because he admits to not having a succession plan in place—the future of the store is somewhat undecided.
"I feel like an old man in a young man's game. It's getting to the point where a decision is going to have to be made or put in place," he says. "I think I'm more or less healthy. I won't run a marathon tomorrow, mind you. I feel a debt, a duty, to my customers and staff. The future would depend on many things, and I'm just not there yet. That might be denial or just knowing I would miss it." 

 Sean Meyer