It's been three years since Kyle MacDonald sold Phoenix Interactive Design and established Harbour Grace Group. She's never been busier
Photo: Kyle MacDonald
FOR ALMOST 30 years, Kyle MacDonald was a self-described non-techie who founded and ran a cutting-edge technology company. Starting with just two employees in 1987, MacDonald grew Phoenix Interactive Design into an international provider of self-serve software for the banking industry.
The company's software could be found in ATMs around the world, and MacDonald was recognized with a number of awards, including being twice named Canada's RBC Woman Entrepreneur of the Year.
When she sold her company to Diebold Nixdorf in March, 2015, she spent three months travelling the globe so she could personally connect her former clients with Phoenix's new owners.
After the sale, MacDonald immediately established Harbour Grace Group, a company named for her ­mother's home town in Newfoundland. "My grandfather worked on the docks, and he used to come home and talk about this beautiful ship, the Kyle, which was a passenger ferry that ran from Newfoundland to Nova Scotia. My mom named me after that ship."
"I like to dream big—I'm the big-vision person. John's strength is in the execution. We love what we do and we'll never retire" —Kyle MacDonald
MacDonald has used the holding company as a vehicle to invest in a number of ventures.
She and her husband, John Franklin, have been boating on the Great Lakes since 1993, but in 2015 they set their sights on much bigger waters. "Right away, we bought a yacht. It was one of my dreams," says MacDonald. The Touch, a 120-foot, four-cabin luxury charter yacht, operates around the Caribbean and the Bahamas. "We also get to enjoy it four or five times a year."
MacDonald also bought out Franklin's minority partner in his business, Airia Brands, which produces Lifebreath indoor air systems. She now handles the daily operations as CEO, while Franklin remains involved as Airia's president.
"We sell our product across North America, but all of the manufacturing is done right here in London," says MacDonald, who put down roots here as a Western student.
The other big undertaking that started in 2015 and took almost three years to complete was the construction of a "towards net zero energy" lake house in Grand Bend. From the solar panels and the batteries that store the power they generate to the flooring, stonework, granite and gardens, every decision was based on minimizing the home's ecological footprint.
"We have triple-pane windows, and our landscaping is butterfly friendly. As much as possible we used made-in-Canada products. We sourced our flooring from a company in Tobermory that grows its own forest, harvests the trees and makes the hardwood," say MacDonald. "We took thousands of photos and hours of video throughout its construction, and my goal is to write a book to encourage other people to do the same.
"We love to spend our summers in Canada, but we winter mainly in Florida," continues MacDonald. Some of Harbour Grace's commercial real estate investments are in Florida, and she is currently exploring venture capital opportunities there as well.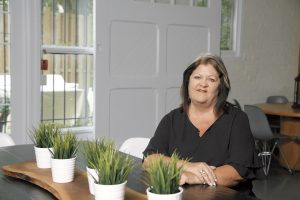 MacDonald also has a philanthropic bent. This past year, she and Franklin (both of their fathers were in the military) donated $1 million to St. Joseph's Health Care Foundation to support research being conducted at the Operational Stress Injury Clinic, and to provide some nice-to-haves (like new seating in the garden) for military veterans at Parkwood.
Harbour Grace is a patron sponsor for the Brescia University College BresciaLEAD awards, a bi-annual event that celebrates three outstanding women and one ­organization, and also generates funds for scholarships for Brescia students. MacDonald also directly funds annual scholarships for four students from her former high school in Toronto, and is a supporter of the David Foster Foundation, a charitable organization providing financial support for non-medical expenses to Canadian families when children need life-saving organ transplants, and would like to get more involved with that organization in the future.
Between their business interests and desire to give back to the community, MacDonald says she and Franklin are constantly throwing ideas around.
"I like to dream big—I'm the big-vision person. John's strength is in the execution. We love what we do and we'll never retire." 

 Kym Wolfe