So You Want My Job: Barber
Eric Alexander of Whistling Dick's Barber Shop chats about the ins and outs of his career
Photo: Eric Alexander
ERIC ALEXANDER IS a barber at Whistling Dick's Barber Shop, opened on Dundas Street East in Old East Village this past April by John Parlow and Gregory Kahnert.
Alexander, 36, grew up in London and went to Catholic Central High School and then Conestoga College. He is married to Carla; they have three children, Chase, Sonia and Nadine, all under 10. They also have a dog, Skyla.
He likes spending time at the gym and with his family, "usually at the hockey rink."
When and why did you decide to become a ­barber?
Four years ago, I was working for Toyota Motor Manufacturing and was hurt on the job. While recovering from surgery, I began to question my career at Toyota and came to the realization that I wasn't happy at all with my job and my professional life. I literally asked the universe to help me discover my true calling in life.
Two weeks had passed, and my mother-in-law had mentioned to my wife that she had always pictured me as a hairstylist because I had cut her hair in the past. That's when it hit me like a ton of bricks: I was meant to be a barber. Since that day, I have been obsessed with barbering.
I'm self-taught. I learned by watching some of the best in the industry online. I began developing my craft on family members and friends, and it wasn't long before I had a lengthy list of loyal clients. After about two years, I felt I had reached a plateau. I sought guidance from a well-respected member of the barbering community in London, Jeremy Granger. I worked under Jeremy for a just over a year and learned many invaluable tricks of the trade. I truly wouldn't be the barber I am today without Jeremy as a mentor, and for that I'm forever grateful.
Whistling Dick's is a throwback to a bygone era when men would hang out in barber shops, smoke cigars and banter. What about that appeals to you?
The whole traditional barber shop experience appeals to me. I love to talk and hang out with the boys, and these days it's hard to get out and truly have a boys' night. Whistling Dick's provides this type of escape any time of the day—a place where men can go and be men. From the scent of freshly applied aftershave to the sound of a cold craft beer being poured, I feel as though I'm connecting to my roots.
A bartender does more than serve drinks, and you do more than cut hair. How do you describe your job?
Well, for one, I make people look and feel good for a living, and that alone to me is incredible. But if I were to break it down, I would have to say that I'm a shrink, counsellor, fashion consultant, hair product rep, bartender, close friend, a wicked listener and one damn good barber all wrapped up into one. I love waking up every day knowing I'm going to make a difference in someone's day.
Describe your average work day.
Opening the shop in the morning, turning the '40s tunes on and getting my tools of mass creation ready for the day. The day is filled with many different conversations on many different topics. I cut a lot of hair—and sweep just as much. I do everything from hot towel shaves, creative hair designs, traditional cuts, modern cuts, beard sculpting and shaping, fades and style suggestions and tips. After the day is done, the other barber, Scott, and I clean and close up shop and get ready for another day.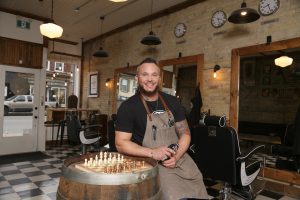 What's your work/life balance like?
It's great. In the past, I was never able to be there for my kids and wife in the morning. Now, my mornings consist of getting our three kids ready for school, lunches, dressed, et cetera. I take them to their bus stops, and afterwards still have time to go to the gym before starting at the barbershop. Although we typically work past most people's dinner times, I'm still able to have dinner together as a family, three days a week. Whistling Dick's is a family-first company—any time that I ever need off to tend to the care of a family member or pick them up from school early I'm able to take without any feelings of guilt or disappointment, which is really refreshing and a new concept for me in my professional career.
What's the job market like for barbers?
The job market is, honestly, always in need of new self-motivated, driven talent. There are barbershops opening all over the city, province and country. This craft could take you all over the planet. And one thing is for certain: your job as a barber will never be taken by robotics. A human element will always be required.
Best part of your career?
It would have to be revealing the final product of a haircut or shave to a client and seeing the smile and look on his face. It's the most satisfying feeling on earth.
Worst part?
Not finding my passion for barbering sooner. There is absolutely nothing about my career that I honestly do not enjoy.
What's your take on the beard trend?
Beards these days are so versatile with many different shapes, lengths and styles. Beards are also more widely accepted in the workplace, which has encouraged more men, in my opinion, to grow and care for a beard. A beard is much more than a fashion statement or an accessory. It's a commitment. 

 Interview by Christopher Clark