A subscription management platform helps comic book stores improve customer service and profitability
Photo: North IQ Business Solutions partners Craig Oliphant and Brian Garside
FOR MANY COMIC book fans, getting their favourite titles into their hands can be a time-consuming and possibly even awkward venture. But Brian Garside and Craig Oliphant have come up with a way to make it a whole lot easier.
Garside and Oliphant are partners in digital ­marketing firm, North IQ Business Solutions, opened in August, 2017. Based out of the Research Park at Western University, North IQ may have launched as a web ­development and digital marketing shop, but it was Garside's passion for comic books that led them to create a platform to help shop owners and customers alike get the latest copy of Batman into their hands as easily as possible.
The system, called Manage Comics, was refined over the past two years and launched last November.
"Nobody ever has to walk into a store—they can do ­everything online and the store can ship it to them," Garside says. "Part of my pitch to stores is if you aren't online, one of your competitors will be. And if your competitor is, they can sell in your neighbourhood."
The platform is currently being used by 36 stores in four countries—five in Canada, one in the United Kingdom, two in Australia, and the remainder in the United States.
"Removing the barriers of people having to come into your store to experience it, you're expanding your business" —Brian Garside
With Manage Comics, a store owner can more easily ­manage their inventory while simplifying the process of ordering titles from the individual publishers.
On the customer side, patrons of shops utilizing Manage Comics software can log into the store website and add as many titles to their personal subscription lists as they want without having to visit the location in person.
In some stores, thanks to the system, they can pay for their comics online and have them shipped right to their door.
"There are people like me who don't want to talk to ­anybody, they just get in and get out," Garside explains. "Then there are people who want to socialize and talk. This removes all those barriers because they can manage things on their own."
Oliphant says the Manage Comics system has "really picked up steam" in the last year or two.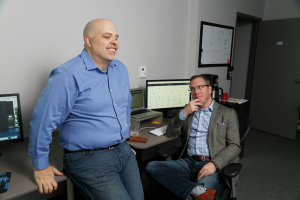 At this time last year, North IQ had a data base of maybe 10 shops looking into Manage Comics. Today, he says, in addition to the 36 shops that have signed up, some 190 ­others have expressed interest.
The comic book business has seen many shops close over the past decade, meaning fans often have to choose between travelling considerable distance to get their books, or ­switching to online platforms that further cut into the market for physical copies.
A system like Mange Comics, Garside says, allows the best of both worlds.
"There comes a point where, does an hour drive to get ­comics make sense when you can get them online?" Garside says. "Removing the barriers of people having to come into your store to experience it, you're expanding your business. And again, if you aren't, someone else will—and you're going to lose out to them." 

 Sean Meyer