London Inc. Weekly 03 • 22 • 2019
Nova Craft Canoe announces ownership change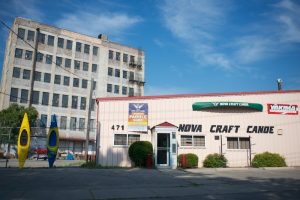 Photo: The Nova Craft Canoe facility on Nightingale Avenue
AFTER NEARLY 50 years in the canoe-making business and over 30 years under the direction of Tim Miller, Nova Sports Equipment Ltd., producers of Nova Craft Canoes, has announced it has a new owner, Chris Rath.
"With the solid foundation built by Tim and the team, I look forward to taking Nova Craft Canoe to its next level of growth and service to our customers," said Rath. "My primary goal is for Nova Craft to continue to provide outstanding products and customer service in tandem with providing a great working environment for our employees. I am confident that Nova Craft will continue to deliver the outstanding service that has become a hallmark of our company culture over the last 49 years."
Nova Craft began in 1970 in Glanworth in the garage of Ken Fisher. He ran the small-scale operation out of his backyard near London, producing a limited selection of fibreglass canoes. Tim Miller and Pat Malloy took over the business in the late 1980s, and new materials and models were added.
Under Miller's leadership, Nova Craft Canoe has become an internationally respected brand and an industry leader in adopting advanced composite materials and technology, and the company has expanded its a dealer network throughout Canada, the United States and Europe.
"After working with Chris for the last three to four months, I am confident that we are handing Nova Craft over to a very competent and experienced manager who will continue to build the Nova Craft brand well into the future," said Miller. "I look forward to working with Chris to ensure a smooth and seamless transition. Also, I would like to thank all our customers and suppliers who have given us amazing support over the last 32 years as well as our dedicated employees who put their hearts and souls into building the best Canadian canoes for the world." 

---
Eve & Co. secures RBC expansion financing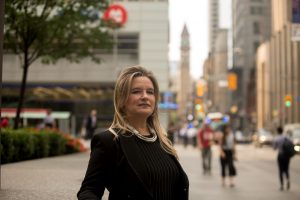 Photo: Eve & Co. CEO Melinda Rombouts
A STRATHROY-BASED based cannabis producer had secured financing from a major Canadian bank for an expansion that will make the company one of the largest pot producers in the country.
Eve & Co. Incorporated has secured a $18.7 million loan to add an extra 780,000 square feet to its greenhouse production facility west of London. The completion of the expansion is expected by the end of Q2 2019.
"This transaction is a strong validation of Eve's efforts to build a leading cannabis company," said Melinda Rombouts, CEO of Eve & Co. "This non-dilutive financing will help complete the ongoing expansion of our facility from 220,000 square feet to 1,000,000 square feet, making Eve one of the largest producers in Canada. We are thrilled to have the Royal Bank of Canada, one of the world's pre-eminent financial institutions, supporting our work that will assist us to grow the Eve brand and expand our global footprint."
Eve & Co, through its wholly-owned subsidiary , holds cultivation and processing licenses under the Cannabis Act (Canada) for the production and sale of various cannabis products, including dried cannabis, cannabis plants and cannabis oil. Natural MedCo Ltd. was Canada's first female founded licensed producer of medicinal marijuana and received its cultivation license from Health Canada in 2016.
The deal also represents one of the first forays into cannabis production financing on behalf of Canada's so-called Big Five banks. Late last year, RBC announced its intent to join Bank of Montreal's BMO Capital Markets and smaller independent firms such as Canaccord Genuity Group in serving the cannabis industry.
Canada's major banks have been reluctant to jump into the nascent industry, primarily due to sizeable capital-markets business in the U.S., where marijuana is illegal at the federal level.
"Under certain circumstances with certain customers, we'll participate," RBC Capital Markets head Doug McGregor said. "We're going to be selective in our approach, frankly, but within the bank we've established a policy that we're comfortable with." 

---
London-based Green Earth files bankruptcy, begins inventory liquidation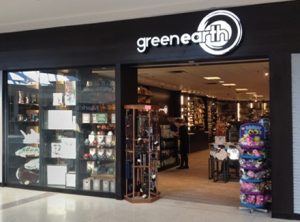 Photo: Green Earth's 29 stores began liquidation of inventory earlier this month
LONDON-HEADQUARTERED RETAILER Green Earth has announced it is going out of business and closing all of its stores.
The retailer, which has been in business since 1990, has 29 locations in Ontario, including two in London—one at White Oaks Mall, the other at CF Masonville Place. There are also stores in Guelph, Kitchener, Cambridge and Waterloo among others.
Green Earth, which sells a variety of products, including candles, jewelry and other home décor items, filed a notice of intent under Canada's Bankruptcy and Insolvency Act earlier this month and began liquidating its $16 million worth of inventory on March 9. Furniture, equipment and fixtures are also up for sale.
"After considering a number of restructuring options, we have determined that this is the best course based on an array of business challenges," said Green Earth partner, Matthew McBride. "We thank all of our loyal employees for their hard work and dedication, and we thank all of our lifelong customers for so many years of patronage and support and encourage all to take advantage of the incredible savings on our entire inventory."
The company cited a number of "uncontrollable factors" as reasons for declaring bankruptcy, including reduced mall traffic and growing competitive pressure from online players.
"Our stores are really well known in the local markets where we have served our communities for years. The sale provides an opportunity for our loyal customers to buy products at compelling discounts," McBride added. "A sale like this is unprecedented in Green Earth's history. We encourage customers to take advantage while selection is best." 

---
Voices.com's David Ciccarelli appointed TechAlliance board chair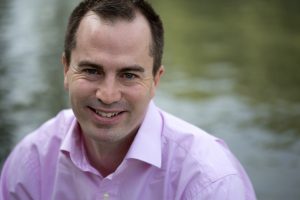 Photo:Voices.com CEO David Ciccarelli has been appointed TechAlliance board chair 
EARLIER THIS WEEK, TechAlliance announced that David Ciccarelli, co-founder and CEO of Voices.com, had been selected as board chair, effective April 1, 2019.
Ciccarelli, who founded Voices.com with his wife, Stephanie, in 2005, has built the company into the leading global marketplace for voiceover talent with an extensive client list, including NBC, ESPN, Ford, American Airlines, Reader's Digest and the U.S. Government.
Ciccarelli succeeds Maureen Morton, president of MJM Law Professional Corporation.
"TechAlliance is entering a new era, and it is one with incredible potential," said Ciccarelli. "London's tech sector has a tremendous foundation of locally-founded companies. As an organization and a community, we need to ensure that entrepreneurs continue to have access to the mentoring, resources and connections they need to succeed, enabling that foundation to continue to grow. TechAlliance's board of directors is committed to that goal, and I look forward to providing leadership and oversight as we guide the organization through this next phase."
Marilyn Sinclair, president & CEO of TechAlliance, added, "David and Stephanie Ciccarelli represent one of London's best tech success stories, and I'm proud that TechAlliance has worked alongside them as both organizations have grown. I've personally seen David grow from an aspiring entrepreneur to an industry leader and a fantastic TechAlliance board member without ever losing sight of the support and encouragement he received along the way. He is the kind of energetic, passionate and proven leader from whom TechAlliance, and the entire tech sector, will benefit." 

---
Featured Business Event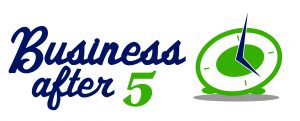 London Chamber of Commerce MEGA Business After Five | March 28, 2019
Join the London Chamber of Commerce at the Best Western PLUS Lamplighter Inn on Wellington Road for the spring 2019 installment of the MEGA Business After Five networking event. Business After Five is a program which helps to promote business activity in the London area and is a chance for Chamber members to network and/or exhibit their goods and services in a relaxed atmosphere. Twice a year, the Chamber holds a MEGA Business After Five program, traditionally in the spring and in the fall.