London Inc. Weekly 04 • 26 • 2019
Black Fly Beverages launches new ready-to-drink product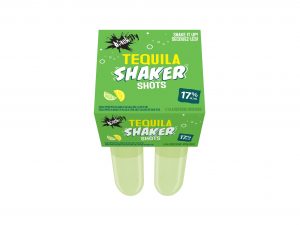 Photo: Black Fly Beverages has introduced Tequila Shaker Shots to the Canadian ready-to-drink market
BLACK FLY BEVERAGES announced this week it has launched the first Canadian ready-to-drink (RTD) tequila shot, competing with a foreign company that has been the only company making and selling RTD shots in Canada for the past 15 years.
According to Black Fly co-founder, Rob Kelly, the company's Tequila Shaker Shots are innovative in design, packaging, format, ingredients and taste.
"Black Fly Tequila Shaker Shots are a Mexican-inspired tequila popper made Black Fly style with authentic and premium ingredients, including 17 per cent genuine Mexican tequila, real lemon and lime juices, refreshing soda and a hint of salt," Kelly said in a statement. "I have been wanting to create a unique shot for the past 10 years, but it wasn't until we moved into our new plant with all new bells and whistles that we had the ultimate flexibility to innovate, deliver and produce this exciting innovation and continue to expand our ever-growing line up if spirit mixed drinks all across Canada."
Rather than a traditional 30mL shot, Black Fly Tequila Shaker Shots are served up in a big 50 mL test tube-style bottle for a very interesting reason, added Kelly. Every 400mL wide-mouth Black Fly bottle starts out in a preform shaped like a test tube before it is formed into Black Fly's signature bottle shape.
"I've always thought the preform would make an amazing package for a shot-style drink," Kelly said. "We have created the perfect blend of real tequila, soda, and pure lemon and lime juices to deliver an extremely approachable and tasty shot."
Now available at liquor stores across Canada, Black Fly's Tequila Shaker Shots are the latest addition to Black Fly's roster of 17 different RTD mixed drinks available in bottles, cans and now shots. Also new for 2019 are Black Fly Vodka Lime and Black Fly Bar-in-a-Box mixed 12-pack with classic flavours Rum Mojito, Gin Tom Collins, Long Island Iced Tea and Vodka Cranberry.
"The name Shaker Shots is a call to action," added Black Fly co-founder, Cathy Siskind-Kelly. "Simply shake and enjoy. The buzz is already building across the country and they have just hit the market."

---
GoodLife Fitness celebrates 40 years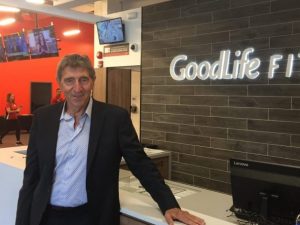 Photo: GoodLife Fitness founder and CEO, David Patchell-Evans
APRIL 24th MARKED the 40th anniversary for one of London's most successful entrepreneurial endeavours, GoodLife Fitness. With over 405 clubs across four pillars nationwide, GoodLife is now Canada's largest fitness company, fourth largest in the world and largest owned by a single owner—a long way from its humble beginnings with just a single 2,000 square foot club at Windermere in 1979.
GoodLife CEO David 'Patch' Patchell-Evans, then a student at Western University, purchased his first club using money he earned through his overnight snowplowing business.
Patchell-Evans had suffered serious injuries in a motorcycle crash during his first semester at Western and underwent six months of physical rehab at the Fowler Kennedy Clinic. The rehab process was one that not only helped Patchell-Evans heal but woke him up to his potential and reignited his passion for physical activity. After experiencing this kind of impact personally, he wanted to share it with others.
Four decades later, Patchell-Evans' name is synonymous with fitness in Canada, and he's a well-known leader in the global fitness community. He no longer has to sell his house every time he opens a new club—he did that five times in the early days of the company—but the same personal care and attention goes into every one of the 400-plus locations across Canada.
Three years ago, GoodLife reinforced its commitment to London by opening a new 60,000-square-foot head office at Wonderland Road and Proudfoot Lane. The company employs over 300 associates at its head office and over 1,000 in the city.

---
Sarnia-based William Standen Co. opens London showroom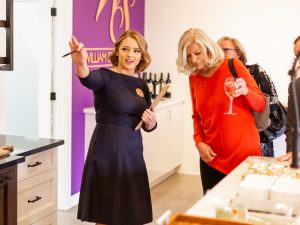 Photo: William Standen Co.'s new showroom on Meadowbrook Drive 
SARNIA-BASED DESIGN AND renovation firm William Standen Co. has opened a London location. The 2,500-square-foot design studio at 4026 Meadowbrook Drive is the company's second showroom location and showcases their design services and bespoke product lines including Canadian-made cabinetry, furniture, plumbing fixtures, flooring and luxury kitchen appliances.
"We are ecstatic to have our London location come to fruition. We bring a new perspective in home renovations and design to the area and are looking forward to sharing our approach with London homeowners," said William Standen Co. CEO, Cassandra Nordell. "From design to full whole home transformations, our in-house design and construction crew is ready to serve London."
Nordell and Patrick MacLean, a husband-and-wife team, founded William Standen Co. in 2010 in Sarnia, naming the business after each of their grandfathers. The company's work has been featured on HGTV Canada, in Canadian Home Trends Magazine, Reno & Décor Magazine and others. Earlier this year, Nordell was named one of the top female Entrepreneurs in the Country and in 2013 they made the Profit Hot 50 list for one of the fastest growing new companies in Canada.
William Standen Co. began taking on London renovations in early 2018 and has already completed several projects in the city. Nordell says the firm has grown to a team of 20 in Sarnia and London, and future plans include expansion to additional Ontario centres. 

---
Renix successfully funds patented platform demonstration unit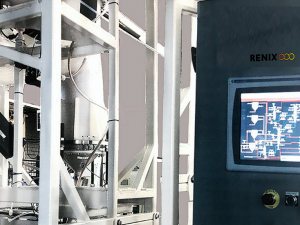 Photo: The RenixUIX commercial demonstration unit
RENIX, AN EARLY stage London-based firm that provides liquid separation solutions using proprietary know-how in advanced ion exchange applications, has successfully commissioned the construction of a commercial demonstration unit of its patented platform technology called RenixUIX.
"Renix would like to acknowledge the instrumental financial and advisory support that Bioindustrial Innovation Canada (BIC) has provided through their Centre for Commercialization of Sustainable Chemistry Innovation program that made the development of the demonstration RenixUIX unit possible," said Eduardo Cordova, vice president of business development at Renix. "BIC's support has allowed Renix to achieve this massive step towards commercialization and strengthen our presence as a separations leader in the bio-industrial, agriculture, food and beverage, industrial water, metals and minerals, and fuels and chemical sectors."
Renix is in the business of liquid separations—extracting good from bad and removing bad from good, thereby capturing value for its clients. Within the liquid separations market, Renix's specialty is ion exchange, a powerful chemistry-based tool, with proven success separating dissolved compounds such as metals, minerals, salts, or contaminants out of liquids such as water, acids, or food ingredients. 
As opposed to the standard ion exchange platform, which is a fixed bed, batch-style process with many challenges, making it inefficient, costly, or even unfeasible in some applications, RenixUIX is the world's first steady-state ion exchange platform. It maximizes the power of this technique, enabling ion exchange to do things it could not do before and at the same time offering significant operating cost reductions over conventional platforms. 

---
Featured Business Event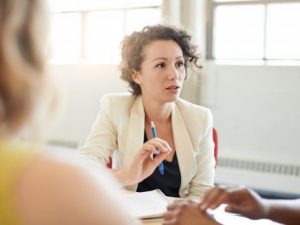 Conflict Management for Women: How to Navigate the Changing Power Dynamic | May 30, 2019
It's no secret that men and women approach conflict differently. Societal and even biological differences create a dynamic for women that can make conflict more difficult, uncomfortable, and potentially career limiting. For some women, being assertive can lead to harsh judgement, labelling, or toxic work environments.
Women in Communications and Technology (WCT) London invites you to a panel discussion on conflict management techniques specifically for women. We'll discuss the role that emotions play in conflict management and tips for approaching conflict with confidence, setting healthy limits, and expressing yourself without being labelled.
Our balanced panel will include perspectives from established professionals with vast experience with conflict management.