Operating on a student-driven model of education and ­expanding to include secondary school pupils, the Infinity School creates options for students, parents and educators
Photo: Infinity School co-founder, Andrea Loewen
ANDREA LOEWEN NAIR was a science and math teacher for 10 years, then left the formal education system to complete a master's degree in counselling psychotherapy and open a private practice working with families.
"I spent a lot of time learning about child development, and became a parenting writer and educator," says Nair. And she seemed to be happily settled into her new career path, until she was drawn back into the public education system when her two sons started school.
But the traditional education model wasn't a particularly good fit for one of her sons, she recalls. "Children are all different; they don't learn at the same pace or in the same way. For some, the prescribed methods used in schools will be okay, but for others it will be painful and it will kill their love of learning."
Nair opted to homeschool her sons for a year while she and her husband, family physician Vineet Nair, investigated alternatives. "We looked all over town and couldn't find what we needed for them. Then my husband ran across information about Acton Academy. We went to Austin, Texas to see it in action and to speak to the co-founders. We were blown away. It was a learner-driven environment, the kids were focused and energized, and the scaffolding was in place to build critical thinking, problem solving and communication skills."
"We wanted to be smart about our growth—not only to be financially responsible but also to protect the culture that we have developed here" —Andrea Loewen Nair
The couple brought the Acton Academy model to London in February 2016. Since there was already an Acton Academy in London, England, the Nairs started brainstorming to come up with a unique name for the new school. "We were talking about a school with no limits," she says. "I'm a math geek, and I thought, 'There's a symbol for that.'" And with that, the couple launched the Infinity School.
Located on Askin Street in Wortley Village, Infinity draws students from across the city. The school currently has three different studios where the almost 30 students are roughly divided by age group (four to seven years, seven to 11 years and 11 to 14 years) and move through the program according to their individual progress and competencies.
There are no teachers per se. Instead, four "guides" coach the students using mainly Socratic methods, encouraging students to explore and discover answers to the things they are curious about. Days are filled with experiential, hands-on learning, self-paced and self-directed within a prescribed framework of modules. There is also regular physical activity, art and outings to the local library and park.
At the end of the day, school is done—there is no homework. "They have time for dance classes and sports, to be active in the community and to pursue other interests," says Nair.
The school also follows a modified school-year calendar that incorporates frequent breaks through the year as well as a shorter summer break.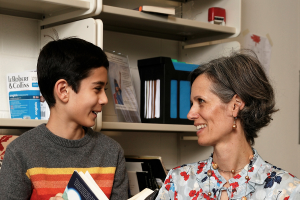 According to Nair, the Infinity School also encourages entrepreneurship, which will be on display at an annual Children's Business Fair at the Best Western Plus Lamplighter Inn & Conference Centre on May 11. This is the third year for the fair, which showcases products and services from young entrepreneurs, ages seven to 14, and all 50 tables available to rent were quickly snapped up.
"There will be a range from bracelets to t-shirts, and all of the items must be student created," says Nair. "We have one returning student who learned to do woodturning. The ones who are returning have figured out what they want to do differently this time."
This September, the Infinity School will add a fourth studio to accommodate high school students. "We always knew we would be a full-service school, and we planned for slow and steady growth from day one," says Nair. "We wanted to be smart about our growth—not only to be financially responsible but also to protect the culture that we have developed here."
Financially, she says, the school is still going through the typical start-up phase of any small business. The Nairs, who also own The Core Family Health Centre on Richmond Street, have tried to keep the tuition low enough to be accessible, with the cost being comparable to daycare. The posted 2019-2020 tuition rate for a single student is $11,400, with available monthly payment plans and second- and third-child discounts.
"At the moment, it's not about running a profit-making enterprise; I would love every child to have the opportunity to have an education like this," says Nair, who is working with other local educators, including Western, Fanshawe, Thames Valley District and London Catholic District school boards, looking at ways to increase experiential learning and improve systems.
"The global economy is growing so fast. We need to keep up with the pace of change and evolve as necessary." 

 Kym Wolfe