London Inc. Weekly 08 • 30 • 2019
London Free Press puts online content behind registration wall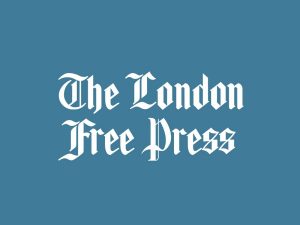 Photo: The London Free Press online content will remain free, but readers will be required to register to view
THE LONDON FREE Press has announced it is putting up a registration wall for access to its online content on lfpress.com.
According to a published statement from editor in chief Joe Ruscitti, online content will remain free of charge, but after viewing five articles readers will be asked to establish an account with their name and email. Readers who have previously registered to use the publication's commenting system will not need to re-register, however they will be required to verify their email address.
"By registering, you help us know and serve you better, creating the award-winning journalism you expect, serving you more relevant advertising, and providing you with special offers," Ruscitti said in the statement.
The launch of the Free Press registration wall follows further revenue declines for parent company Postmedia. In July, Postmedia released its third-quarter results, with revenue falling 8.2 per cent to $157.1 million compared to $171 million in the same period in the prior year. The company, which has posted numerous consecutive quarters with similar results, said its revenue decline was primarily due to decreases in print advertising and print circulation revenue. The company said its digital revenue for the period increased by $3 million.
It remains to be seen if the Free Press subscription wall is a precursor to a full-fledged paywall. Increasingly, newspapers with reputable brands and unique content are finding success behind paywalls, led by the New York Times, which is closing in on four million digital-only subscribers. Its digital transformation was initiated back in 2011 when the newspaper launched its first paywall on nytimes.com and began selling digital subscriptions.

---
TechAlliance launches Grow Accelerator with four-business pilot cohort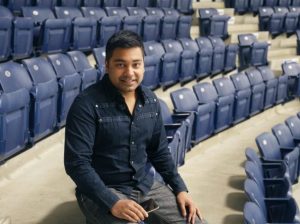 Photo: Brennon D'Souza is founder of Dibz, one of four companies in the pilot cohort of TechAlliance's Grow Accelerator
TECHALLIANCE THIS WEEK announced the four participating companies in the pilot cohort of its new Grow Accelerator program.
Ascend Applications, Dibz, EzoTech, and Speak AI will be piloting the Grow Accelerator from September 2019 to March 2020. Their feedback and experience will be used to develop a full-scale version of the accelerator for fall 2020.
According to TechAlliance, the Grow Accelerator is a direct response to demand in the community for training, support and leadership for start-ups ready to accelerate their business, including increasing revenues, acquiring new customers, attracting and retaining top talent and raising seed or Series A funding.
The Grow Accelerator will be delivered with three main components: in-depth one-on-one mentoring with growth coaches; interactive workshops with high-growth entrepreneurs and business leaders; and a concluding demo day with presentations to angel and venture capital investors.
"We are excited to be piloting our new Grow Accelerator with these four companies. We've heard from the community asking for something extra to help entrepreneurs like them, who have gained traction and are the cusp of taking off," said Kerlin Lobo, manager of business services and measured innovation for TechAlliance and lead for the Grow Accelerator. "Through the Grow Accelerator pilot, we are confident that we will take their success and our support services to a whole new level."
Founded by Ryan Kelly, Ascend Applications develops software to help people with disabilities access the web more effectively. Dibz, piloted by Brennon D'Souza, offers instant venue seat upgrades through a text messaging service. EzoTech, founded by partners Xristos Silaidis and Mike Picard, is a cybersecurity company that has created the world's first automated AI-driven penetration testing platform and insights engine. And Speak AI, founded by Tyler Bryden, is a technology company that helps people and teams research, communicate, and market better.

---
Two regional Junior Achievement offices now under one umbrella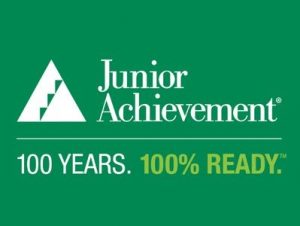 Photo: Two regional Junior Achievement offices have merged under the JA of South Western Ontario banner
JUNIOR ACHIEVEMENT LONDON and District has announced an operational merger with Junior Achievement South Western Ontario.
Since 1963, JA London and District has delivered entrepreneurial and financial literacy programs to youth in the communities of London and surrounding area, gradually expanding program delivery to the counties of Middlesex, Elgin, Oxford, Huron, Perth, Bruce and Grey.
JA South Western Ontario, located in Chatham, has been delivering the same programs in the communities of Chatham-Kent, Sarnia-Lambton and Windsor-Essex for 50 years.
The newly merged associations will operate as JA South Western Ontario.
According to a release from the organization, the move to combine organizations will enable the group to reach a broader range of students and supporters, and better allocate resources across the region. Its operating locations and staff will remain the same.
Celebrating its 100th anniversary worldwide, JA programs are delivered by hundreds of local volunteers and financially supported by businesses, community-based groups, fundraisers and private sponsorships throughout the area.

---
London Hydro seeks restructuring in bid to market technology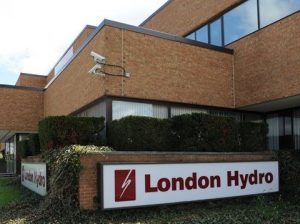 Photo: London Hydro is seeking an organizational restructuring 
LONDON HYDRO HAS made a pitch to the city to allow the utility to restructure in order to market its proprietary usage tracking and customer billing technology.
As it stands, London Hydro is not permitted to market or sell its technology because it is a regulated entity.
"What that means is that our cost, our revenue, our rate, our services standards—everything is supervised by the Ontario Energy Board regulator," CEO Vinay Sharma told Global New 980 CFPL. "A non-regulated affiliate will not be under that umbrella and they'll be free to sell and have private contracts with anybody in North America."
If the city approves a restructuring, it would allow London Hydro Inc. (LHI) to create a new corporation, London Hydro Distribution Inc. (LHDI). Through an asset purchase agreement between LHI and LHDI, the regulated portion of the business would transfer to LDHI while LHI would then be able to enter into agreements to market its technologies and applications.
According to Sharma, even conservative market share estimates are promising. "In Ontario itself, just Ontario market, we have sized it. A five per cent take-up would result in about $3 to $4 million in revenue every year."
The revenue would be in addition to what London Hydro earns as a regulated entity and could result in the company raising its dividend to the City of London, its sole shareholder.
London's Strategic Priorities and Policy Committee voted on Monday to request that city staff report back on any potential risks and liability issues the city would face if it approves the restructuring.

---
Featured Business Event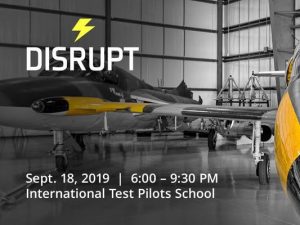 Disrupt 2019 | September 18, 2019, 6 to 9:30 p.m.
Join local HR experts, entrepreneurs and sector professionals for a night of disruption at the International Test Pilots School near London International Airport to hear from bold and imaginative minds in a rapid-fire evening of 12 thought-provoking five-minute keynote speeches that are sure to challenge the role of leadership and HR in organizations.