London Inc. Weekly 09 • 13 • 2019
Ten London firms named to 2019 Growth 500 ranking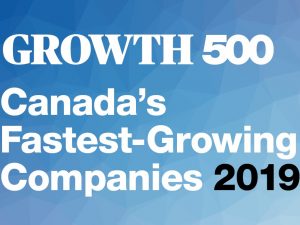 Photo: The Growth 500 ranks Canada's top private and public companies based on five-year revenue growth
A TOTAL OF 10 London-based firms have been included on the annual Growth 500 ranking of Canada's fastest-growing companies.
Celebrating its 31st anniversary in 2019, the Growth 500—previously known as the PROFIT 500—ranks Canada's top private and public companies based on five-year revenue growth. Results of the annual ranking, with stories profiling the growth leaders who make the list, will be published in a special report in the October issue of Maclean's magazine, at CanadianBusiness.com and Growth500.ca.
The 10 Forest City companies are:
• Mobials (ranked 43rd with 1794 per cent five-year growth)
• Waste Solutions Canada (ranked 165th with 545 per cent five-year growth)
• Zomaron (ranked 172nd with 523 per cent five-year growth)
• tbk (ranked 367th with 183 per cent five-year growth)
• Digital Echidna (ranked 368th with 183 per cent five-year growth)
• StarTech.com (ranked 372nd with 181 per cent five-year growth)
• HRdownloads (ranked 450th with 124 per cent five-year growth)
• Glass Canada (ranked 454th with 122 per cent five-year growth)
• Canada Moving (ranked 495th with 102 per cent five-year growth)
• Info-Tech Research Group (ranked 500th with 100 per cent five-year growth)
"We are incredibly excited to receive this recognition, and to share this honour with such a prestigious list of successful Canadian businesses," noted James Hayes, CEO at Mobials Inc. "It's been a challenging, rewarding journey so far, and we are so appreciative of our dedicated employees and loyal customers."
Founded in 2010, tbk president, Andrew Schiestel, added, "This growth is a result of more companies turning to tbk to assist them in successfully competing in competitive marketplaces."
And for the third year in a row, Digital Echidna placed on Growth 500 list. "This is confirmation to me of the trust many companies have put in Digital Echidna to deliver reliable, high-quality results for their online marketing needs, and of the talent and dedication of our incredible staff," said president, Andrew McClenaghan.

---
Spark Power marks grand opening of London facility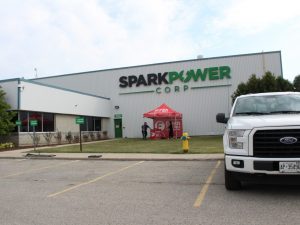 Photo: The London regional office of Spark Power at 3820 Commerce Road
OAKVILLE-BASED SPARK Power Group Inc., parent company to Spark Power Corp., has officially opened its London hub at 3820 Commerce Road.
Divided between 5,000 square feet of office space and 45,000 square feet of fabrication shops, technical service spaces and equipment warehousing, the London hub is the first regional office for Spark Power in Canada and the 37th location in North America.
"We are very pleased to be making this investment in the vibrant London business community so we can deliver our pole-to-product electrical services and power solutions to companies operating in the region," said Jason Sparaga, co-founder and co-CEO of Spark Power Corp.
The regional office in London will be home to a new operating branch and deliver low to high voltage technical services, equipment sales and rentals, construction, operations, maintenance and power advisory and sustainability services.
"We chose London as the location for our regional office because of its reputation for investment and economic development, and the presence of established and growing industrial, commercial customers in the area," added Richard Jackson, COO of Spark Power. "We want to be our customers' first and only call for their electrical power infrastructure needs and we view London as the ideal base to begin launching a richer set of complete service offerings."

---
Upbeat hiring pace anticipated for Q4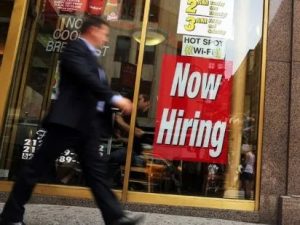 Photo: Sixteen per cent of London employers plan to hire in the upcoming quarter
ACCORDING TO THE latest ManpowerGroup Employment Outlook Survey, London area employers expect a hopeful hiring climate for the fourth quarter of 2019.
"Survey data reveals that 16 per cent of employers plan to hire for the upcoming quarter, while 6 per cent anticipate cutbacks," stated Charity Magowan of Manpower's London office. "Another 77 per cent of employers plan to maintain their current staffing levels in the upcoming quarter. The remaining one per cent of employers are unsure of their hiring intentions.
With seasonal variations removed from the data, Magowan said London's fourth quarter Net Employment Outlook of plus 11 per cent is a six percentage-point increase when compared to the previous quarterly Outlook. "It is also the same percentage as the Outlook reported during the same time last year, indicating an upbeat hiring pace for the upcoming months."
"As 2019 ends, the market for Canadian job seekers is a bit of a mixed bag," added Darlene Minatel, country manager for ManpowerGroup Canada. "While unemployment figures were at record lows over the summer, the hiring outlook seems to be weakening in some sectors. Companies want to remain competitive and maintain their employee levels as they go into the new year. At the same time, there is a real struggle to find and retain qualified talent."

---
GreenLeaf Productions in St. Thomas receives Health Canada licencing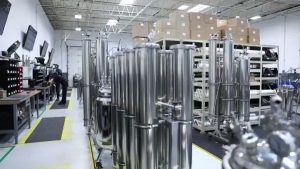 Photo: GreenLeaf Productions will provide cannabis oil extraction services for Canadian clients
ST. THOMAS-BASED GreenLeaf Productions Inc. has announced it has been issued a standard processing licence and a medical sales licence for cannabis by Health Canada.
The cannabis standard processing licence allows GreenLeaf to bring cannabis into the facility to extract oil in an unlimited capacity. The processing licence is one of 157 in Canada.
The medical sales licence allows GreenLeaf Productions to sell directly to medical patients.
Privately owned and operated, GreenLeaf has built a state-of-the-art cannabis extraction facility at 3 Barrie Boulevard in St. Thomas, providing customized cannabis oil extraction services for Canadian cannabis and hemp producers.
According to GreenLeaf president and CEO, Mike Hodgson, the company uses propriety ethanol extraction technology to create custom THC, CBD and terpene oil blends that are specifically tailored to the requirements of its customers—cannabis producers, industrial hemp farmers, product manufacturers, researchers, retailers and exporters regulated under the Canadian framework.
"Our CBD oil extraction services help growers who do not have their own ability to process biomass or adequate extraction capacity or who want to branch into other products," Hodgon told LicensedProducersCanada.ca.
Cannabis oil is used in a variety of products, ranging from topical hand creams to cannabis edibles. GreenLeaf expects to process biomass at a volume of 1700 kg/day.

---
Featured Business Event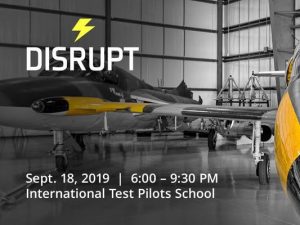 Disrupt 2019 | September 18, 2019, 6 to 9:30 p.m.
Join local HR experts, entrepreneurs and sector professionals for a night of disruption at the International Test Pilots School near London International Airport to hear from bold and imaginative minds in a rapid-fire evening of 12 thought-provoking five-minute keynote speeches that are sure to challenge the role of leadership and HR in organizations.