London Inc. Weekly 11 • 22 • 2019
Inaugural Green Project Grant awarded to two organizations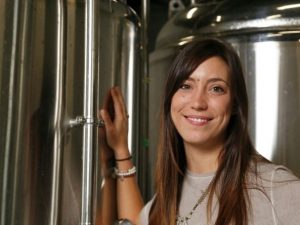 Photo: Shannon Kamins of Booch Organic Kombucha, one of two recipients of the inaugural Green Project Grant
GREEN ECONOMY LONDON has announced the recipients of its inaugural Green Project Grant. On The Move Organics and Booch Organic Kombucha will share a $5,000 financial award provided by the London Community Foundation for sustainability projects.
On the Move Organics will use their portion of the awarded funds to install a hoop house—a passively heated greenhouse where they grow various organic salad greens and native plants on raised beds and will utilize rainwater for watering will on the site adjacent to their facility. This is part of the organization's fossil fuel reduction strategy.
"Every business decision is analyzed for its impact potential, and we have a proven history of prioritizing sustainable actions that demonstrate our commitment to ecological sustainability," said Jeff Pastorius of On the Move Organics. "We are grateful to have this opportunity through Green Economy London and the London Community Foundation to create a very visible and tangible showcase of our priorities."
Booch was awarded funds to install a diaphragm pump into their brewing process, which will save them roughly 3,000 litres of wasted product per year. This opportunity was discovered through a food waste audit performed in August 2019. It is estimated that the project will save Booch over $20,000 per year with a payback period of less than two weeks. This translates to a savings of five tonnes of CO2e/year and 8.3m3 of water/year.
"There is a limited amount of resources that the planet can give, and we believe it is our job to make business decisions that do not leave the planet in a lesser state," said Booch owner, Shannon Kamins. "Green Economy London helped us get funding to identify where we had waste and we are happy to make changes to reduce it."
"We hope these projects and other projects implemented by our members will inspire the greater business community to make sustainability a priority," added Green Economy London's hub manager, Marianne Griffith. "We're very grateful to have the support from the London Community Foundation, that recognizes the urgent need for emission reduction project implementation."

---
Bertoldi's Trattoria says Ciao after 18 years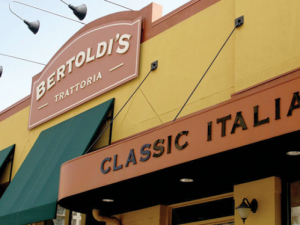 Photo: Bertoldi's Trattoria has been sold to the Obsidian Group Inc. and will close on November 23
AFTER ALMOST TWO decades in business, Bertoldi's Trattoria at Richmond and Pall Mall streets will shut down this weekend.
The restaurant, opened in December 2002, has been sold to the Obsidian Group Inc., a privately held Mississauga-based hospitality and real estate firm that operates Crabby Joe's, Chuck's Roadhouse, Union Burger and Coffee Culture dining concepts. The Obsidian Group takes ownership on December 1.
Owner Bob Di Fruscia says the timing was right to move on. "It was just time," he said. "We had an offer. I'm 72 years old and it's just time to move on. I've got two grandkids. There's a lot of things I want to do. The restaurant business takes a lot of hours."
According to DiFruscia, the location will continue to be a restaurant, but he is not aware of which of the Obsidian brands will occupy the unit.
DiFruscia, along with his brother Dino, also owns the Dolcetto, an Italian restaurant on Colonel Talbot Road. The brothers also operated McGinnis Landing and the Oarhouse on Wonderland Road until the restaurants were closed late last year.
Terms of the Bertoldi's sale were not disclosed. 

---
RBC invests $3 million in Western AI program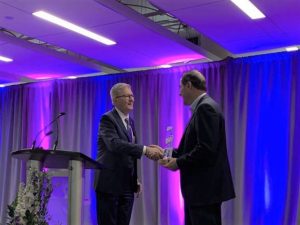 Photo: Western's Alan Shepard and Bruce Ross of RBC 
AT A GATHERING on campus yesterday, Western University and the Royal Bank of Canada announced they have partnered to establish a program focused on the ethical and social aspects of data analytics and artificial intelligence (AI).
RBC's $3-million investment has established The RBC Data Analytics and Artificial Intelligence Project at Western, a program aimed at expanded Western's ongoing cross-disciplinary work in the fields of data analytics, an area the school sees as critical to the digital economy.
"This investment is a catalyst to help Western provide tomorrow's leaders with the skillset they'll need to navigate a world full of data and find solutions to the challenges they will inevitably face during their careers," said Alan Shepard, president of Western University. "We're excited to be partnering with RBC to help provide and promote training of 21st-century talent that's not only technically proficient, but also ethically and socially aware."
The project consists of a series of integrated components, including courses, scholarships and design thinking programs aimed at creating meaningful opportunities to help students establish the skills, experience and networks they need to successfully start their careers after graduation, including potential work-integrated learning and internships.
"Collaboration between industry, government and academia will help to drive the future success of Canada," added Bruce Ross, group head, technology & operations at RBC. "Artificial intelligence and data science are transforming our world today, and we see a huge opportunity to partner with WesteAaaaaarn, a leading university, to prepare the next generation of talent with the knowledge, skills and experiences needed to drive that success."

---
City recognizes urban design achievements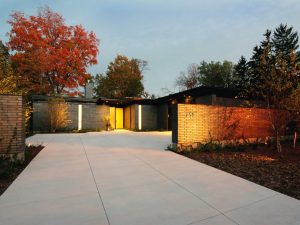 Photo: Skinner Architect Inc's residential project at 759 Clearview Crescent, one of the 2019 Urban Design Awards winning projects
LATE LAST WEEK, the City of London recognized original design, innovative concepts and visionary thinking in the field of urban planning by awarding the 2019 Urban Design Awards.
"The Urban Design Awards is a chance for us to recognize the important connection between good urban design and a city that is creative, engaging and attractive," said Britt O'Hagan, manager, city building and design for the City of London.
A new addition to the 2019 Urban Design Awards was the People's Choice Award. Londoners had a chance to cast their vote for their favourite entry in all categories to determine the winner. "The addition of this new award felt like a good way to engage our community in the recognition of what is happening in their city," said O'Hagan. "With almost 1,000 votes for this year's winner, we were excited to see the high level of input from our city."
2019 Urban Design Awards winners:
Buildings:
EMS Headquarters
Architects Tillmann Ruth Robinson Inc. in association with Arthur Lierman Landscape Architecture
Bostwick Community Centre
NJMA in association with A+Link Architecture
Small Scale Residential:              
759 Clearview Crescent
Skinner Architects Inc.
Public Realm Enhancement:     
Following in His Footsteps (Honourable Mention)
LeuWebb Projects in association with Robert Cramm Workshop          
Public Spaces & Landscapes:  
Kent Drive Pedestrian Walkway
Architects Tillmann Ruth Robinson Inc. in association with Arthur Lierman Landscape Architecture and Yuna Hur Lighting Design
Adaptive Reuse or Rehabilitation:        
Fanshawe College School of Hospitality & Culinary Arts and School of Information Technology
Diamond Schmitt Architects and Phil Agar Architect, in association with ERA Architects
People's Choice Award:
Boler Mountain Chalet
Architects Tillmann Ruth Robinson Inc.

---
Featured Business Event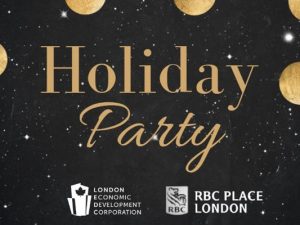 LEDC and RBC Place Holiday Open House 2019 | December 5, 2019, 4:00 p.m. to 6:30 p.m., RBC Place London
The London Economic Development Corporation, in partnership with RBC Place London, hosts its 2019 Holiday Open House on December 5. The annual Made-in-London-themed Holiday Party brings together upwards of 500 industry leaders. Enjoy refreshments and food samples from local vendors while networking and sharing holiday cheer.