London Inc. Weekly 12 • 20 • 2019
Autodata Solutions merges with J.D. Power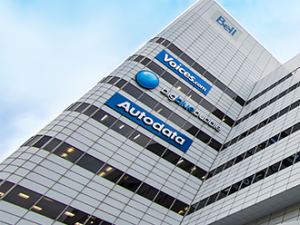 Photo: Autodata Solutions has joined forces with J.D. Power
AUTOMOTIVE INDUSTRY RESEARCH specialist J.D. Power is merging with sister company, London-based Autodata Solutions, a provider of data and software solutions for the sector.
J.D. Power was recently acquired by Autodata Solutions' owner, private equity investment firm Thoma Bravo, and the firms say the merger marks the completion of this deal. In addition to the investment by Thoma Bravo, J.D. Power's existing management team will reinvest their ownership interest in the newly combined company, and all current Autodata Solutions and J.D. Power employees will also have the opportunity to take an ownership stake.
Locally, Autodata Solutions will continue to operate from its offices at 100 Dundas Street and will conduct business as a division of J.D. Power. The headquarters for the combined company will be in Troy, Michigan. Autodata employs approximately 400 people in London.
Questioned by London Inc. about possible changes to the local workforce, a company spokesperson responded: "This merger is about unlocking growth potential. J.D. Power and Autodata Solutions both do a good deal of business in the auto industry, and the solutions provided by each are highly complementary. We do not have any immediate plans to reduce headcount at either company."
The newly combined business will offer new and pre-owned automobile transactional data, tools, vehicle feature information and consumer analytics to the automotive industry. J.D. Power will also continue to provide benchmarks, analytics and customer insights across the banking and payments, wealth and lending, telecommunications, insurance, health, travel and utilities sectors through its Global Business Intelligence division.
"The new J.D. Power delivers the authoritative ground truth and predictive intelligence the automotive industry so desperately needs right now to stay in sync with changing patterns of consumer behavior, rapid-fire technological change and a challenging macroeconomic environment," said Craig Jennings, former president and CEO of Autodata Solutions, who will continue as President of the Autodata division in the newly combined J.D. Power.
"By pairing our platform with J.D. Power's deep data and analytics capabilities, we're going to be able to take the guesswork out of the manufacturing and floor planning process, helping manufacturers and dealers drive maximum impact and profitability by getting the new vehicle formula just right. We are excited to be joining the J.D. Power team to make that vision a reality."

---
Voyago announced as intercommunity transit service provider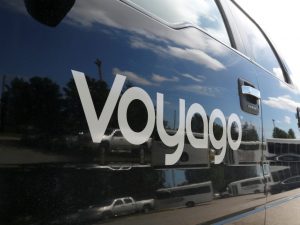 Photo: Voyago will provide services for the new intercommunity transit service
THE MUNICIPALITY OF Strathroy-Caradoc, City of Sarnia and the City of London announced yesterday that Voyago has been selected as the service provider for a new intercommunity transit service. The service is expected to commence in April 2020 and will will run daily round trips from London to Strathroy-Caradoc and then Sarnia.
The program will be completely funded until March 2023 by the Government of Ontario through the Ontario Community Transportation Grant program.
Voyago expects to operate three round trips daily and two weekend round trips on fully accessible buses with an approximate seating capacity of between 20 and 25 passengers.
Route, scheduling and fare information will be available early in 2020.
"Improving transportation, specifically getting people to and from work quickly and conveniently, has been an area of intense focus during my term as mayor," said London mayor, Ed Holder. "This focus is not only local, it is also regional. With support from the Ontario Government and Voyago, this investment will connect our communities like never before, while providing new opportunities for employers and job seekers alike."
A Transdev Group Company, Voyago started operations in London in 1979. The company currently provides a broad spectrum of transportation services and serves approximately 50,000 daily passengers across Ontario.

---
Motif Labs secures additional financing, adds extraction agreement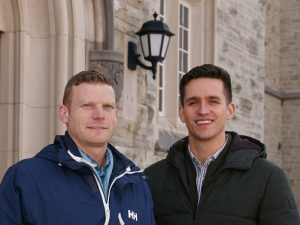 Photo: Motif Labs co-founders Ian Haase and Mario Naric
EARLIER THIS WEEK, Aylmer-based cannabis extraction and processing firm Motif Labs announced an additional $2.65 million in capital funding as well as a new extraction agreement with Thorndale-based cannabis cultivator JC Green.
The $2.65 million of Series B investment from existing shareholders will be applied to strategic growth objectives. The privately owned company has now secured more than $8 million in financing to build out its cannabis extraction and processing facility, located in the former Imperial Tobacco plant on John Street in Aylmer.
Within the phase-one footprint of 12,500 square feet, Motif will be capable of processing more than 200,000 kg of biomass annually. Operations are expected to begin in early 2020. According to the company, the new growth capital will be used to bring additional capacity online and to add ancillary services, including expanded storage, high throughput terpene extraction and bulk water-soluble products, which will strengthen Motif's overall product offering and differentiation in the market.
In its extraction agreement with JC Green, Motif will convert a portion of the firm's harvest into highly purified distillate oil, allowing the company to pursue its Cannabis 2.0 objectives.
"Motif Labs is thrilled to partner with JC Green and it's incredible team of cultivation experts," said Motif Labs CEO, Ian Haase. "The company has developed a strong brand, with exceptional quality, and we look forward to providing the company with high quality concentrates for the next generation of cannabis products."
"JC Green is extremely fortunate to have an extraction facility of Motif's caliber so close by our production site," added JC Green CEO, Robert O'Neill. "We are excited about the synergy between our two privately owned companies and ecstatic for the future of our budding relationship. Together we will help a maturing cannabis industry better serve our customers and community's needs.

---
Swoop adds Winnipeg flights from YXU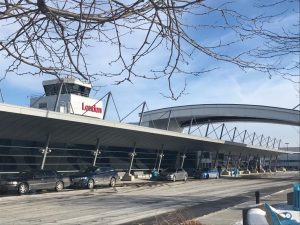 Photo: Swoop will commence Londonto Winnipeg service in April
BEGINNING APRIL 26, 2020, Swoop will launch daily non-stop service from London International Airport (YXU) to Winnipeg James Armstrong Richardson International Airport (YWG).
Winnipeg becomes the seventh non-stop destination offered by Swoop from London, which also has flights to Edmonton, Halifax and Abbotsford, B.C. Swoop, owned by WestJet, is also currently offering seasonal flights to Las Vegas, Orlando and Cancun.
Service to Winnipeg marks the seventh destination offered by Swoop from YXU. In addition to Swoop's service to Winnipeg, flight destinations from London include Abbotsford, Edmonton and Halifax through spring and summer 2020.
"We have seen a lot of demand for Winnipeg from passengers in Southwestern Ontario, so we are pleased to offer non-stop service to Winnipeg with Swoop," said Michael Seabrook, president and CEO of London International Airport. "We are glad to see Swoop succeed in London and we hope passengers continue to take advantage of Swoop's ultra-low-cost fares"
The newly announced Winnipeg flights are now available for booking through until October 24, 2020.

---
Featured Business Event
2020 State of the City | January 22, 7:30 to 9:15 a.m., RBC Place London
The London Chamber's State of the City Address is held annually and is a one of a kind event to mark the beginning of a new year. It sets the tone for both mayor and city council as they set out to tackle the important issues that face our municipality. It has become a must-attend event for the London business community drawing an attendance of over 1200 people.