London Inc. Weekly 02 • 28 • 2020
CBRE forecasts strong 2020 for London's ICI real estate sector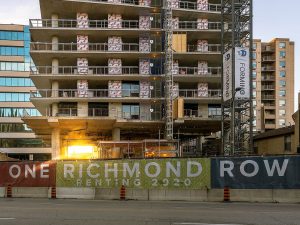 Old Oak Properties' One Richmond Row development is one of several high-rise developments currently under construction
COMMERCIAL REAL ESTATE and investment firm CBRE Limited is forecasting a healthy and active year for London's industrial, commercial and investment (ICI) real estate sector.
According to the new CRBE 2020 Canada Market Outlook report, a predicted investment total of $620 million with be made London's office, industrial, retail and ICI land sectors (excluding hotel transactions), up substantially from a 2019 tally of $461 million.
The only blip on CRBE's radar when it comes to the Forest City is the volume investment in office space, which is predicted to drop to $40 million this year from $85 million in 2019.
The report highlights the following key trends for London in 2020:
Multi-family pipeline to change downtown skyline: "Developers are pushing ahead with new high-rise developments that will change London's downtown skyline," the report stated. "Forecast to deliver 1,300 new units with another 2,000 in the planning and permitting stages, this development cycle is expected to boost population figures in the city's core. In turn, this should help to increase the performance of all assets and lead to greater investment activity."
Velocity in the investment market: "London experienced strong levels of investment activity in 2019 with the top 20 deals totalling nearly $350 million in value. Investors will continue to be active throughout 2020 with larger institutions taking advantage of market conditions and disposing of non-core holdings in London, often purchased by smaller private capital buyers."
Solid office leasing activity to continue: "Following the completion of several lease transactions over 20,000 square feet in 2019, London's office market is poised to build on current momentum with a number of large deals in the pipeline for 2020. Leasing activity is expected to remain high as landlords look for creative opportunities to further stabilize assets."
Record investment to build on industry diversity: "Historically tied to the manufacturing and automotive industry, London's economy has diversified since 2008 with the rise of the city's technology, food production and defense sectors. This is highlighted by Maple Leaf Foods' new $660-million poultry processing facility, which is the largest single food production investment in Canadian history. This plant will employ 1,450 people and generate $1.2 billion of annual economic activity once operational in 2021."
Nationally, CBRE forecasts a record-breaking $50-billion year for Canadian commercial real estate investment in 2020, but also identifies three structural issues — affordability, infrastructure and climate change — as serious challenges on the horizon.

---
LHBA hosts Canada-first aging-in-place training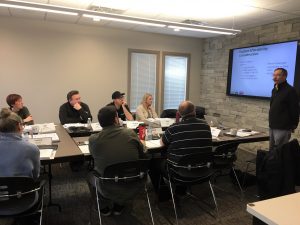 Photo: LHBA is hosting seven residential construction professionals for C-CAPS training
THIS WEEK, A group of seven Southwestern Ontario construction professionals — Peder Madsen (CCR Build + Remodel Inc.), Amy McWhirter (Donwest Construction Ltd.), Nick Vatalaro (Niva Creative Inc.), Simon Trickett (SensiBuild Construction), Sharon Riopelle (Sifton Properties Limited), Rob Summerhayes (Summerhayes Enterprises Inc.) and Sue Wastell (Wastell Homes) — are taking part in a Canadian first: the inaugural training session for the Canadian Certified Aging in Place Specialist (C-CAPS) designation.
Hosted at the offices of the London Home Builders' Association (LHBA) and administered by the Canadian Home Builders' Association, the C-CAPs designation program teaches the technical, business management and customer service skills essential to address the needs of one of the fastest-growing segment of the residential construction industry: home modifications to accommodate those wishing to age in place.
According to Statistics Canada, more than five million Canadians are now over the age of 65, and studies indicate that 90 per cent of Canadians would prefer to live in the same home or community safely and independently as they age.
"Working with seniors or those requiring home modifications due to illness or injury can pose unique challenges for construction professionals," stated a release from the LHBA. "While the requirements for barrier-free can be made available, it is the extra expertise of requirements of progressive needs and the hands-on-the-ground knowledge that is so needed, which is exactly what C-CAPS brings."
The C-CAPS three-day certification course is designed to equip industry professionals with the expertise required to guide clients through a successful home build or renovation to allow them to age in place, and includes a range of topics and modules, such as universal design concepts, privacy and legal factors, communication, estimate and schedule considerations and scenario-based discussions. Upon successful completion of a written exam, participants earn the C-CAPS designation.

---
Canadian Centre for Product Validation achieves major accreditation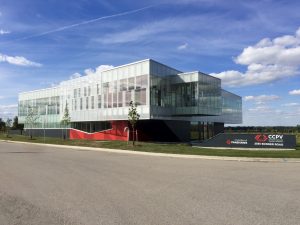 Photo: The Canadian Centre for Product Validation
EARLIER THIS WEEK, Fanshawe College announced that the Canadian Centre for Product Validation (CCPV) has achieved a major milestone in supporting business and industry in the region.
Last week, the CCPV received notice of its successful accreditation in accordance with the recognized International Standard ISO/IEC 17025:2017 for competence in the field of mechanical testing from the American Association for Laboratory Accreditation.
More specifically an in plain-speak, accreditation has been granted to CCPV to perform salt corrosion, low temperature, high temperature, humidity and plastic tensile tests on plastics, metals, rubbers, coatings, paints, greases, lubricants, adhesives, hydraulics, electrical components, explosives, restrained glass, protective clothing and textiles.
"This is a major accomplishment for CCPV," said Bruce Smith, CEO of CCPV. "The accreditation opens up more opportunities for CCPV and, more importantly, provides business and industry from across the region with more options in terms of meeting their product testing requirements from an accredited lab. The successful accreditation represents CCPV's and Fanshawe College's commitment and continued investment in Ontario's innovation economy."
 The CCPV has been meeting the product testing and validation services of business and industry in Ontario and the U.S. since June 2016.
Opened in 2016 and located in the Advanced Manufacturing Park alongside Western's WindEEE Dome and the Fraunhofer Project Centre for Composites Research, the 25,000-square-foot CCPV is a unique Canadian facility housing leading-edge validation technologies and equipment and offering prototyping and testing for a range of industries and applications in one central location.

---
Western Space wins contract to develop lunar rover vision system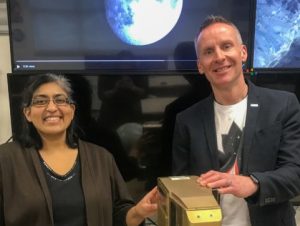 Photo: Jayshri Sabarinathan and Gordon "Oz" Osinski of Western Space
WESTERN UNIVERSITY'S INSTITUTE for Earth and Space Exploration (Western Space) has landed a major contract from the Canadian Space Agency (CSA) to develop an integrated vision system for future rover missions that could ultimately represent a flagship Canadian technology contribution for international missions to the moon.
The integrated vision system, which will be mounted on a rover for lunar surface operations, will consist of an integrated multi-wavelength LIDAR (light detection and ranging) and multispectral imager to provide 360-degree data collection. The primary goal of the instrument will be to characterize the lunar surface and support the selection of return samples to earth.
A multispectral LIDAR would provide a unique advantage for exploring the moon, since cameras can only provide images of an area that is directly illuminated by sun light, which is absent on the moon. By combining multispectral imaging capabilities with LIDAR, this remote-sensing method could revolutionize planetary surface operations for both scientific applications and rover guidance, navigation, and control.
Western's space director, Gordon "Oz" Osinski, associate director (training and education), Jayshri Sabarinathan, and research scientist, Livio Tornabene, led the successful bid. The project team also includes several post-doctoral students and graduate students from Western's Faculty of Science and Faculty of Engineering.
Western Space is also collaborating with MDA Visions Systems and Sensors on developing the integrated vision system.
"Winning this contract marks a major step towards achieving one of our institute goals of launching Western into space," said Osinski. "The world is focused on returning to the moon with robots and humans in the next few years and to think that Western faculty and students may play an integral role in developing the instrument that will be the eyes of lunar rovers is incredibly exciting."
The project is funded by CSA's Lunar Exploration Accelerator Program (LEAP), which is preparing Canada's space sector for humanity's return to the moon by earmarking $150 million over five years to help small and medium-sized businesses in Canada develop new technologies that could be used and tested in lunar orbit and on the moon's surface in fields that include artificial intelligence, robotics and health.

---
Featured Business Event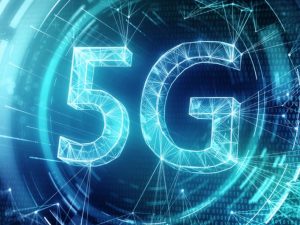 5G Showcase | March 2, 9 a.m. to 12:30 p.m., RH Accelerator, 240 Waterloo Street
Ontario Centres of Excellence is partnering with TechAlliance, ENCQOR, CENGN, RH Accelerator and the London Economic Development Corp. to host a funding program information session in London on March 2, 2020. If your company is looking to learn more or are seeking support and partnerships for your innovation, you will learn how to leverage 5G to accelerate your business, product testing and commercialization.
This session is particularly valuable to companies and entrepreneurs involved with or interested in AR/VR, mobile gaming, cloud computing, high-performance computing, Industry 4.0 and precision agriculture.