London Inc. Weekly 03 • 06 • 2020
NP Aerospace to establish North American headquarters in London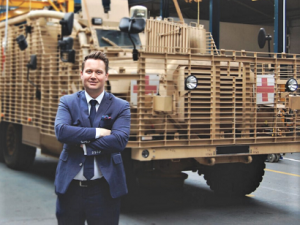 NP Aerospace CEO, James Kempston
GLOBAL ARMOUR TECHNOLOGY technology manufacturer NP Aerospace is expanding its operations and has selected London as its new North American headquarters. The company has leased a manufacturing facility at 24 Swiftsure Court and plans to celebrate the grand opening of operations this spring.
Jointly owned by the Saskatchewan's Pasqua First Nation and company CEO, James Kempston, NP Aerospace, based in Coventry, UK, is a world leader in advanced low-weight, high performance armour systems. With over 90 years of experience, the firm manufactures high-strength, lightweight and fatigue-resistant products using the world's most advanced composite materials.
The company's product line includes ballistic helmets and shields, explosive ordnance disposal suits and body armour plates and composite armour for vehicles, ships and aircrafts. NP Aerospace has integrated and supported over 2,000 military vehicles and supplied one million combat helmets to Canada, Italy, UK and NATO allies and 200,000 body armour plates to British and Canadian Armed Forces.
According to company release, London's easy access to both the Canadian and U.S. markets was a key factor in the site selection.
"Our new London, Ontario facility will be our North American Centre of Excellence for personal and vehicle armour manufacturing in support of our existing and future customers and contracts," said Kempston, who is an engineering physicist by background and has worked in military defence for 13 years.
"[The London facility] will be producing our world-class armour systems for both Canada and the USA, and London's geographic proximity is well situated for supporting contracts in both countries, including the regional defence market in and surrounding London, Ontario."

---
Area commercial development design honoured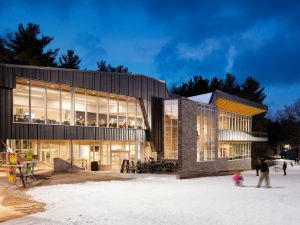 Photo: The Boler Mountain Chalet, one of the 2019 Don Smith Commercial Building Awards recipients
ON WEDNESDAY OF of this week, the London and St. Thomas Association of Realtors (LSTAR) unveiled the recipients of the 2019 Don Smith Commercial Building Awards at the Best Western Plus Lamplighter Inn and Conference Centre.
The biannual reception and awards, established in 2009, recognizes the top commercial, industrial, multi-family and community buildings across the LSTAR region. The program was named after the late Don Smith, co-founder of EllisDon. Categories include commercial (retail and office), industrial, multi-family and institutional (community). 
A judging panel evaluates the projects, which must be located within LSTAR's jurisdiction and have been completed between August 1, 2017 and July 31, 2019, based on criteria that includes design and innovation impact, how the project addresses a specific development need within the community and the sensitivity to the surrounding environment. The winners are:
Commercial New: Domus Developments Office Building
Architect/Designer: Agar Architect
Developer/Owner: Domus Developments
General Contractor: Domus Developments
Commercial Recreational: Boler Mountain Chalet
Architect/Designer: architects Tillman Ruth Robinson Inc.
Developer/Owner: Boler Mountain
General Contactor: Agri-Urban Buildings Inc.
Commercial Renovation: Info-Tech Research Group
Architect/Designer: Nicholson Sheffield Architects
Developer/Owner: Info-Tech Research Group
General Contractor: Trigon Construction Ltd.
Commercial Green: 1305 Riverbend Road
Architect/Designer: architects Tillman Ruth Robinson Inc.
Developer/Owner: Sifton Properties Limited
General Contractor: D. Grant Construction Limited
Multi-Family: Azure
Architect/Designer: Hanna, Ghobrial & Associates Ltd.
Developer/Owner: The Tricar Group
General Contractor: The Tricar Group
Multi-Family Green: West 5 Townhomes
Architect/Designer: Turner Fleischer Architects
Developer/Owner: Sifton Properties Limited
Industrial: Dancor Phase III
Architect/Designer: Architectural Design Co. Inc.
Developer/Owner: Dancor Green Valley Inc.
General Contractor: Dancor Green Valley Inc.
Institutional Education: Sir Arthur Currie Public School
Architect/Designer: Cornerstone Architecture Incorporated
Developer/Owner: Thames Valley District School Board
General Contractor: K & L Construction
Institutional Education Post-Secondary: Amit Chakma Engineering Building, Western University
Architect/Designer: Perkins & Will in association with Cornerstone Architecture Inc.
Developer/Owner: Western University
General Contractor: Norlon Builders
Institutional Repurpose: Fanshawe College, School of Tourism, Hospitality and Culinary Arts
Architect/Designer: Diamond Schmitt Architects Inc.
Developer/Owner: Fanshawe College
General Contractor: EllisDon Corporaton
Institutional Healthcare: St. Thomas Elgin General Hospital
Architect/Designer: Montgomery-Sisam and Kahler-Slater
Developer/Owner: St. Thomas Elgin General Hospital
General Contractor: EllisDon Corporation)
Institutional Renovation: Museum London, Centre at the Forks
Architect/Designer: Nicholson Sheffield Architects Inc.
Developer/Owner: Museum London
General Contractor: Aveiro Constructors Limited
Legacy Award Public Institution: Western University, University College Renovations
Architect: architect Tillmann Ruth Robinson Inc.
Developer/Owner: Western University
General Contractor: Tonda Construction Limited

---
Local firm introduces job candidate validation product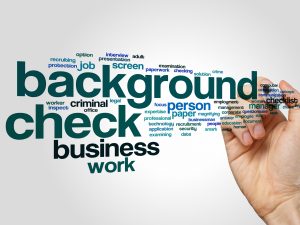 Photo: Corporate Investigation Services has launched Background Verified 
LONDON-BASED WORKPLACE investigation and management firm Corporate Investigation Services (CIS) has introduced a new product service aimed at supporting human resources firms and job seekers by providing job candidate validation up ahead of the interview or job-offer stage.
Called Background Verified, the pre-employment background investigation package is being marketed to employment specialists such as recruiters, agencies, career coaches, resume writers and specialists in the business of facilitating employment opportunities for job seekers. The service is not being offered to job seekers themselves.
According to CIS founder and CEO, Guy Parent, the Background Verified program stands to distinguish candidates from other job applicants by providing a background screening report as part of the candidate's resume. Because of the cost and the amount of time it takes, Parent says employers are often selective about how many candidates they consider for screening.
"Background Verified eliminates both concerns for the employer," said Parent. "It's a resume evolution is what will soon be the new expectation for employers."
CIS estimates that 96 per cent of companies conduct some form of background inquiry (a background check is permissible by law in Canada only after a conditional job offer has been made), and inquires can include areas such as a criminal background search, education and employment verification, credit check, driver's record and employment reference interviews.

---
February home resale numbers point toward another red-hot spring market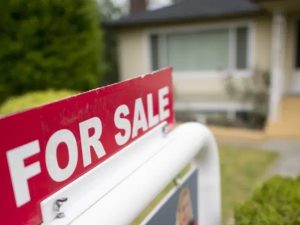 Photo: 740 homes changed hands in February in the London reporting region
ON THE HEELS of the second-best January ever for home resales in the London region, the London St. Thomas Association of Realtors (LSTAR) reported this week that February sales were just 22 units shy of matching the best February on record (2017).
Figures released by LSTAR show 740 homes changed hands in the reporting region last month (the LSTAR jurisdiction includes St. Thomas, as well as Elgin and Middlesex counties), up from 569 units in January and a 23.7 per cent increase from February, 2019. 
In London proper, 488 homes sold, a 19.9 per cent jump from the same period a year ago and a significant jump from the 366 homes that changed hands last month.
"Overall, home sales took a leap over the previous month — from 568 to 740, which signals an early start of a busy spring market," said 2020 LSTAR president, Blair Campbell.
"Even though the number of LSTAR new listings grew to 1,034, which is almost on par with the 10-year average, the number of active listings at month end was still much lower than normal. This reflects the strong demand for residential properties in our area," stated Campbell.
LSTAR's inventory measurement, which measures the balance between sales and the supply of listings and indicates how long it would take to liquidate existing inventories at the current rate of sales activity, sits at the lowest level in the past decade, with only 1.8 months of inventory across the entire LSTAR district at the end of February, 2020.
London proper is even tighter, reporting only 1.5 months of inventory. For comparison, five years ago the inventory level in London stood at 4.3 months.
While the February average home price for London proper ($447,860) dipped slightly from last month when it eclipsed the $450,000 mark, the overall trend is more of the same — upward pressure on prices as inventory levels remain very tight. February's average price in London proper represented a 10.4 per cent jump from February 2019.
"Analyzing average prices in London's three main geographic areas, it is worth to note that London East saw the biggest year-over-year increase," Campbell added.
The average home price in London East was $369,094, up 21.8 per cent from last February, while London North saw an increase of 6.1 per cent over last February, with an average home sales price of $530,042. In London South, the average home price was $437,667 – up 11.5 per cent over February 2019.

---
Featured Business Event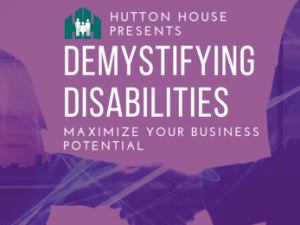 Demystifying Disabilities | March 26, 5 p.m. to 7 p.m., The Factory, 100 Kellogg Lane
Hutton House presents an evening of food, drink, networking and interactive disability discussion at The Factory.
This event will showcase and highlight the fiscal benefits to hiring people with disabilities. The keynote speaker is Joe Hoffer, a London lawyer and partner with Cohen Highley LLP. Joe Hoffer has hired people with a disability in his own office because he knows the benefits it has to his bottom line. Come learn how he knows this and all about the legalities of hiring and firing people with a disability, what to do if you have a union and many other legal myths around hiring and firing
In addition a three-person panel of employers to give insight on their industry experience in hiring (and firing) those with disabilities. The panel includes Lino Tesolin of Lowe's, Mona Lam-Deslippe of MLD Solutions and Melissa Maloney of GoodLife Fitness.