Milos Kral stepped up to the pandemic challenge with character. A lot of character
Photo: Pub Milos owner, Milos Kral
PERHAPS IT'S FITTING that the owner of a bar known for its innovative, curated and constantly changing beer list would channel his inner Ernie Coombs and discover his Covid niche on social media, donning elaborate costumes and assuming a variety of personas — all just to read the daily takeout menu.
For eight years, Talbot Street's Pub Milos has been a staple for beer nerds and foodies alike. So, when the pandemic forced the temporary closure of its doors in March, its colourful owner, Milos Kral, got creative to promote the pub's takeout business.
On most days, Kral would fire up the pub's Instagram account, turn the ­camera on and let the show roll. The takeout menu for the day, which he eventually reads, plays a background role to the day's character. One day early on it was flamboyant fitness instructor, Richard Simmons. On a Saturday in June, it was Roman general Mark Antony. The following weekend, Kral was having "happy accidents" dressed as famous landscape artist and TV ­personality, Bob Ross.
"My ladyfriend suggested that I should give people an update every day, tell them what we have on the menu, to try to make a personal connection," Kral explains. "So, I just started to do it, just for the heck of it. It helps to connect and let people know that we're here."
"You gotta react, you gotta do something to survive. Help yourself and the universe will help you" —Milos Kral
For restaurant and bars like Pub Milos, which operate on tight margins at the best of times, the pandemic threat was existential in scale. One survey by food service industry group Restaurants Canada suggested that one out of every two independent restaurateurs were not expecting their businesses to survive the Covid crisis.
But like other owners in other ­sectors battling for their business lives, Kral wasn't about to focus on the doom and gloom, but instead went about ­dedicating his energies to finding ways to innovate and continue to operate.
"You gotta react, you gotta do ­something to survive," he says. "Help yourself and the universe will help you."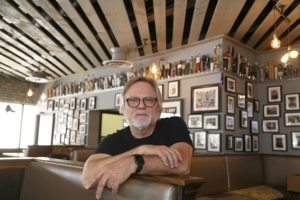 One little bit of help he did receive came in the form of the Ontario ­government's decision to loosen the restrictions on alcohol takeout regulations. Something that could not come soon enough for foodservice operators just hanging on, Kral says when this is all over, it may well be that those changes that enabled many pubs and restaurants owners to save their businesses. "If we were only able to do food, we wouldn't be able to hack it," he says.
(On Ontario's alcohol rules, Kral says: "I was born in communist Czechoslovakia and I had to come to Ontario to find a government who would treat you even more like little children.")
Story Continues Below

And it hasn't just been the latest craft IPAs heading out the door at Pub Milos. "I spent eight years hoarding really, really vintage bottles of beer," notes Kral, "and now we're letting those go for 30 per cent off. Stouts, barley wines, sour lambics — it's all about survival."
That must-do attitude has applied to the food side of the operation, as well. 'Chef Alex', who appears in many of Kral's videos, reliably lists off the kind of fare customers have become accustomed to, with local fish, elaborate smoked briskets and duck bacon poutine routinely showing up on the takeout menu.
http://www.instagram.com/p/CCMRuj2HCte/
Industry wide, Kral says he has been impressed by the innovation and work witnessed during the lockdown. "People got really inventive," he says. "There was lots of exploration — all these breweries who figured out they could ship beer, for instance."
As restaurants and bars begin to navigate the reopening phases, Kral hopes it will all shake out in a good way for local, independent operators. The shutdown, he believes, has led to more conscious consumer habits and an increased focus on supporting local businesses — something he hopes will remain as the new normal is established.
"We have lots of loyal and dedicated customers, a good chunk of people we see on a regular basis, even more than once a week," Kral says. "Still, only 10 to 15 per cent of the entire beer market are local independents. We're still the minority, but maybe this will help."

Kieran Delamont