With a Little Help from Our Friends
After pivoting to stay alive amid the shutdown, an indie fitness studio turns to its client community to help shape the way back
Photo: BPM Fitness & Yoga owners, Chelsea and Colin Jackson
"IT'S BEEN A looooong quarantine," Colin Jackson says, about a minute into an hour-long YouTube ­workout, and in a graveyard voice that, if ­nothing else, might betray something about the psyche of the personal trainer cooped up inside.
Had it been a normal, non-pandemic day, Jackson might have been kicking around BPM Fitness & Yoga, the boutique gym on Clarence Street he co-owns with his wife, Chelsea. Instead, the two of them were leading a workout for the ­camera, spread out in a makeshift studio ­normally used as the Jackson's living room.
For a small gym like BPM, the pandemic could have been devastating. Not only are gyms and fitness studios likely to be one of the last businesses to fully reopen, but gym memberships are often the first victims of economic turbulence — the first thing to go when it comes time to trim the personal budget.
"We're missing our members, they're missing us. They're missing the high-fives and the hugs, so it would be naive to say that it's all fine and dandy right now" —Colin Jackson
To be sure, the quarantine prompted a reckoning of sorts for BPM: Could the business of personal training and fitness coaching be made so accessible that it could be brought right into peoples' homes? And what might that look like for a small gym held in high regard for the client community they have built and the personal accountability they command?
"We had a pretty quick turnaround," Jackson says, explaining that a lot of the health coaching they do, ­especially around things like nutrition and habit building, easily migrated into the Zoom-verse, and plenty of trainers in the industry were already using apps to communicate with ­clients and check in on their exercise progress. Other adaptations required more ­substantial change, but by three months in, the gym was offering regular fitness classes over Zoom, video workouts and remote coaching.
"It definitely opened up a new way for us to serve, and in some ways it has been more efficient and more convenient for our clients," says Jackson. There were, or course, growing pains — wifi that drops, software that glitches — but for the most part the gym staff found themselves with fewer barriers between them and their clients than they might have expected. "Our staff were able to adapt really, really quickly," Jackson says. "I think they enjoy it, to be honest. They have had an opportunity to make stronger connections."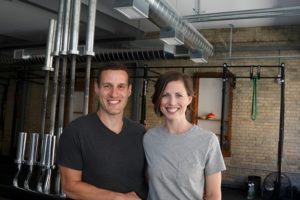 In one sense, the studio became a more accessible place for clients who were suddenly freed of most time constraints. Instead of having to schedule a block of time that matched both instructor and exerciser, "the client can now work out whenever they want to work out," Jackson says. "It becomes really, really convenient for the client."
But from the start, Jackson was well aware that simply pushing out exercise instructions was not going to be enough, because their gym was about much more than just a locale for barked exercise commands. "It's definitely not the same," he stresses. "We're missing our members, they're missing us. They're missing the ­high-fives and the hugs, so it would be naive to say that it's all fine and dandy right now."
So, the gym has tried to recreate that, too. They already had a private Facebook group, which is now the closest simulation of the gym's common social areas, and they have organized Zoom meetups and 'Wine and Workout' nights. Jackson says it is common for clients to hang out on the call after a Zoom workout, chatting and catching up. "It does help to foster some of that community," he says.
As it reopens, there will be a lot of adjustments to be made to BPM's regular practices and programs. One of the first steps back to normalcy was the mid-June return of their running program — outdoors only and with distancing measures in place. For the most part, Jackson figures their small size and tightknit client community will be helpful, letting them get back to "business as usual, but with a few more safety differences."
As for the virtual workouts, it remains to be seen how long BPM will keep them going. Reopening is a cooperative dance between what the gym is permitted to offer and what their community is prepared to risk. And like many of the changes to the world, it seems likely that the changes at BPM will last a little longer than first imagined.
But that's where the strong client connection comes into play. "I think the studios that will have trouble ­coming back from this are the ones that don't have a genuine community," Jackson says, "those that are based just on their workout and not on their community experience."

Kieran Delamont