A new AI-powered tool from Ahria Consulting makes sure your LinkedIn profile ― and your personal brand ― is optimized to work for you
Photo: Ahria Consulting president and CEO, Terry Gillis
THIS WILL COME as no surprise to many, but within the corporate world one's LinkedIn page has come to be treated, basically, as the jobseeker's currency.
"LinkedIn has become — God, I'm going to say it — the new normal," observes Ahria Consulting president and CEO, Terry Gillis.
A jobseeker without a quality LinkedIn page is fighting an uphill battle against those who do have one; someone without a profile at all flirts with invisibility. This was true before — but maybe doubly so in a world of economic upheaval, where recruiting is increasingly automated, and the human resources sector is constantly looking for ways to streamline the hiring process.
With offices in London and Kitchener, Ahria Consulting ― formerly Carswell Partners and celebrating 30 years of business in 2020 ― is able to give jobseekers an edge in this department with their Personal Brand Report, an exclusive AI-powered tool that generates a detailed account of the relative competitiveness of your LinkedIn profile.
"People tend to trust algorithms. They give it a lot more attention than they might otherwise, and because of that they actually start to massage and make changes to their profile" ―Terry Gillis
"Ahria Consulting brought this tool here because we knew it would be helpful for both jobseekers and employers in London and in Southwestern Ontario," Gillis says. "It's another piece for us to show that we're different than our competitors and the big national players out of Toronto."
The tool works by crawling through your LinkedIn profile to gauge how well it matches with your target industries, based on things like keywords, skills and your network of connections.
"What the report comes back and tells you is how you rank relative to other people who work in the same industry," Gillis says. "It essentially measures the individual's brand, and then recommends changes to make your profile more competitive."
It's the kind of thing career coaches have been doing for a while, but without the objectivity and speed of artificial intelligence. "People tend to trust algorithms," Gillis notes. "They give it a lot more attention than they might otherwise, and because of that they actually start to massage and make changes to their profile."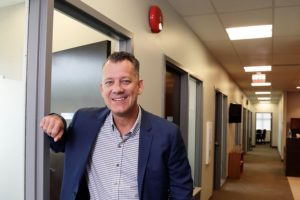 Gillis compares it to how websites optimize keywords to appear near the top of Google search results. Without it, a website may be polished, professional and packed with useful information, but it is likely to get lost in the digital noise. The Personal Brand Report can provide the useful information and guidance a jobseeker or networker needs, particularly if they are trying to navigate a career change in the post-Covid economy.
"We're going to be looking at a lot more digitization and artificial intelligence mechanisms being used to find candidates," Gillis explains. "If I put out a job ad tomorrow, I'll get seventeen thousand responses to it ― people from Kazakhstan, Russia, Vietnam, wherever, will apply to these things, so your inbox gets clogged."
Ahria Consulting also employs the Personal Brand Report as a networking tool. The algorithm will match you with other workers within your target industry with compatible online personalities. "Reach out to that person, engage in a conversation with them, learn about the industry from them," Gillis advises. "You become, as a jobseeker, that much more potent because you're that much more knowledgeable and connected.
"It's all about brand," Gillis continues. "When you're looking for a job, you become your own brand ambassador."
The tool works best, Gillis says, for more senior applicants with an existing familiarity with LinkedIn as a job-search tool. But it also offers benefits to those looking to kickstart their career growth, as well as employers who are finding it challenging to get the right skill set.
"An employer has a need — they need talents and knowledge and they need skills," says Gillis. "And people out there that have all that ought to be getting together with those employers and building value together.
"It's a win-win," Gillis sums up. "Anything we can do to make that marriage happen faster, quicker, better — let's do it."
If you are considering a career change or looking to network your way to the top, reach out to Ahria Consulting and let them help transform your world of work.
---
This story was created by Content Studio, TreeTown Media's commercial content division, on behalf of Ahria Consulting.