Driving digital transformation
With an integrated approach to document imaging and workflow automation, Polar Imaging moves businesses forward
AN EXTENSIVE HISTORY in the document scanning business has led Polar Imaging Inc. to become a one-stop shop for all digitization needs. They're experts in helping companies of all sizes reclaim storage space and become more efficient and organized in the process.
When Polar Imaging opened in 2001, the company's original focus was microfilming in the healthcare industry. With technology rapidly advancing, Polar Imaging introduced document scanning as one of their offerings and started to expand into other industries.
Since then, Polar Imaging has been constantly refining and implementing more services and product offerings to best serve their clients. While still offering microfilming services, the company now specializes in document scanning, accounts payable automation, business process automation and robotic process automation, as well cloud-based document management to deliver your information anywhere in the world, at any time.
"Having the ability to customize our solutions tailored to your specific requirements is something we feel is unique to us" ―Steve Todd
Polar Imaging helps businesses of all sizes transition from paper files to digital ones, whether that means simply scanning paper files in bulk and returning them as electronic files or providing an entirely customized solution which includes document management systems and workflows.
What's more, Polar Imaging aims to educate their clients on document management, helping them to reach their overall business goals using innovative business technologies.
Awarding ways: From left, Polar Imaging president, Greg Todd, director of business development, Steve Todd, and IT coordinator, Caylen Stevens. Polar Imaging was awarded with the Digitech Systems 2020 Circle of Excellence Award earlier this year
"Having the ability to customize our solutions tailored to your specific requirements is something we feel is unique to us," says Steve Todd, Polar Imaging's director of business development.
With solutions that are flexible and adaptable to address the needs of just about any business type or department, service offerings include document scanning, AP automation, document management systems, microfilming, scanners, equipment and professional services.
And while the healthcare industry is still a major focus for Polar Imaging, the firm now operates in a variety of different industries, and have clients located across Ontario. From school boards to hospitals and small to enterprise-sized businesses, their clients have found success with customized solutions to improve business processes and help them to reach their goals.
With the recent events happening in the world, Polar Imaging has been working on providing more options to companies who have been forced to work remotely. Offering cloud-based solutions for almost two decades, they felt it was their responsibility to help their community and to provide more entry-level options to businesses wanting to start their transition to the digital world.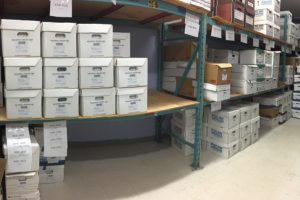 If a cloud solution does not align with your business strategy, Polar Imaging's onsite document management systems can be managed within your private environment
Polar Imaging has also been working extensively in the field of digital medical information, helping better connect hospitals and medical practitioners in Southwestern Ontario. With a large customer base in the healthcare industry, some existing clients asked for assistance in making their electronic patient records available in a widely used healthcare platform, ClinicalConnect. Polar Imaging took it upon itself to make this a possibility, and after working closely with the team at ClinicalConnect over the past year, these integrations became a reality.
If your business or organization is interested in learning more about planning a digital transformation project or how to better organize and manage existing files, Polar Imaging offers a free-of-charge, no-obligation discovery consultation.
You can reach Polar Imaging at 519-652-0211 or [email protected], or visit them online, on Facebook, Twitter, LinkedIn or YouTube.

---
This story was created by Content Studio, TreeTown Media's commercial content division, on behalf of Polar Imaging Inc.