Twenty-seven area eateries receive first-round grants of $1,000 each from the London-Middlesex Restaurant Support Fund
Photo: Ian Kennard, owner of Willie's Café, one of 27 restaurants to receive first-round funding from the London-Middlesex Restaurant Support Fund
THE NEW LONDON-MIDDLESEX Restaurant Support Fund has announced that 27 area eateries – 21 in London and six in surrounding Middlesex County – have each been awarded $1,000 grants to help with the costs of opening or staying open amidst the pandemic.
The fund offers $1,000 grants to qualifying London-Middlesex-based, independent operators of restaurants and bars in need of financial assistance as they adapt their businesses in order to reopen safely.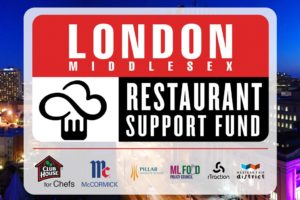 A collaborative of local businesses and nonprofits, the fund was seeded by London enterprise Club House for Chefs and McCormick Canada with a $30,000 contribution and is operated by project partners Middlesex London Food Policy Council, Pillar Nonprofit Network, rTraction and Western Fair District. 
"Amidst the pandemic, restaurateurs are struggling, and we want to help them get back on their feet" ―Anna Stolee
Companies and individuals have also been invited to financially support the fund. Libro Credit Union was the first company to jump aboard, pledging $2,000 even before the portal opened. 
Applications opened on August 13, and there were 27 applicants in the first three days. The applications are adjudicated by a committee of the Middlesex London Food Policy Council and there will be a second round of grants announced after the committee meets again this week.
Story Continues Below

"We're proud to have been a part of this community for more than 137 years and we know restaurants are an integral part of the fabric of our community," said Anna Stolee, senior director of sales and marketing at McCormick Canada. "Amidst the pandemic, restaurateurs are struggling, and we want to help them get back on their feet. Even as restaurants are reopening, it's not a return to normal business as operators face increased costs to maintain safe operations on already slim margins. We know there's a long road ahead, but we hope this fund can help alleviate some of that burden."
Paul Seale, membership engagement manager at Pillar Nonprofit Network and a former restaurateur, added, "Cash flow is a constant challenge in restaurants at the best of times, so there's no restaurateur who couldn't use $1,000 toward the extra costs of doing business during a pandemic. At the same time, we really value restaurants in our communities — as part of a vibrant cultural scene, as family-owned businesses and employers, and as community hubs. Connecting nonprofits, businesses, and governments to collaborate toward community solutions is one of Pillar's core activities, so we're glad to help make this happen."
The 27 recipients are:
The Morrissey House

The Green Window

Locomotive Espresso

James' Place Restaurant

The Tea Lounge

MJ's Roadhouse (Lucan)

Curley Brewing Company

Palasad Billiards Limited

Rusty Wrench Brewing Co (Strathroy)

Grace Restaurant

Milos Craft Beer Emporium

Eat.OA!

Willie's Cafe

Momo's at the Market

Blackfriars Bistro

The Village Teapot (Ilderton)

The Gourmet Deli

Cafe Artiste

Village Pantry Restaurant

Sidetrack: A Wortley Café

Grad Club

The Mill Pond Tap and Grill (Dorchester)

Zen'za Pizzeria

Globally Local

Thorndale Family Restaurant (Thorndale)

Malibu restaurant

Salt & Peppers (Strathroy)