Redefining your IT experience
Consys Group Inc. provides the cyber security you need to grow your business confidently
FOR SMALL- AND medium-sized enterprises (SMEs), tackling the need for a comprehensive cyber-security strategy can be intimidating — if the need is ­recognized at all.
But as more and more businesses adopt digital ­workflows and systems, and as more data is taken ­online, the ingenuity of cyber criminals is increasing at an ­alarming rate.
From hackers looking to steal data to be sold on the dark web and ransom attacks that lock you out of your data until you pay up to bots crawling around the web for opportunities to cause a little chaos — it all serves as a warning to SMEs that might think cybersecurity is only something that big firms need to worry about.
"Our goal is to understand the unique needs of each business, and to talk to our clients as business owners. We're trying to make IT a little more relatable" ―Alex Pirani
Since 2002, Consys Group Inc. has been the go-to firm in Southwestern Ontario for business owners needing a one-stop shop for their IT needs, which increasingly means designing systems to protect, secure and manage the valuable data businesses depend on today.
"Small business is underserved in the IT world, and there are people who can help," says Alex Pirani, ­Consys Group president and CEO.
For SMEs looking to mitigate the cyber-security risk, the Consys Group approach starts with a free ­assessment. "It's a full-blown, in-depth assessment of the business," says Pirani, "that identifies the vulnerabilities and risk exposure in their systems."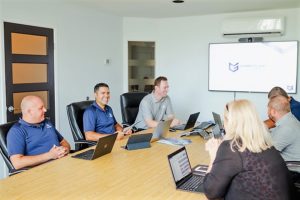 The Consys Group approach to cyber security and managed IT services goes well beyond the latest in security products and platforms. Security services include cyber awareness training for business owners and employees, to help people identify and protect against phishing attempts and social engineering methods that are often the greatest vulnerability.
"There's nobody else who does that," Pirani says.
And if it sounds complicated, it isn't. Consys Group is committed to redefining the IT experience so business owners have peace-of-mind and can focus on running and growing their business.
"Our goal is to understand the unique needs of each business, and to talk to our clients as business owners," says Pirani. "We're trying to make IT a little more relatable."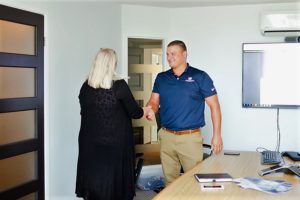 "A lot of small businesses get scared when big IT ­companies come in," adds Allison Pirani, who runs The Creative Co., the arm of Consys that handles the creative side of the business, like web design and digital marketing. It's another way that Consys Group is able to help SMEs navigate the digital path.
No matter where you are on the cyber security journey, Consys Group can help you reach the destination: a place of confidence that you can operate without crippling ­disruption from a cyber security event.
When it's all said and done, a cyberattack can significantly impact a company's reputation and bottom line, as well as erode consumer trust. As Pirani notes, the best defense is a good offense, and SMEs need be aggressive in implementing solutions that fortify their security.
"Small businesses need to think about security today," says Pirani. "Cyber criminals are really organized these days, and it absolutely pays to stay one step ahead."

If you're interested in redefining your IT experience so you have peace-of-mind and can focus on growing your business, reach out to Consys Group at 226-973-9208 or [email protected], or visit them online, on Facebook, Twitter, LinkedIn or Instagram. Get Proactive. Get Consys.
---
This story was created by Content Studio, TreeTown Media's commercial content division, on behalf of Consys Group Inc.