Ontario Follow Loop helps businesses grow their followers and their brand
Photo: SlyFox social media specialist, Jessica Fletcher. Photography by MEE Photography
FOR ALL THE immense benefits social media can offer for a small business, it's an undeniably steep curve to build a large following and an active community.
A business owner might spend hours lining up the week's posts, developing graphics and homing in on a voice for the brand. But, like that old chestnut about the falling tree in the forest, none of it will matter if that content is being sent out into a vacuum. For it to land anywhere, a business needs followers.
Which is where Ontario Follow Loop comes in. Developed by Jessica Fletcher, social media specialist at SlyFox Web Design and Marketing, Ontario Follow Loop is an easy, proven and beneficial way to receive new Instagram followers each week.  
Building a following, like most forms of marketing, is often more art than science. Metrics can be easily juiced with fake zombie followers, even if these are mostly about keeping up appearances. Trying to grow organically with hashtags and paid posts is one way to gain followers, but it means cutting through all the noise on a given platform.
"Businesses don't just want more followers ― they want 'real' followers" ―Michelle Faulds
Follow loops, on the other hand, pursue a different logic. Rather than simply aiming for larger numbers, a follow loop gets businesses and entrepreneurs to follow each other, en masse, to build a more vibrant and active local business community on social media.
A follow loop is a simple idea: follow everybody in the loop ― which exists as an Instagram post every week ― and everybody will follow you.
The follow loop was a concept that SlyFox has been operating with great success since early in the pandemic, helping connect businesses with one another at a time when shopping local had taken on a new importance. Ontario Follow Loop is the more formalized version of this. Expanded beyond London's city limits, Ontario Follow Loop is now helping to build a network of local businesses supporting one another across the province.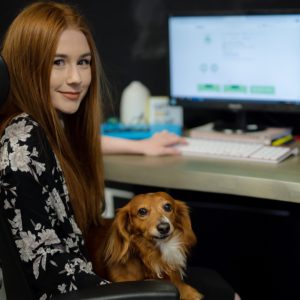 Jessica Fletcher and SlyFox's official office greeter, Rusty. Photography by MEE Photography 
"If you're a business in Ontario, you likely want to attract followers," says Michelle Faulds, co-founder of SlyFox. "But businesses don't just want more followers ― they want 'real'  followers."
"Typically, we will have around 200 people join every week," adds Fletcher, noting that the increase in followers is only one of the benefits. The follow loop also pushes businesses in front of one another in a way that produces deals, partnerships and friendships.
"Everybody interacts with one another," Fletcher explains. "It's great for that. We have a lot of people who buy each other's products."
For Faulds, the magic of Ontario Follow Loop is not simply that it helps improve your social media numbers — and it does do that — but that it applies a kind of mindfulness to the process of growing and nurturing an online brand.
"If you join the follow loop, you'll get the followers, but it really helps to interact with these accounts" ―Jessica Fletcher
A good follow loop connects you with businesses that share your values and your commitment to the local economy; you are in a follow loop because you want to support local, and so is everyone else.
For a follow loop to work effectively, it does mean dedicating some time to interacting with other businesses, says Fletcher, so it is not something you can necessarily do without some input. That said, SlyFox does allow a limited number of businesses to purchase 'ghost spots' on a weekly basis for about $15, allowing them to collect followers without the requirement to follow everyone back.
To help promote the Ontario Follow Loop platform, SlyFox has helped organize a promotional giveaway in early October. Sponsored by many of the Ontario Follow Loop participating businesses, over $2,000 in prizes will be given away to winners.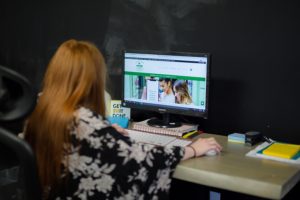 Photography by MEE Photography 
Above all, Fletcher and Faulds see Ontario Follow Loop as a way to strengthen the local business community and to expand everyone's network. And they are very clear and upfront about what it does and does not do.
"A follow loop is like an introduction," Faulds says. It isn't a shortcut to building loyalty, but it can be a good place from which to start. How much you put into it can determine the kind of benefit you get out — more interaction will lead to stronger relationships and to more sales.
"If you join the follow loop, you'll get the followers, but it really helps to interact with these accounts," sums up Fletcher. "You can build friendships through it. Good friendships."
Ontario Follow Loop runs weekly. Visit ontariofollowloop.ca for more information or to join an upcoming loop.
---
This story was created by Content Studio, TreeTown Media's commercial content division, on behalf of Ontario Follow Loop and SlyFox Web Design and Marketing.