Adapting nimbly and rapidly, InnoSoft Canada is helping its client base meet the challenges of reopening campus recreation facilities
Photo: InnoSoft Canada CEO, Harrison Kelly
IN A NORMAL year, students at more than 300 university and college ­campuses across North America would be using InnoSoft Canada Inc.'s Fusion campus recreation platform to sign up for fitness classes, check in on their intramural flag football leagues and manage access to the gym and other on-campus rec centres.
But as we all know, 2020 has been anything but normal. So, when InnoSoft CEO Harrison Kelly returned from New Zealand last March just as the pandemic was shutting down professional sports, tourist attractions, stores, offices and schools, he knew it was time to rally his team to deliver quick and comforting solutions to panicked customers.
"When we started to have those ­planning sessions back in March, we were really in shock," recalls Kelly. "All of our campus rec customers were shutting down — they were scrambling to address the same issues — and we knew we had to respond."
"The big lesson for me was to over-communicate. It's amazing what falls through the cracks when you don't have the watercooler and other small touchpoints throughout the day" ―Harrison Kelly
That response, rolled out with new updates and repositioning existing ­features over the past few months, involved quick thinking, an organization-wide commitment to guiding their customers through uncharted waters and a willingness to completely revamp their product plans.
"The biggest thing for us was trying to predict changes in consumer behaviour in our customer base," says Kelly, explaining how they learned by listening to their customers, getting direct feedback from students and observing the early responses of adjacent markets like private health clubs.
"We completely pivoted our product roadmap to fit those predicted changes in behaviour that would come down later in the summer and fall."
The challenges started at the front door, with new systems required for reopening facilities to safely allow ­students into their buildings.
"The experience re-entering recreation facilities was going to be dependent on either occupancy tracking — restricting access based on the ­number of students in the building — or a reservation-based model where we would say we have 500 reservation slots and it's first come, first served."
Story Continues Below

Matching their clients' sense of urgency, InnoSoft quickly rolled out new modules over the summer that offered capacity tracking, reservations and virtual fitness classes, and promoted existing features that have since taken on new importance with low-touch and distanced regulations.
"We pivoted to contactless payments and touchless entry," says Kelly. "We helped clients move from physical hand scanners, where customers were literally putting their hands-on equipment, to bar-code, proximity or phone-based access control."
With these in-demand features coming online, InnoSoft also adjusted their customer outreach to more easily keep their 300-plus customers up to date, and make it easier for them to implement new safety procedures to keep their students safe.
"That was a really big part, to be transparent with our customers," notes Kelly. "We gave them an overview of what is to come, so as they were planning their reopening they could see what we were working on and plan accordingly."
That effort included an increased use of Zoom to temporarily replace live onboarding, and the creation of helpful new videos, infographics and digital resources to show campus rec leaders how Fusion's new tools and existing features gave them a framework to plan for a safe reopening.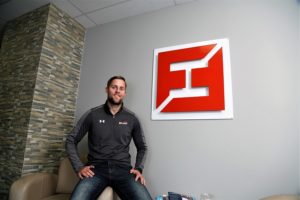 "We launched a video with Colorado Mesa University, the first school to open back in May with limited capacity," Kelly says, detailing how they used that footage to help show other campus rec leaders how to safely redesign their space. "It showed equipment spread out, and it showed the check-in process in the midst of Covid. To get that early visual look at what the new environment looked like, it helped customers to plan."
While addressing the needs and uncertainties of its ­campus rec clients, InnoSoft's management also had to focus on ­guiding a team of 50, divided between London and Kitchener, as they adjusted to an all-remote environment.
"The big lesson for me was to over-communicate," Kelly says. "It's amazing what falls through the cracks when you don't have the watercooler and other small touchpoints throughout the day."
That over-communication included shifting to weekly updates rather than monthly, so the whole team would be informed of the rapid changes happening around them.
"When in doubt," Kelly sums up, "communicate all the time."