Scheduled for occupancy in 2021, the innovative EVE Park community breaks ground
Photo: Derek Satnik of s2e Technologies
ALTHOUGH THERE'S A lot going on at West 5, Sifton's west-end, net-zero energy development, much of it is unseen by drivers whizzing by on Oxford Street every day. So far, the futuristic community is defined largely by rows of modern townhouses festooned with solar panels. It's not exactly The Jetsons… yet.
That will change by this time next year.
Construction is about to begin on EVE Park, a ­condominium development unlike any other in London.
"We call it evolved living, with emphasis on green spaces, not two-car garages and parking lots," says Derek Satnik, VP of Technology at St. Jacobs-based s2e Technologies Developments Inc. The innovative company helped Sifton create West 5 and is doing similar work across North America, fulfilling its mandate and name: Sun to Earth.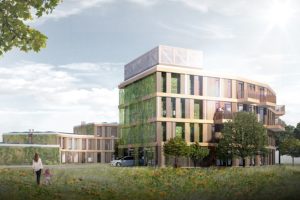 EVE stands for Electric Vehicle Enclave and gets at one of the unique features of the four-building, 84-unit ­development. Aside from some strategically located visitor parking, there won't be any parked cars in view.
Instead, each of the four "helixes" will include an ­automated parking tower, also known a s a car stacker. Owners will drive in at ground level and the car will be moved up and out of the way until they need it — accessed easily and quickly with a unique code. Each pod includes a charging station, encouraging the use of electric vehicles.
Another incentive to drive electric is the access owners have to lease deals on the latest Tesla vehicles. "The best you can get," Satnik says.
"When you get the cars out of the way, you can design a building that works better for people," says Ashley Hammerbacher, the California-based managing director the company's U.S. operations. Her father, Milfred, is s2e co-founder and CEO. There are about 35 employees, two-thirds of whom work in St. Jacobs.
The buildings are called helixes because they are ­circular, creating a series of interesting angles and entry points. Every unit has its own separate entrance, accessed from outside through some kind of green space or garden. Units range from 740 to 2,200 square feet, many two-storey. Prices range from $440,000 to $760,000.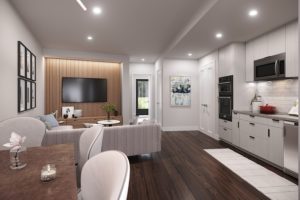 "The units are all modern and bright with no curves inside. The only shared spaces are the mailroom and storage lockers," Satnik says.
Each home has Bell Fibe Internet and smart home ­features like Google Home and Sonos speakers, together with smart light switches and door locks and a simple way to monitor energy usage.
Ellis-Don is constructing the buildings in four stages, using modular components manufactured in Thorndale by TRS Components Ltd.
The sales centre at 461 South Street is open, and virtual tours are available at www.evepark.ca.

Christopher Clark.