Moving green business forward
Green Economy London has announced grants to 14 organizations, supporting 17 sustainability projects
Photo: Grant recipient Will Heeman of Heeman's (centre) with Jay Stanford of the City of London and Marianne Griffith of Green Economy London (Photo credit: Photo Credit: Mariam Waliji)
GREEN ECONOMY LONDON has awarded Green Project Grants to 14 local organizations to support 17 sustainability projects. The grants support energy saving, waste reduction, water conservation and environmental stewardship projects.
Green Economy London, one of seven Green Economy Hubs across Ontario supporting networks of businesses to set and achieve sustainability targets, fundraised a $19,000 project stream with support from The City of London, London Community Foundation, Convertus, Partners in Project Green and the federal government.
The recipients are required to set a reduction target in the related target area ― water, waste, greenhouse gas (GHG) emissions or environmental stewardship. By setting a target and tracking the impact these projects have, members will be able to report and align project impacts with their sustainability targets.
"Green Economy London is proud to work with our members to implement these important efficiency projects," says Marianne Griffith, Green Economy London manager. "We know that you rarely improve what you don't track, and these leaders in our community are putting sustainability into action by making calculable reductions."
Story Continues Below
"As our single largest area of opportunity to make further reductions and our highest area of emissions, cutting our GHG via reduced fossil fuel use is a key part of our sustainability efforts," says Will Heeman of Heeman's. "Adding a solar array to our operation would allow us to use less electricity and greatly cut our dependence on the grid."
The awarded projects are to be implemented by June 2021 and include:
GHG Emission Reduction and Energy Efficiency Projects
LED Lighting Retrofits: Five local businesses ― ReForest London, Carmina de Young, Plant Matter Kitchen, Bluestone Properties and Microcad ― will all be updating fluorescent lighting fixtures to LED lighting, which has the potential to reduce electricity consumption and costs by an estimated 30 per cent and also have a three to five-time longer lifespan than fluorescents.
Solar Panel Installation: Heeman's is implementing a large solar panel project at their farm to help reduce their GHG emissions from most of their electricity usage. This solar project has the potential to reduce Heeman's GHG emissions by over two tons per year and generate over 110,000 kWh of electricity annually.
EV Charger: Reimagine Co Zero Waste Store will be installing an electric vehicle charger at their store location. This will not only allow them to charge their plug-in hybrid vehicle for deliveries, but also allow community members and shoppers to charge their electric vehicles as well. This project, combined with the installation of bike racks, fulfill their commitment to encouraging sustainable transportation.
Water Conservation Projects
Blue Roof Feasibility Studies: Pillar Nonprofit Network and the London Food Bank have both received blue roof feasibility studies done on their respective buildings to determine how a reusable water system could work at their building. Blue roofs collect storm water, which is then piped through the building to be used to flush toilets, and for the London Food Bank, could be used to irrigate their hoop house and outdoor gardens. Blue roofs have the potential to reduce significant amounts of potable water consumption and costs and reduce storm water in times of flood.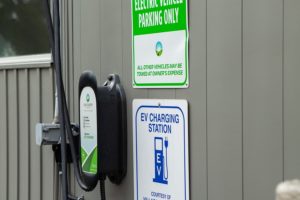 Reimagine Co Zero Waste Store will use grant funding to install an electric vehicle charger at their retail location
Low Flow Fixtures: Both McCabe Promotional and the London Brewing Co-op will be adding low flow fixtures to their bathrooms as a water conservation initiative. Low flow fixtures expel less than half the litres per minute of standard fixtures, which will result in thousands of litres of water saved per year.
Waste Reduction and Diversion Projects
Composting: Western Fair District currently redirects most of their onsite organic waste into compost bins and then feed it to their own onsite worm farm. To date, they have processed over 18 tons of raw material and plan to further improve and expand their composting capacity through this funding. This equates to preventing over 45 tons of GHG emissions from entering the atmosphere had the waste gone to landfill instead.
Three-Bin Composter: ReForest London will be expanding their composting system from a one-bin composter to a three-bin composter in order to have all buildings on their property have access to composting streams. This will allow them to ensure that no organic waste ends up in the garbage, while at the same time providing valuable compost for their new native plant and pollinator gardens.
High Efficiency Hand Dryer: Pillar Nonprofit Network will be installing a high efficiency hand dryer as a waste reduction strategy. This project will reduce a significant amount of paper towel waste and associated costs. The carbon footprint of paper towels is 50 per cent greater than a high efficiency hand dryer. This project delivers a quick payback period, easy waste reduction solution and reduces bathroom maintenance.
Story Continues Below
Recycling Program: Big Bike Giveaway recycles bicycles and diverts waste such as as tires, tubes, rubber and wire from landfills. This funding will be used to improve their recycling program to ensure proper recycling for all waste they collect.
Environmental Stewardship
Pollinator Garden: Western Fair District is installing a pollinator garden in collaboration with Pollinator Pathways and Friends of Urban Agriculture at their Art building. Pollinator gardens help provide healthy urban environments and provide necessary habitats and food for key native species and pollinators.
Employee Tree Planting Day: MTE Consultants has recently established a corporate sustainability committee and 'green teams' within each of their offices to develop and implement sustainability initiatives. They will be implementing an employee tree planting day as their initial project for their local green team to build momentum and foster employee engagement while giving back to the community.