SARI Therapeutic Riding is the 2020 recipient of the Twenty Under 40 Foundation Community Project Award
Photo: Twenty Under 40 Foundation board members Nicole Spriet and Chris Costello with SARI director, Janine Langley, and Allegro
MORE THAN 40 years ago, in 1978, Jeanne and Syd Greenberg brought their young daughter, Sari, to their farm just west of the city.
Sari was born with Down Syndrome, in a time when that often meant a life lived largely in care facilities (full-time, in many cases). But Jeanne and Syd wanted more for their daughter, and founded the Special Abilities Riding Institute — or SARI, in honour of their daughter — a farm where kids living with disabilities could tap into the therapeutic benefits of riding and relating to horses.
To view this article in magazine format click here
All these years later, the current director of SARI, Janine Langley, has been looking for a way to honour Jeanne and Syd's legacy at the farm (both have passed away in the past few years). Langley and the staff at SARI have taken up the reins on the Greenberg's original vision, growing SARI into a renowned facility with an expanded slate of programs, a cherished place for families living with childhood disability.
"We always have wanted to erect a monument to Syd and Jeanne Greenberg," Langley says. "We just don't have ­anything permanent to name after them."
"They're an organization who are doing great work and don't always receive the attention that large organizations are able to garner. We're lucky to be able to honour them" —Chris Costello
But as this year's recipient of a $10,000 grant from the Twenty Under 40 Foundation Community Project Fund, SARI is getting closer and closer to changing that, with plans to erect the Syd & Jeanne Greenberg Memorial Pavilion — a permanent nod to the facility's history and a much-needed addition to the farm, which still stands on the same land as it did when the Greenbergs founded it decades ago.
"It would be a forever part of our property, which is really cool," Langley says. "It's a good way to expand the property without spending a fortune."
SARI has grown over the years, and now serves over 200 kids living with disabilities every year through a variety of programs ranging from summer camps to more specialized forms of equine-assisted emotional and physical therapy.
At the heart of all of it are the horses, emotionally intelligent animals that can have especially meaningful ­relationships with children who live with disabilities. "For kids, it's easy to relate to a horse," Langley says. "They emote. It's really easy to see where a horse stands."
Story Continues Below
Horses can provide a unique form of physical therapy as well, Langley explains. For someone who doesn't or can't walk, riding a horse can be a valuable way to engage all sorts of other core muscles and movements. As far as your pelvic bones and muscles are concerned, riding a horse isn't all that much different from walking and can help keep core muscles strong. "Nothing simulates our normal walking pattern quite like riding a horse," Langley says.
Chris Costello, current president of the Twenty Under 40 Foundation board, praised SARI and their mission, which he says is a perfect fit with the foundation's focus on supporting ­valuable community institutions.
"They're an organization who are doing great work and don't always receive the attention that large organizations are able to garner," Costello says. "We're lucky to be able to honour them."
A registered non-profit organization, the Twenty Under 40 Foundation is comprised of past winners of London's 20 Under 40 award program (read about the 2020 recipients here). The annual Community Project Award, voted on and funded by alumni members, is a thank-you to the community and a way for the foundation to build a legacy for years to come.
With the foundation's support, SARI has plans to finally build that outdoor pavilion and honour the Greenberg legacy. They'll be gaining more than just a bit of outdoor shelter and a nice plaque, though, In the pavilion, Langley explains, they hope to be able to host outdoor events — a Covid-era bonus — and to offer a quiet place for parents and children to rest and connect.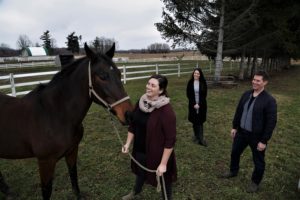 "We've always really wanted this outdoor space," Langley says. Getting kids outside, interacting with the ­environment, is inseparable from SARI's mission, a key part of what makes the whole thing work. "It's not like a sterile environment," she says. "It's not a doctor's office."
With the pavilion, Langley hopes to further grow SARI as a sanctuary space for families raising a child with disabilities. So often, those benefits are felt throughout the entire family, not just the child. The ability to have an outdoor space — and to be able to honour the facility's history — helps SARI feel like a place where families who spend much of their time navigating the challenges of disability can get away from the daily stresses, even if only briefly. For a parent, being able to watch their child thrive in the company of a horse, and to grow from that experience, can be as valuable as the child's experience.
"It's such a respite place for parents," Langley says, a place where child and caregiver can exist on more level, and safe, terms. For the caregivers, "that 30, 40, 45 minutes — it's pure joy."

Kieran Delamont