Ditching the auto service receipts
Carfax launches new app for auto maintenance, service and recall tracking
IT'S NOT ALWAYS the easiest to remember when your car needs to be taken in for maintenance, or to keep track of what work has been done when — but that information can mean the difference between a little cost now, or a huge cost later.
London-based Carfax Canada, a firm that provides vehicle history information, is hoping to simplify that process with the release of Car Care, an app that promises to put an end to a messy glove box filled with receipts and service records by centralizing it all in one easy-to-access place.
Car owners, the company says, are often not sure which service their vehicles need, or in what order; this is extra applicable to older cars, too, where regular maintenance and checks are key to keeping the car on the road.
Story Continues Below
"It helps Canadians keep their vehicles in top condition which we know is not always an easy task," says Mark Rousseau, president of Carfax Canada. "Given that a car is one of the most significant investments you'll make in your lifetime, it's understandable that you want to take great care of it. Car Care makes this task simple with convenient reminders, a search function for trusted shops and digital record keeping all in one place."
The service works by essentially building on what Carfax already does, by linking the maintenance records with the car's license or VIN number. For one thing, this will personalize the maintenance schedule to your make and model of car, but it will also give the driver and the mechanic a digital record of a vehicle's service history.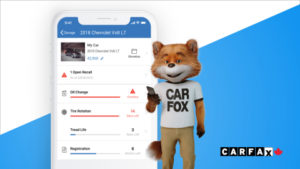 It also keeps track of open recalls, letting you know if your vehicle qualifies, and what the recall is. One in every five cars on the road has an open recall, according to the company, but there's not been a clear way of keeping track of which ones. Car Care, the company says, "gives Canadians peace of mind by providing automatic recall alerts."
According to the company, whether you are buying a car, trying to maintain one or trying to sell it to someone else, having this information in one place can save a lot of headaches — and a huge bill — later down the road.
Interested drivers can sign up on Carfax's website with nothing more than an email address and their car's information.

Kieran Delamont