Putting innovation in the spotlight
TechAlliance launches Limitless, an awards program recognizing technological innovation in Southwestern Ontario
THE COVID-19 PANDEMIC has nearly instantly and very dramatically pivoted the priorities makers, startup founders, entrepreneurs, researchers and doers — the innovators — to solving problems related to the pandemic and preparing for any in the future.
To help recognize these ongoing efforts, a new annual awards program has been introduced to put the spotlight on technological innovation.
Launched by TechAlliance, the new program ― Limitless: A Celebration of Regional Innovation ― will highlight individuals and businesses in the region "who are leveraging technology to develop creative solutions, harnessing equitable practices to empower an inclusive and vibrant community and growing some of the most promising ventures to bolster a globally competitive innovation economy," the organization said in an announcement.
Story Continues Below
The inaugural awards will be celebrated virtually on March 31, 2021, and will be presented to individuals and organization in five categories. In addition to a People's Choice Award, the Limitless award categories include:
The Breakthrough Award, which recognizes a company who has brought a novel solution to market, whose technology clearly demonstrates next-level innovation;
The Gamechanger Award, which recognizes a company whose culture is paramount to the success of their business, accelerating growth and profitability while creating positive impact;
The Scaleup Award, recognizing a company that has realized substantial growth over the last 12 months;
The Forthcomer Award, which recognizes a trailblazing young professional, 29 years of age and under, with an innovative solution or business.
"Innovators embraced transformation in 2020," says Christina Fox, CEO of TechAlliance. "Navigating disruption with inventive and collaborative responses at the helm and demonstrating an unbreakable spirit in the face of uncertainty are achievements worthy of celebration. We are delighted to invite founders, industry and stakeholders to call attention to those who are fuelling a more prosperous future for us all."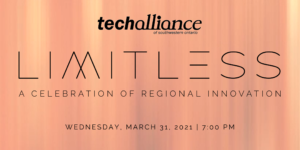 Supported by a cast of regional partners, including MNP LLP, Stronghold Services Corporation, TD Ferrara Wealth Advisory Group, Fanshawe College School of Digital and Performing Arts and Pierre L. Morrissette Institute for Entrepreneurship at Ivey Business School, nomination for the Limitless awards are open until February 22 at 5 p.m., and can be made through the TechAlliance website.

Kieran Delamont