Innovating for (quick) cash
TechAlliance challenges area innovators to bring meaningful ― and fast ― change to Main Street
FOUR BUSINESSES IN Southwestern Ontario will be awarded $15,000 each in funding with the introduction of the new 5-10-15 Main Street Innovation Challenge that aims to "support the transformation of main streets and serve the small business community struggling as a result of COVID-19."
Launched by TechAlliance of Southwestern Ontario, the Digital Main Street Community Collaboration Program challenge is open to businesses throughout the London region that bring forward technology-enabled solutions that put transformation for Main Street businesses at the forefront. The challenge is intended to produce ideas rooted in "inclusive and disruptive approaches to economic recovery and community prosperity."
'The challenge is a fast one: businesses will have just five days to submit an idea'
The challenge, however, is a fast one: businesses will have just five days to submit an idea (submissions close on February 10), and from there a panel of judges will have just five days to select the winners (which will be announced on February 16). The winning proposals will have to be fast-acting, too — winners will need to implement their proposal and be able to report back on it by mid-March.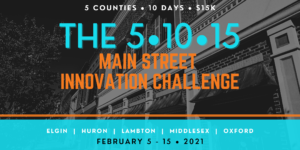 "It was meant for a rapid evaluation period so we see rapid results," explains Karen Chalmers, director of partnerships with TechAlliance, adding that they're looking for "pilot solutions that businesses are ready to implement and report on by March 16."
Story Continues Below
Dressed up as a competition, what you have is essentially a very speedy pandemic recovery grant program, with public money being kicked in by the provincial government and the feds, through FedDev Ontario — a way for them to quickly support businesses looking to expand their digital presence in response to the pandemic.
"Providing businesses with the tools they need to adapt, recover and grow is a key part of our economic recovery plan throughout reopening and into the future," says Ontario's economic development minister Vic Fedeli. "This Digital Main Street Community Collaboration project through TechAlliance is just one example of how Ontario's recovery will be driven by innovation."
The challenge is open to businesses from London and the surrounding counties of Elgin, Huron, Lambton, Middlesex and Oxford, with the six-member judging panel being drawn from economic development figures in each region.
"It's a very diverse group," Chalmers says.
Story Continues Below
Chalmers adds that they have otherwise left things open-ended in terms of submissions. "Innovation comes in so many forms," she says, so they are really hoping to see something surprising, different and "outside of the norm."
London Mayor Ed Holder calls the challenge a "solid example of how innovation can help transform businesses and prepare for opportunities."
For more information, check out the challenge's website.

Kieran Delamont