Helping customers help themselves
A new app from Start.ca scans customer's network for problems, then provides simple step-by-step instructions for suggested fixes
LONDON INTERNET PROVIDER Start.ca wants to make it easier to fix those pesky wi-fi problems yourself, with the release of a new app ― based on internal diagnostic tools ― that's designed to allow the user to diagnose what's causing their connection problems at home.
StartCARE, as the app is called, scans your home network before walking you through potential fixes.
"The StartCARE app serves as a new telecommunications support option that meets modern demand, most notable during Covid-19 lockdown restrictions," the company says.
Story Continues Below
The app started as an internal tool, but the company realized that with a bit of tweaking it would be a useful tool for their customers, both to improve their connectivity as well as lightening the load on Start.ca's customer service lines.
"By rolling out an app that will meet customer needs, call wait times can be decreased, resources can be made more readily available for those who need to call in, and the overall experience for every Start.ca customer can be made better."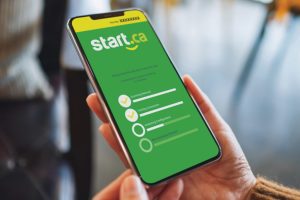 The app, it should be said, doesn't fix all the problems for you, but rather makes it clearer what the problem is before you call in for help (if it can't be solved on your own).
"The StartCARE app runs a variety of network tests and diagnostics that can be shared with a support rep as necessary," explains Emily Ferreira, vice-president of customer success. "Customers who still have to call in after running the scan appreciate the speed at which the rep can now identify issues based on the diagnostic data provided."
Story Continues Below
The technology powering the app comes via a partnership with RouteThis, a Kitchener-based software company that specializes in self-serve platforms like this. "We have been impressed with the exemplary service, and we hope that Start.ca customers are, too," says Ferreira.
So far, the app is proving useful: it's been used over 8,000 times since launching in December and the company's data shows that 62 per cent of StartCARE subscribers were able to resolve their issues without having to call in, which the company says has "substantially reduced call volumes and had a positive impact on both wait times and customer satisfaction."
"We care about our customers' needs, especially during a time that has been challenging for so many," says Al Uniac, customer experience director with Start.Ca. "StartCARE is a major revision and enhancement to an already effective tool, improving the experience for both our customers and our staff."

Kieran Delamont