Accelerating the age of voice
Already altering the business landscape, a new Voices.com report suggests the pandemic is increasing the adoption of voice technology
WELCOME TO 2021 — year of the disembodied voice.
That's the conclusion of London-based Voices.com, anyways, who have been studying trends in "the 2020 acceleration of digitation business processes."
In a newly released report, the company, which operates the world's largest online marketplace connecting buyers of voice-over services with more than 500,000 providers, is predicting that 2021 will see the arrival of a "voice-first world."
It's not that bizarre an idea, if you think about it. A Zoom call is a perfect example: you come for the audio, the conversation, while the video can often be a distraction.
Story Continues Below
"Video content is booming," explains Voices.com founder, David Ciccarelli. "But we need to acknowledge that the real impact is not visual. YouTube is consumed audio-first, often as a player in the background."
"For years we've been declaring that we're in the era of the voice. But 2021 may just be the year that the rest of the world declares it, too"
And in that, Voices sees a trend in the works — a world that, as it becomes increasingly touchless, relies more and more on voice technology.
"This goes beyond the use of voice assistants to also include integration of text-to-speech technology and AI at various times throughout the day, all powered by a hybrid of human and synthetic voices," the report predicts.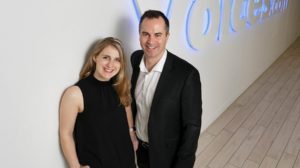 Voices.com founders David and Stephanie Ciccarelli
What Voices.com really seems to be identifying is a market shift ― and one that is proving to be good for its business. Last year saw a 245 per cent growth in their voice assistant jobs category, while internet video jobs increased 199 per cent. And many brands, when the lockdowns hit, quickly hired voice workers to retool their branding.
"At the onset of the pandemic, many brands had already made media purchase commitments and had to retool their messaging for those commitments with a common refrain of 'we're here for you' and 'we're all in this together,'" the report notes. "Content strategies that were in place were forced to be reimagined."
Story Continues Below
More freelance and remote employment arrangements, a greater need for e-learning and training content and a thriving market for online content also stand to juice the voice work market.
"It's impossible to talk about marketing, advertising and media trends from 2020 without acknowledging the fundamental — and worldwide — changes that the Covid-19 pandemic brought with it," the report concludes. "For years we've been declaring that we're in the era of the voice. But 2021 may just be the year that the rest of the world declares it, too."

Kieran Delamont