A new program from Good Neighbors Canada helps new immigrants and refugees showcase their skills
Photo: Good Neighbors Canada's Cecile Klerks and Cristina Ramirez
NON-PROFIT AGENCY Good Neighbors Canada has announced it is opening up spots on their online store, Goods4Causes, to newcomers in London who sell handmade products.
Called The Birch Tree Initiative, the project addresses the impact of the pandemic on immigrants and refugees, which exacerbated economic and social disparities.
With a grant from the Covid-19 Response Fund from the London Community Foundation (LCF), Good Neighbors is offering the use of their online marketplace free of charge. They also take care of website maintenance, communications and digital marketing campaigns. Vendors can price their products themselves and will receive 100 per cent of their sales.
Story Continues Below
"This is an opportunity for vendors to test online sales without making a big investment," says Good Neighbors Canada project manager, Cecile Klerks. "It could also be the first time someone is given the chance to participate in our local economy."
The Goods4Causes online store has been showcasing products from cooperatives abroad and partner organizations in Canada, and the non-profit wants to expand the work they do internationally for income generation, developing social entrepreneurship locally.
The Vital Signs report, prepared by the LCF, identifies that 55 per cent of newcomers in London live at or below the poverty line.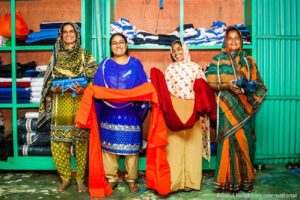 "There is clearly a demand. We hope that by opening our online store for new vendors, and helping them market their handmade items, they are able to reach a wider audience," says Cristina Ramirez, social enterprise online project coordinator, adding that vendors will not only generate income, but also showcase their skills to the local community, which can lead to a sense of belonging and benefit their well-being as local citizens. "If Covid-19 restrictions and market cancellations limited their sales, this is a quick and inexpensive way to expose their work to new customers."
Founded in London in 2017, Good Neighbours Canada, headquartered at Innovation Works on King Street, is part of a global humanitarian non-profit that has been working for social change since 1991. Good Neighbors have achieved General Consultative Status with the United Nations Economic and Social Council for their work with refugees.