Disrupting the disruptors
Neither hotel nor Airbnb, a new hybrid lodging concept called The Laundry Rooms eyes the London market
THE CREATORS OF a new hybrid model of short-term accommodation rental that has proven successful in Waterloo — something that's not quite a hotel, but not quite an Airbnb, either — say they are eyeing the Forest City as part of a wider expansion.
The Laundry Rooms, which bills itself as Canada's "premiere luxury short-term rental company," announced this week that it has paired up with Toronto-based Urban Reform Realty Inc. to drive that expansion. The business works by leasing units in newly built condo or apartment buildings — usually whole floors at a time, and in the modern, amenity-rich buildings that target young professionals — and renting those out at shorter timeframes than you'd traditionally see with hotel rooms.
"We like London a lot," says Matthew Opferkuch, CEO of The Laundry Rooms. "Not gonna lie — we see a lot of opportunity there."
The concept was first launched at a development in Waterloo called Circa 1877. Opferkuch and his partners were offered a block of 30 to 40 units. He realized "that we could treat these suites like hotel rooms," and The Laundry Rooms was born. The rooms themselves all seem to revolve around common design aspirations — trendy, chic rooms that appeal to the young professional demographic.
"We could not be happier to be part of The Laundry Rooms' expansion. They bring true value and an unprecedented experience to multi-residential developers with their unique approach to the new wave of hospitality" ―Bryce Dymond
Part of the appeal, Opferkuch says, is that the units offer the best of both hotels and Airbnbs. Since they are generally contained to a single floor of a building (and with the blessings of the building's owners), The Laundry Rooms is able to offer hotel-style services and a hotel-like atmosphere. Meanwhile, they're also able to offer the flexibility and units one might associate with Airbnbs — kitchens, more livable suites, and so on.
In the Kitchener-Waterloo region, the model has proven to be generally pretty successful. Tech workers, many on contracts or in the process of transitioning to a new position, are a prime demographic for the business. Even through the pandemic, Opferkuch says, they've stayed viable — at a time when traditional hotels were doing single-digit occupancy, The Laundry Rooms has kept filling more than 70 per cent of their rooms, even through lockdowns and constantly changing restrictions.
Story Continues Below
"The model has proven to be extremely resilient and really flexible," Opferkuch says. "We knew we had a cool concept, even two years ago."
Now, as they're looking to grow and expand in Ontario and Quebec, Opferkuch hopes that London will prove to be as successful a market as Waterloo. Though he wouldn't specify which developers they are in talks with, he says they were targeting a development on King Street, comprising between 50 and 60 units. He predicts that London could see some of their units available in 2022 or 2023. Though many of the specifics are still up in the air or under wraps, Opferkuch says they have over 300 units under contract with various developers.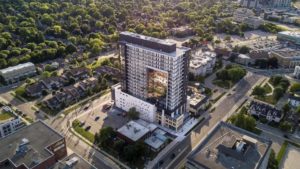 The Circa 1877 development in Waterloo
Bryce Dymond, principal of Urban Reform Realty, adds, "We could not be happier to be part of The Laundry Rooms' expansion. They bring true value and an unprecedented experience to multi-residential developers with their unique approach to the ne wave of hospitality. The Laundry Rooms will likely become the cornerstone of mixed-use developments and provide a unique opportunity to landlords seeking alternative options for retail space. They are truly redefining the hotel experience in Canada."
Story Continues Below
In the end, Opferkuch sees The Laundry Rooms as a way for developers to compete in a more systematic way with short-term rentals like Airbnb, which populate most major cities. He says the concept is an attractive option in that they offer travellers places to stay with the best of both worlds ― condo features with some of the amenities of a hotel.  
"Traditional hotels don't compete with Airbnb," says Opferkuch. "We do."

Kieran Delamont