Accelerating toward electrification
As the business of selling cars changes, Porsche of London invests to meet the future
Photo: Porsche of London managing partner, Steve Rempel
IT'S 7.7 KILOMETRES, as the Carrera drives, from Porsche of London's former home on Oxford Street to its shiny, new home on Wharncliffe Road South. That small distance represents a large change both in the look of the dealership and in its readiness for a future that includes a transition to electric cars.
Click here to read this story in magazine format
Like every London dealer that has moved or expanded in recent years, the new Porsche location is bigger and brighter, with more customer amenities and plenty of free coffee. But it's behind the showroom where the more significant changes have occurred.
Story Continues Below
"We have more space, more hoists and many improvements," says managing partner, Steve Rempel. "We also have a high-voltage room, a dedicated space for electric vehicles like the Taycan."
Even as virtually all car makers are expanding their electric offerings, Porsche's first entry in the market stands alone. The Taycan performs like a traditional Porsche, using a unique 800-volt design that produces a head-snapping 750 horsepower in its most expensive configuration — the Turbo S, starting at $215,000 (if you can get by with only 522 horsepower, the 4S starts at $120,000).
"We're sitting on a two-acre parcel of land now. That will make it easier to hold events with car clubs and meetings, once things get back to normal" —Steve Rempel
Porsche of London debuted at 600 Oxford Street and spent a decade at the 12,500-square-foot facility (interestingly, electric vehicle maker Tesla purchased the building and will open a customer service centre there). The 26 employees — including six technicians — moved to the new space days before Christmas. Twice as large as their previous location, the expanded service area now features a four-bay shine shop for detailing work.
"And we're sitting on a two-acre parcel of land now," Rempel adds. "That will make it easier to hold events with car clubs and meetings, once things get back to normal."
The all-new building is next to Leavens Volvo Cars London. The Porsche brand may stand alone, but it's still subject to the economic realities of dealership ownership. Porsche of London is a partnership between Leavens and Pfaff Automotive Partners.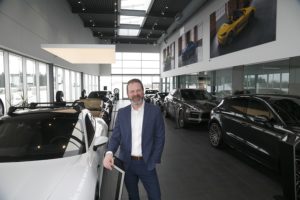 "We didn't look at existing buildings or former dealerships. With the new Volvo dealership being built a year and a half ago, it made sense to buy the entire four acres and build both facilities," Rempel says.
Although it has more room, the dealership continues to store vehicles off-site during winter, for clients so inclined. That speaks to the reverence with which owners hold the brand and their own vehicles. The dealership employs a "classic ambassador," whose job it is to maintain connections to Porsche history for owners and fans.
Story Continues Below
Ordering a vehicle can now start in the dealership's fitting lounge, where buyers can configure every aspect of a car, seeing it on a large screen, and touch the various leather samples, choose their stitching and more. Merely dialling through the website is not enough for many.
Since it opened in London, the dealer has serviced cars across Southwestern Ontario, offering a valet service for those hours away. That continues, although there's now more of a reason for enthusiasts to bring their cars in person.

Christopher Clark