An early-stage business discovers a big appetite for a plant-based, feel-good snack food. And that can be a problem
Photo: Gurveer Bahia and Sucheta Kurana
IF YOU THINK of water lilies, you are likely picturing them in a pond and not a popcorn bowl. Sucheta Khurana and Gurveer Bahia are out to change that and hope that you'll soon be reaching for a bag of popped water lily seeds before you settle in for your next Netflix binge or exam cram.
The two Western kinesiology students launched Arise N' Go in May 2020, with ­encouragement and financial support from the university's Propel Entrepreneurship program. Working out of a rented ­commercial kitchen, the women were roasting (after a ­drying process, the seeds are puffed through roasting) and flavouring the water lily seeds, hand-packaging and labeling, and even delivering local orders throughout the Covid lockdown.
To view this story in magazine format click here
A number of local grocery stores started carrying the healthy snack, and from May to January the women were seeing a steady rise in sales, but nothing they couldn't handle themselves.
Story Continues Below
Then the Arise N' Go story was broadcast on CTV and CBC news in early February, and the pair found themselves unable to keep up with all of the orders.
"We sold as many in two days as we had sold in the first nine months in business, which is not something we anticipated," says Bahia. Luckily, the partners had started utilizing pre-printed packaging for the three flavours — Simply Seasoned, Ultimate Spiced and Chipotle BBQ — they had developed, but long hours were required to get caught up.
"The business has pretty much taken over our lives. We figure we need $100,000 so we can outsource production and packaging, and we're looking at our financial options" ―Gurveer Bahia
Like many early-stage businesses, Khurana and Bahia are now struggling with next steps. It might sound like a ­paradox, but companies are often crushed by their own growth. A boom can bring about many changes —numerous ­commitments at once, new contracts and soaring orders. But all of this requires greater cash flow needs, growth planning and the right expansion plan.
The questions the partners are grappling with are many: Do they hire another set of hands? Purchase automated packaging equipment? Look for a co-packer to do everything from roasting to packaging and focus on sales and marketing? Do they look for a distributor to get their product onto more shelves? What kind of investment in inventory will that require?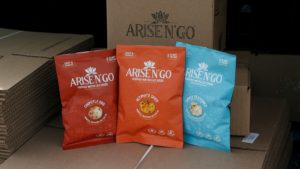 "When we first started, our circle was students who wanted to snack on something healthier than chips. And then when we formed our company, our plan was to sell B2B," says Khurana. "Then Covid forced us to pivot to e-commerce and we realized that there are a lot of health-conscious consumers who are interested in this, not necessarily millennials."
Both women are due to graduate this year, and both have plans to continue post-secondary studies here in London, but for the upcoming summer their primary focus will be on growing the business and making decisions about those next steps.
Story Continues Below
"The business has pretty much taken over our lives," says Bahia. "We figure we need $100,000 so we can outsource production and packaging, and we're looking at our financial options — business grants and loans, crowdfunding, angel investors, maybe even Dragons' Den. We need to focus on marketing, sales and distribution."
And, of course, there's still that school thing. At the least, they'll have healthy snacks to see them through the all-­nighters.

Kym Wolfe