ZTR announces telematics partnership with UK-based Sunbelt Rentals as it continues its expansion into IoT
LONDON-BASED DATA TRACKING firm ZTR has announced a partnership with UK-based Sunbelt Rentals to outfit their fleet of powered lift equipment with "revolutionary access management software," as ZTR continues their expansion into the Internet of Things (IoT).
The £1 million partnership deal will see ZTR's technology installed across the fleet of scissor lifts, telescopic booms and so on, making Sunbelt the first fleet in the UK to provide fleet management technology to its customers, giving them the ability to "access data and insights where they can review usage and productivity" as well as allowing them to more tightly control theft and unauthorized access of the equipment.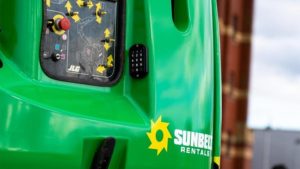 "We're not just rolling out this programm in fits and starts and it won't be limited to retrofits. It will be the OEM standard as new powered access machines join our fleet," says Mick Ledden, director of operational excellence at Sunbelt Rentals. "A focus for Sunbelt Rentals is to drive our customers and our own sustainability plans, this program is a solid step in getting a key product line connected to our wider 'IoT' plans."
Those plans dovetail nicely with the trajectory that ZTR is on. While the firm focused for many years on the railway industry, their telemetrics technology has allowed them to expand their focus in recent years towards the growing IoT space.
Story Continues Below
"For ZTR, partnership isn't just about the technology, it's also about working collaboratively to continuously improve safety, sustainability, and service by data insights," says Lars Reehorst, ZTR regional director. "For Sunbelt Rentals UK, only the best is good enough ― the speed, scale and level of innovation is what makes this program unique and exciting. And it's ZTR's speciality ― an end-to-end solution from professional installations all the way to integration into Sunbelt's Command Centre."
IoT technology has become a major focus for ZTR, and their IoT division now has over 100 dedicated staff, with more on the way, the company's CTO Steve Thomas told CTV London recently. The technology that they built their company on in the rail sector has proven to be broadly useful outside it as well.
""We're talking about millions of things around the globe that our customers really care about.," he noted. "Where's my stuff, who's using my stuff, what's the status of my stuff? We provide all the services, all the software. Our byline is we make complex simple."

Kieran Delamont