VidHug acquired by Punchbowl
VidHug, a London-based video greeting platform that exploded in popularity during the pandemic, has been acquired by Massachusetts-based Punchbowl
Photo: VidHug founder, Zamir Khan
LONDON-BASED VIDHUG, a video platform that enables users to combine videos and create personalized greetings for special occasions, has been acquired by Punchbowl, a web-based online invitations company headquartered in Framingham, Massachusetts.
Founded in 2018 by Zamir Khan (Khan was named a London Inc. 20 Under 40 in 2020), the platform realized explosive growth as the pandemic unfolded.
"For everyone on the team, working on the group video platform and seeing how it helped millions of people around the world stay connected with each other was a truly impactful experience," says Khan.
Story Continues Below
Khan says the entire VidHug team (the majority of which are in London) has joined Punchbowl and will continue to work on the group video platform as well as Punchbowl's digital invitations and e-cards offerings.
While financial details of the transactions were not disclosed, Punchbowl announced on Thursday it had secured a (U.S.) $5-million capital injection from California-based SG Credit Partners, which it said it used to acquire VidHug, Inc.
"With the acquisition of VidHug, the company welcomes innovative technology for asynchronous video, a passionate user base that has grown exponentially over the past year and a new team based in Ontario, Canada," Punchbowl stated in a release.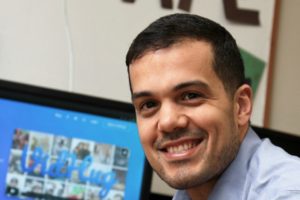 In a separate statement, Punchbowl said it will leverage the VidHug acquisition to springboard into a new market. To do so, it launched Memento.com, a platform to record, make and preserve memories from the most meaningful life celebrations and milestones.
According to Punchbowl, technology from VidHug provided the foundation for Memento and is the beginning of the vision for the new platform (the VidHug banner will cease to exist and be brought under the Memento brand).  
Story Continues Below
"Our motivation has always been to continue that growth and spread joy to even more people," Khan says. "As part of Punchbowl, a leader and innovator for over a decade in the celebration and special occasion space, we're in an incredible position to make Memento the household name for celebrating the special moments in our lives and creating lifelong memories."
"We're excited to introduce the easiest way to make a group video," adds Matt Douglas, CEO, Punchbowl. "With this new product, we now offer families everything they need to plan an important holiday or milestone event on Punchbowl; and to record, make, and preserve the memories of that occasion forever on Memento."
Punchbowl says it has plans to add additional staff both in Massachusetts and Ontario.