Through a curated group of unique experiences, Antoinette's aims to indulge, educate and empower
Photo: Antoinette's founder, Tracey White-Lockwood
CERTAIN BIRTHDAYS GIVE people pause. For Tracey White-Lockwood, turning 55 in the middle of a global pandemic was a pause for personal reflection, a time to celebrate accomplishments and a time to push herself beyond her comfort zone.
Click here to read this article magazine format
"Like a lot of women, I had put off 'me' things. I looked at myself in the mirror and wondered, where did Tracey go? It was time to find the fun Tracey again. I figured, I'm at the point where I have less time ahead of me than behind me — if not now, then when?"
"All of Antoinette's experiences are one-on-one, so it's all focused on the individual" —Tracey White-Lockwood
That mindset led her to embrace a few new experiences, starting with a boudoir photo shoot. And eventually all the experiences led her to the ­realization that there were likely other women of a certain age who might also be looking in the mirror and asking the same questions.
Enter White-Lockwood's alter-ego, Antoinette, who is dedicated to providing unique VIP experiences to empower and educate women. "We all want to be treated as goddesses – not princesses – strong and empowered in our own skin," she says.
Story Continues Below
Antoinette's offers 10 core curated experiences, from learning to shoot a gun, ­performing a burlesque routine or piloting a plane to more relaxing pursuits like star gazing or yoga. And if there is something on someone's bucket list that they have always wanted to do, White-Lockwood can source a vendor and arrange for an individualized experience for an ­additional fee.
White-Lockwood acknowledges that people could contact the businesses directly to make their own arrangements, but then they would miss out on the full Antoinette's experience.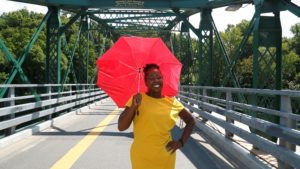 "It starts with being driven to the destination. I've done the research, sourced the best of the best and taken the guess work out of it," says White-Lockwood. "Some of the experiences might normally be part of a group girls' night out, but all of Antoinette's experiences are one-on-one, so it's all focused on the individual. We take a photo of her enjoying the experience, and I'll meet with her the next day so she can talk about the experience and how it affected her. It's empowering to tell our stories."
Story Continues Below
After being in lockdown for most of the past 18 months, people's priorities have shifted, says White-Lockwood. "People have really thought about their lives, and what is important to them. What we see, hear and feel is more important than 'stuff'. People are more focused on experiences and building memories."
While her initial focus is on women and those who identify as women, typically ages 55-plus, White-Lockwood is set to turn her attention next to men, who may also appreciate the opportunity to indulge in a few VIP experiences. "Don't worry guys," she says, "Antoni's is in the making!"

Kym Wolfe