Downtown Dollars go digital
New digital gift card for Downtown London to replace Downtown Dollars
THE POPULAR DOWNTOWN Dollars are going digital, the Downtown London BIA announced this week, with the paper dollars being transitioned to a digital downtown gift card system.
The BIA, which represents around 1,200 storefront and office members downtown, is describing this transition as an "upgrade," and part of their #KeepLondonLocal effort that has sought to make it easier for people to shop and support local businesses through the pandemic.
Story Continues Below
"The Downtown Dollar program has been operating in London for over 15 years," says Barbara May, executive director of Downtown London. "We decided to make the switch to a digital gift card system because it significantly streamlines the process for both consumers and participating businesses."
Rather than haul a bunch of paper Downtown Dollars into the office, retailers can now get reimbursed instantly.
"The new gift card system allows for more spending options for my customers," notes David White of David E. White Clothiers. "They can still shop in person with Downtown Dollars but can also shop online. I don't have to take time out of my day to visit the Downtown London office for redemption anymore, the money hits my bank account immediately. It is great to see an already successful program modernize and streamline to make life easier for us business owners."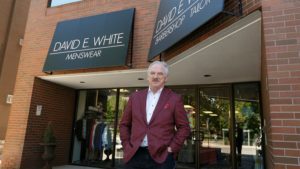 Downtown merchant David White (file photo)
The move is also being given a thumbs-up from accessibility advocates like Ryan Hooey of the Canadian National Institute for the Blind. "This is a wonderful and innovative idea with accessibility being pushed to the foreground," he says. "This is a solution for everyone, not just the community living with a disability."
The new gift cards can be used in- person when visiting a brick-and-mortar store, online using the e-commerce platform of a participating business or on Downtown London's Online Marketplace.
Story Continues Below
The cards are supported by Miconex in association with payments technology solutions provider EML Payments. Miconex operates its downtown gift card platform in Canada, as well as the U.S. and UK.  
If your Downtown Dollars have been crowding a drawer (possibly next to your Canadian Tire money?) don't worry about this being a rapid currency devaluation: your paper bucks are still valid, and you can still shop with them. If you are keen to make the transition, you can buy a downtown gift card online and have it mailed to you or pick it up at the Downtown London office.

Kieran Delamont