TechAlliance launches London Innovation Challenge
The London Innovation Challenge aims to support the city's pandemic recovery through sustainable technology solutions
TECHALLIANCE OF SOUTHWESTERN Ontario has announced the launch of the London Innovation Challenge with an aim to accelerate and scale London-developed solutions addressing the city's pandemic recovery and renewal.
Funded by the city's London Community Recovery Network project, the challenge looks to address recovery in three areas of focus identified by the broader London community: investing in people, driving prosperity and fostering community.
Story Continues Below
Specifically, the London Innovation Challenge is seeking sustainable technology solutions to address the identified challenges. Three recipients in the first challenge ― Reimagine Systems for People ― will be awarded $20,000 in funding each, plus custom business advisory services through TechAlliance growth coaches and a suite of additional support benefits.
The Reimagine Systems for People challenge is looking for innovations that address the challenge of ensuring businesses support underemployed Londoners by engaging in equitable hiring, invest in people and focus on inclusivity to drive sustainable growth in the city.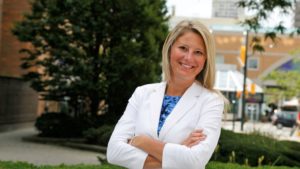 TechAlliance CEO, Christina Fox (file photo)
"As the community continues to respond to the unprecedented challenges of Covid-19, we recognize that rebuilding and revitalizing London will necessitate an equally unprecedented response," says TechAlliance CEO, Christina Fox. "TechAlliance's London Innovation Challenge is a tremendous example of how innovation can reimagine systems and strengthen businesses to prepare for the opportunities ahead."
Story Continues Below
TechAlliance is encourage applications from individuals or teams of people who are engaged in startup ventures, scaling businesses, grassroots initiatives or non-profit organizations. Solutions of any stage of development are eligible, including a new concept, an innovation that is being scaled or something that is already operational within the community.
"TechAlliance's London Innovation Challenge clearly demonstrates how recovery and transformation through innovation can happen here in London," adds Mayor Ed Holder. "This challenge will strengthen the areas of focus identified by our community within the London Community Recovery Network framework."
Story Continues Below
Applications for the Reimagine Systems for People challenge will be open until October 29, 2021, and successful recipients will be announced on November 10, 2021.
To access the application form and for more information on the London Innovation Challenge program, click here. Information regarding the next challenge will be released in the coming weeks.