VersaBank ups the ante for DDRs
VersaBank includes USD in expanded testing of closed ecosystem for Digital Deposit Receipts
LONDON-BASED DIGITAL BANKING and cyber security solutions platform VersaBank is expanding the closed ecosystem testing for Digital Deposit Receipts (DDRs) and will include the U.S. dollar, the Algorand and Ethereum blockchains and more.
David Taylor, VersaBank president and CEO, says in a press release that the progress of Digital Deposit Receipt closed ecosystem testing is "functioning as designed and managing digital assets in a secure, trusted and attestable manner.
Story Continues Below
"VersaBank's DDRs are a natural extension of our existing digital deposit services that, when placed on a public blockchain and supported by the security of the bank's own VersaVault digital asset security technology, become a completely unique, game-changing, financial innovation," Taylor says.
VersaBank's DDRs are anticipated to be an alternative to stablecoins for everyday financial applications. The DDRs are an investment-grade issuer-backed digital asset that is depicted by U.S. or Canadian-dollar deposits with VersaBank, according to the press release.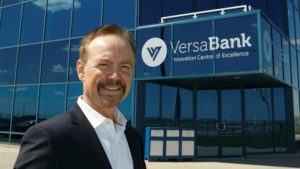 VersaBank president and CEO, David Taylor (file photo)
Stablecorp, VersaBank's blockchain technology partner, is coordinating with VersaBank on the closed ecosystem testing and helped facilitate the addition of the U.S. dollar-denominated DDRs (VUSD), and the Algorand and Ethereum blockchains. Testing is also being done with a receipt distributor, who will be one of the primary distributors of the bank's DDRs at commercial launch.
Story Continues Below
Already included and previously announced is the addition of the Canadian dollar-denominated DDRs (VCAD) and the Stellar Blockchain.
"Over the last several months, we have seen increasing calls in North America and globally from both the private and public sectors for oversight and regulation of private company-issued stablecoins. As a Schedule I (Federal) Bank with an investment-grade rating, VersaBank's DDRs are very well aligned with the direction that such regulation appears to be heading," Taylor says.