Responding to recovery and renewal
TechAlliance announces the winners of the second London Innovation Challenge
Photo: In the ClearZone founders Madison DeSousa and Jenessa Olson
FOLLOWING THE LAUNCH of the second London Innovation Challenge, TechAlliance, alongside a cross-sector adjudication panel of local industry leaders, have selected In the ClearZone, SizeWize and Labourly as the winners of the second challenge.
In addition to venture growth support and advisory services through TechAlliance, the three organizations will each receive $20,000 in funding to advance their innovation and support the economic recovery of London.
Story Continues Below
With a focus on giving tools to small businesses to drive sustainable growth and safely re-open, TechAlliance says the three ventures represent a variety of sectors, including health and safety, retail and human resources.
"This adjudication panel really focused on innovative solutions in London, and ultimately strengthen the ability of small businesses to recover successfully," says Christina Fox, CEO of TechAlliance of Southwestern Ontario. "These companies are disrupting industries and are led by creative champions that know what it takes to innovate. They embody the TechAlliance values of being bold, impactful, and real, all of which drive sustainable growth in our ecosystem."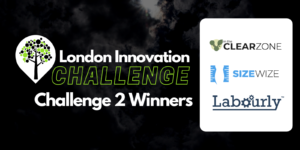 Here's a bit about each of the winning companies, provided by TechAlliance:
In the ClearZone, spearheaded by founders, Jenessa Olson and Madison DeSousa, developed a supercharged air purifier that allows businesses to have easy access to proper health and safety cleaning protocols. This has been crucial during the ongoing pandemic and will continue to keep patrons safe going forward. Leveraging patented technology combined with UV rays, In the ClearZone's purifiers are able to destroy viruses and allergens while remaining sustainable and environmentally friendly.
SizeWize, founded by Shawn Miller and Arpit Bhnot, is a digital tool that allows online retailers to provide accurate clothing size representations to their customers, leading to minimal returns, and extensive cost savings. One of the main challenges for online shopping, specifically fashion, is that there is no fitting room available. SizeWize eliminates this hassle, reduces clothing waste to landfills and helps small businesses create new revenue from hesitant buyers.
Story Continues Below
Labourly, led by co-founders, Jane and Vicknesh Ramachandran, is a recruitment and certifications management software designed for human resources professionals and staffing agencies. Leveraging AI and custom algorithms, the platform is able to connect qualified talent to employers for available positions. Using Labourly, small businesses can source candidates, streamline onboarding, and manage professional documents to minimize cost and time.
The winners of the second installment join the first three recipients, Caring Support, Locorum and Zersent, announced last month.