Sernova Corp. advances Cell Pouch technology
Clinical trial update from Sernova Corp. further validates therapeutic potential of its patented Cell Pouch system
LONDON-BASED SERNOVA Corp., a leading clinical-stage regenerative medicine therapeutics company developing a potential 'functional cure' for type 1 diabetes (T1D) and other chronic diseases, has released a progress update on its Phase 1/2 T1D clinical trial in conjunction with Dr. Piotr Witkowski, the clinical trial's principal investigator at the University of Chicago.
Sernova Corp., headquartered at The Stiller Centre on Collip Circle, is developing regenerative medicine therapeutic technologies using a medical device ― Sernova's patented Cell Pouch system ― and immune protected therapeutic cells to improve the treatment and quality of life of people with chronic metabolic diseases such as insulin-dependent diabetes, blood disorders including hemophilia and other diseases treated through replacement of proteins or hormones missing or in short supply within the body.
Story Continues Below
The objective of Sernova's Phase 1/2 clinical trial is to assess the safety, tolerability and efficacy of its proprietary Cell Pouch transplanted with insulin-producing islets in patients with T1D complicated by hypoglycemia unawareness and a history of severe hypoglycemic events.
Among the updated study findings from the ongoing trial: 
The ongoing safety and tolerability of Cell Pouch has been maintained in all study patients;

Islet transplantation to the Cell Pouch resulted in the establishment of new, measurable islet function documented by detectable levels of stimulated C-peptide in the first three patients, who completed the protocol-defined course of transplants;

A supplemental, single intraportal islet transplant was sufficient for the first two patients to achieve and maintain sustained ongoing insulin independence and freedom from severe hypoglycemic events for over 21 and 2 months, respectively;

The third transplanted patient recently completed their course of Cell Pouch transplants and a supplemental intraportal islet infusion, with favorable improvements in glucose control, near-normal levels of C-peptide, an absence of severe hypoglycemic events and reductions in daily insulin use;

The other three enrolled study patients are progressing through the study protocol, as planned. All have received Cell Pouch implants and are at various stages of protocol-defined islet transplants and follow-up; and

A 7th study patient has been identified. 
"We are very encouraged by finding detectable serum C-peptide levels after islet transplantation into the Sernova Cell Pouch in the three most advanced study patients. Additionally, we are very excited about the first two patients becoming insulin independent and free from severe hypoglycemic events after a single supplemental intraportal islet infusion," says Dr. Witkowski.  "I look forward to continuing this trial with Sernova as we further optimize our use of the Cell Pouch System and validate its therapeutic potential."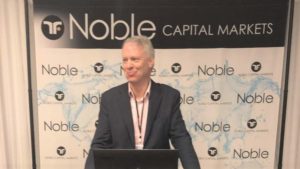 Sernova Corp. president and CEO, Dr. Philip Toleikis
Dr. Philip Toleikis, president & CEO of Sernova Corp., further remarks, "We believe Sernova is the first company to report that its first two transplanted T1D cell therapy study patients achieved sustained insulin independence.  We are further reassured that our Cell Pouch System is performing as expected by creating a safe, vascularized, and natural tissue environment inside the human body, allowing the islet cells to thrive and function efficiently following transplantation.
 "As we progress through the trial, under the expert guidance of Dr. Witkowski, we have had several scientific breakthroughs and advancements related to insulin producing cell dynamics and efficacy related to our Cell Pouch technologies," continues Toleikis. "These findings have led to several technical optimizations, including the upcoming introduction of a higher capacity Cell Pouch configuration designed to accommodate the total quantity and distribution of islets that are achieving insulin independence for patients in our clinical trial."
Story Continues Below
Sernova has developed its Cell Pouch system with the vision of treating the millions of patients with T1D and other chronic diseases using immune-protected therapeutic cells, including stem cell-derived technologies. Sernova's approach is to provide a minimally invasive, retrievable, safe, organ-like environment for rapid engraftment and long-term survival of therapeutic cells as well as to avoid blood mediated inflammatory reactions and permit cell retrievability that cannot be achieved with the traditional portal vein transplantation.