Businesses ignoring aging workforce
Semi-retirement work schedules could help ease labour shortages, but employers slow to adapt
EMPLOYERS ARE DOING a poor job of adapting to the aging workforce and are ignoring simple options that would keep some of their most experienced workers going, a new survey from Express Employment Professionals reports.
Workers are increasingly interested in semi-retirement — an umbrella term for flexible work schedules, consulting roles or reduced hours — the survey found. But more than three-quarters of employers don't offer anything of the sort, leaving aging workers with a tough choice: keep working at full-time levels, or retire.
Story Continues Below
"I have not seen companies do enough to bring people back out of retirement," says James Norris, owner of the Express Employment franchise here in London. "Companies need to change their ways of thinking and realize that if someone is retirement age they likely do not need to work, and therefore the company has to make it as attractive and stress free as possible."
Semi-retirement options are broadly popular with employees looking at the end of their careers: 79 per cent say they'd be likely to take a flexible working schedule; 62 per cent would take a consulting role; and 57 per cent would take reduced benefits in exchange for reduced hours.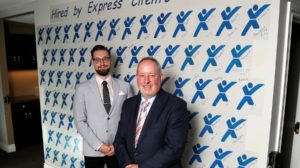 Express Employment Professionals London co-owners James Norris and Michael Elliott
For employers, not so much. Only 22 per cent of companies formally offer something like semi-retirement, say workers, while many complain that they are unable to fill the exact jobs in question.
About half of the workers surveyed say their company isn't effectively planning for their retirement and don't have successors lined up — a situation which can often produce abrupt changes and conflicts when those replacements are either inadequately trained or brought in from outside without a sense of company culture.
Norris says that business can try to mitigate these consequences by becoming more flexible when adapting to the aging workforce.
Story Continues Below
"It is becoming more difficult for companies to hire external employees and business leaders need to ensure they have someone in place to learn as much as they can from their seasoned employee before they leave," adds Norris. "Not doing so can cause an enormous amount of risk to the business that can be easily mitigated with proper planning, training and development."
Flexibility in the workplace is certainly a big thing these days — for all workers, not just boomers. More and more now see workplace flexibility not as a perk, but as an expectation — and there are many studies suggesting that workers are keen to ditch inflexible work arrangements. A lot of employers have — mistakenly — brushed this off as a millennial affect borne of the pandemic, but these survey results suggest that it's something that is in demand among baby boomers too, albeit for different reasons.
Story Continues Below
Nor is it a new development, either; when Express ran this same poll three years ago, 76 per cent of workers over 54 years old said they wanted some form of semi-retirement. In three years, and countless stories about labour shortages, little seems to have changed.
But this time, Norris says, boomers may have the leverage required to really make it happen.
"If someone does not need to work, but the company needs them, then the work schedule has to be on the employees' terms and flexible," says Norris. "By moving workers into a consulting role, they can help train new employees in a reduced labour-intensive capacity, which is key for many individuals who now have difficulty maintaining the more physical duties of the role."

Kieran Delamont